By
Louise Cheng
on Mar 07, 2014 in
Adventure Travel
,
Africa
,
Botswana
,
Kenya
,
Namibia
,
Regions
,
South Africa
,
Speciality Travel
,
Zambia
,
Zimbabwe
-
Read 12606 times
For many who go on an African safari adventure they will want to catch sights of as many animals as possible and to put a great big tick against the most sought after wildlife, the 'big five'. The wild and vast African landscape is a feat to be explored. Multiple trips may be needed to really appreciate the sheer magnitude of the beauty of this continent.
The Big 5 of the animal kingdom in Africa is (in no particular order…) the African lion, African elephant, Cape buffalo, African leopard and African rhinoceros. Whether you are on game drives or game walks, take the opportunity to see if you are lucky to see them all.
The African lion
Spotting the lion in Africa is a definite must whilst on safari. See these big cats in various safari destinations such as the mecca that is the Masai Mara, the most famous national reserve in Kenya. The lion resides in other open plains such as Tsavo National Park in Kenya, the Okavango Delta in Botswana and Kruger National Park. Lions live in groups called Prides and make up a family unit, so if you see one lion there is a great chance of seeing another close by.
The African elephant
Another iconic animal on any safari holiday is the African elephant. As the world's largest land animals, catching a sight of these majestic animals is comparatively easier than the others on the big five list. The African elephant resides in many locations in Africa and some of the best sightings include Serengeti National Park in Tanzania, Masai Mara in Kenya, Hwange National Park in Zimbabwe and Chobe National Park in Botswana.
The Cape buffalo
The Cape buffalo is one of Africa's most dangerous animals. Living in protected wildlife areas, Cape buffalo can be most likely to be found at watering holes. Catch large herds in the open savannahs on a safari trip to Amboseli National Park in Kenya, Etosha National Park in Namibia, or South Luangwa National Park in Zambia to name a few. Seeing sights of herds of Cape buffalo charging at speeds of 35mph is a thrilling spectacle!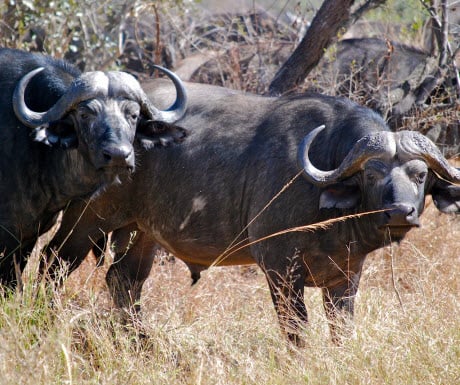 The African leopard
One of the most elusive of the big five, the leopard sighting is a rare occurrence. Able to camouflage and blend into the grasslands, the leopard is frequently found in trees and use them to observe their prey. At times they have also been witnessed dragging their successful kill back into the tree tops. There are higher chances of seeing the leopard roaming around in the greater Kruger area in South Africa, Masai Mara in Kenya or in the Okavango Delta in Botswana.
The African rhinoceros
In Africa you will either come across the black rhino or the white rhino. Black rhinos are much more reduced in population in comparison to the white rhino. Despite the name of the different rhinos, all of them are actually grey in colour! Spot these large mammals at Lewa Wildlife Conservancy in Kenya, Hwange National Park in Zimbabwe and Etosha National Park in Namibia. Due to poachers, the rhino population is decreasing and conservation efforts are aiming to protect them as much as possible.
Louise Cheng is Marketing Manager at Holidaysplease.
If you would like to be a guest blogger on A Luxury Travel Blog in order to raise your profile, please contact us.