Christmas is just around the corner so we've compiled a number of ideas for that not-so-easy-to-buy-for friend or family member. We've everything here from luxury items that will simply make your travels more comfortable to some extra-special treats in case you're really looking to splurge on a special someone this holiday.
Vacheron Constantin Patrimony Traditionnelle World Time watch
The Vacheron Constantin Patrimony Traditionnelle World Time watch is a must-have timepiece for the world traveller and comes in a 42.50mm 18K 5N pink gold case with a transparent sapphire glass back, metal and sapphire dial, self-winding movement with hours, minutes, central second, day-night, and world time indications.
It comes with approximately 40 hours of power reserve, a Mississippi alligator strap with folding buckle, and a price tag of just over $40,000.
Passage Pillows are luxurious travel and wellness pillows that provide first class comfort wherever life takes you, whether it's a transatlantic flight or out to the backyard hammock. About the dimensions of an iPad the pillow is lightweight to pack or carry. An elastic strap on the backside of the pillow provides easy attachment to most items like roll-on luggage, a head-rest, stroller or child's car seat. The unique butterfly shape also enables superior ergonomic comfort, cushioning you to a better sleep – faster.
All Passage Pillows feature 100 percent cotton Liberty of London fabric and a hypo-allergenic synthetic down insert designed to take on the most rugged voyages and are machine washable. Available for $64 USD.
Steeped its traditions of luggage-making, Louis Vuitton has long since been associated with the travel industry.  And now the Louis Vuitton brand has come up with its own range of City Guides, covering 15 of the world's most exciting cities. These include Beijing, Hong Kong, London, Los Angeles, Mexico City, Miami, Moscow, New York, Paris, Sao Paolo, Seoul, Sydney, Tokyo, Venice and Cape Town. Whether you travel for business or pleasure, these stylish guides are sure to help.
Self-drive tours of Italy by Ferrari or Maserati by Bridgewater Travel
Bridgewater Idyllic Italy is offering supercar tours of Italy by Ferrari, Maserati, Lamborghini or Alfa Romeo. This is a new definition of luxury for the most discerning of travellers! Put yourself at the wheel or choose to be chauffeured in style. The tour can begin from the hilltop towns of Pienza and Montepulciano, from the shores of Lake Como or amid the cityscapes of Siena, Florence or Rome. Bridgewater's unique self-driving tour packages are in conjunction with Red Travel who is officially recognised by Ferrari and because of this they can often organise tours of the factory!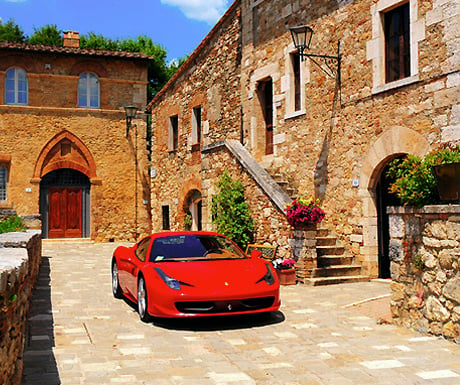 The Ferrari Tour of Italy is a unique journey, individually created for you to fully experience the Italian Way of Life. Each Ferrari trip in Italy is a subtle blend of art, gastronomy, fashion, architecture, and spectacular scenery. It's ideal for couples in search of the ultimate romantic getaway. The perfect Christmas gift for the discerning traveller! The journeys are available in 1- to 8-day packages (priced from £3,800 and £24,550 for 2 people, respectively) and can be tailored to your requirements, possibly including yachting, golfing, hot-air ballooning, transfers by private jet as well as visits to most exclusive locations (wine estates, castles, etc.).
The Travelwrap Company is all about scrumptiously soft Scottish cashmere, beautifully designed style and making life more comfortable. The Travelwrap mill in Scotland is one of the longest established in the UK and renowned internationally for the quality of their cashmere knitting, knitting for some of the biggest luxury brands in the UK. The Scottish mill uses only the finest long haired yarn from the underbelly of the goat.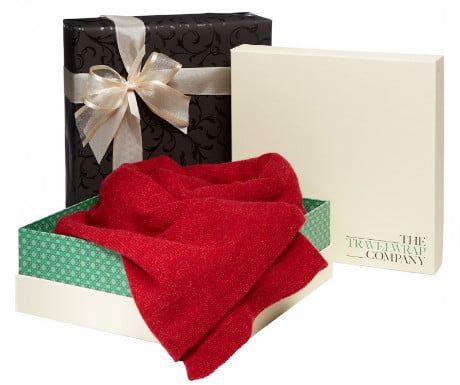 Ethical trading and high quality manufacturing are essential to this small luxury business. The Travelwrap mill actively participates in programmes to help prevent over-intensive grazing of pastures by cashmere goats, and has worked with the same group of herdsmen for over 200 years. Fibres of cashmere that go to make up the Travelwrap products are dyed at the Scottish mill and the colourful cashmere yarns provide a palette full of richness and depth. Attention to detail from the fine Scottish craftsmanship to final presentation in the beautifully presented Travelwrap signature box makes this little niche British brand very special. The Travelwrap Company has won some great awards (including Luxury Gift of the Year and Best New Business) over the last couple of years, the strongest testimonies come from their growing base of loyal customers.
Crafted from exquisite Bridge of Weir leather, the Charlie Noble is a luxurious, stylish and robust British made bag. The classic yet modern design is an ideal match for a man who wants to look stylish wherever he is. The Charlie Noble is lovingly stitched in London, from the finest of British materials and brings together established British manufacturing and craftsmanship with an innovative twist. It features a unique magnet fastening design which leaves the bag free of fiddly buckles or zips.
To provide an element of exclusivity and individuality, every bag has an embossed leather tag revealing the number that the Charlie Noble came off the production line. Be one of the first to own a unique piece of the Charlie Noble collection from this new and exciting British fashion brand. This ideal Christmas gift is available in 3 colours and retails at £300 from Charlie Noble.
Classic handmade footwear from Hobes
Loved for their seriously soft and lightweight quality, Hobes have become a luxe traveller's essential item, for light packing, easy stowing and versatility. Each season Hobes release updated iterations of their 'Originals' range, along with a selection of seasonal 'fringe styles' designed to fit perfectly into a contemporary modern-day wardrobe. The initial idea for Hobes was to design lightweight little wonders that would not only be great for everyday wear, but also the perfect shoe to accompany you on all your travel adventures.
Whether it's an overnight work trip, a beach sojourn, a month long European summer escape or simply a daily commute into work, your Hobes will have you covered wherever you're off to. Packing up flat into a tiny linen bag and weighing between 200-300grams per pair, you can take Hobes anywhere and everywhere! Retailing between AUD$159 and AUD$189, Hobes are ideal for popping into a daily tote or for easy carry-on luggage. So light to pack, seriously soft to wear on long haul flights, ultra comfortable for miles of city exploring and guaranteed to keep you looking sharp wherever you're off to – Hobes are the perfect gift for the seasoned traveller.
M&J London Ethical Luxury scented candles
Conjure memories of favorite journeys and visions of destinations yet to come from the comfort of home with M&J London Ethical Luxury scented candles. Scent is the most powerful memory trigger – inhale deeply and be transported to romantic Andalusia, escaping to Samadhi in exotic India, the soaring majesty of El Capitan, the decadence of a Left Bank Martini, or the sweet freshness of an English Summer. Sweet Beginnings captures the sweet smell and excitement of a new adventure in the grandest journey of all – life.
Each candle is made from 100% soya and is hand-poured into a 100% European recycled glass tumbler in London, UK. M&J London products are designed to create products of utmost style and beauty, while also holding true to ideals of integrity and fairness to other people and to the environment as a whole.
Bangkok kaftan from Heather Blond
The Bangkok Kaftan from Heather Blond is the ultimate in resort chic. Just toss it on over your favourite swimsuit for an easy and effortless way to to be sure to have all eyes on you. This stunning ocelot print was inspired by red-hot nights Bangkok and with just a pair of heels the Bangkok kaftan easily converts from a gorgeous daytime cover-up to a seductive dress to dance the night away in.
The Bangkok kaftan is made of wrinkle-free, easily packable georgette with a hand-crafted jewel neckline. A steal at £115, The Bangkok kaftan is available at Heather Blond Premium Resortwear, where the designer Heather Blond's full range is available. Use code ALTBluxegift for free international shipping from now through to Valentine's Day.
Greenwich EW tote from Berry Brown
This luxe Leather construction and signature Berry Brown style handcrafted silk-screened tote has hand-rolled leather handles and a front signature bone color print on cocoa Italian lamb skin. Inside is a canvas signature lining and zipper closure. The bag measures 10"H x 20"'W x 6.5"D and is available for $1,625 + shipping.