As a bustling city that blurs the boundaries between modern metropolis and historic culture, Marrakech boasts an exceptional wealth of culinary delights, to out-do even the most discerning of palates. From traditional Morrocan cuisine refined with modern style, to cosmopolitan menus that reflect the multitude of international influences that have come through the country, Marrakech is filled with some truly unmissable eateries, catering to virtually every taste and budget. Here are 5 of the city's very best:
Billed as the best Moroccan restaurant in Marrakech by many, La Mamounia covers a spectrum of culinary styles in the elegant space of the restaurant, while managing to maintain individuality and refinement throughout. Mamounia also offers a uniquely Moroccan take on Sunday brunch, where tagines and locally caught seafood share a table with exquisite patisseries and champagne. However you choose to dine – there is one thing that remains the same – the subtle hint of glamour and elegance throughout, that makes La Mamounia so memorable.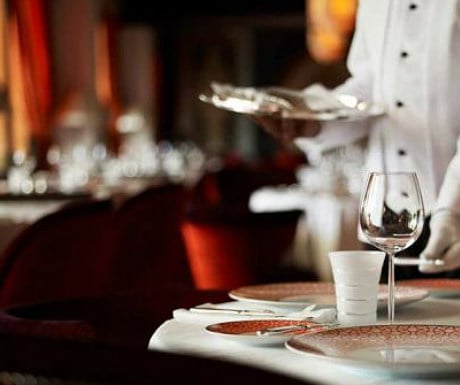 For foodies who love to recreate the flavours they've enjoyed elsewhere themselves, La Maison Arabe offers a one of a kind opportunity. An elegantly presented restaurant that offers fine dining without diluting any of the wealth of Moroccan culture, La Maison Arabe also lets diners enjoy a sneak peak at the secrets that lie behind the country's most tantalising local delicacies and dishes. Cooking workshops put budding chefs through their paces, led by a local dada, a traditional Moroccan cook. But for those who don't fancy cooking, they can simply take in the evocative atmosphere of serenading Andalusian musicians and a flower-filled patio garden, all illuminated by a glorious zouaké hand painted ceiling.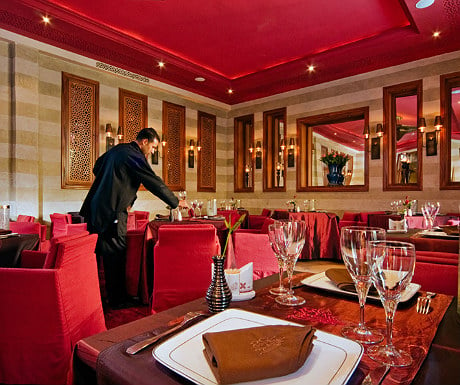 Charming, friendly and cosy, Al Fassia offers a wonderfully relaxed dining experience that brings together expertly crafted cuisine, with the easy familiarity of a home-cooked meal, and is run exclusively by women. Without the restrictions of a fixed menu, this restaurant is perfect for both first-timers wishing to dip into Moroccan food, and experienced diners looking for something a little more individual on the plate. Enjoy fresh, local flavours and the incredibly fragrant baked delights that are the restaurant's speciality.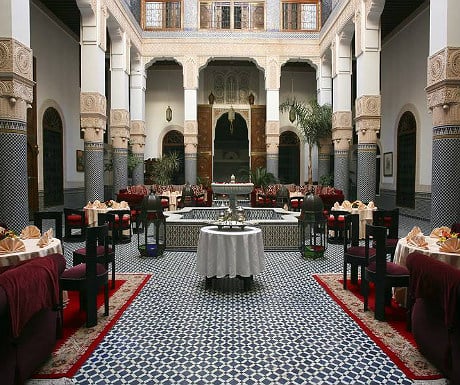 Drawing on Marrakech's illustrious heritage as a mainstay during the golden age of Hollywood, Le Salama takes you back to an era that Humphrey Bogart would feel perfectly comfortable in. The combination of classical geometric Morrocan décor and contemporary European styles blend seamlessly, and is reflected in the varied menu too. Don't miss a chance to dine on the rooftop terrace, where you can take in some incredible sights, especially the spectacular desert sunsets that illuminate the evening sky.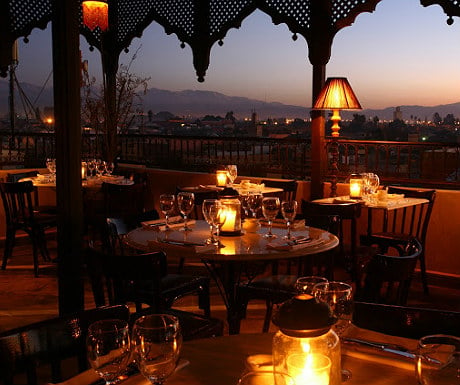 Right in the heart of the bustling medina, this romantic enclave offers the perfect spot to enjoy a delicious meal while soaking up the sophisticated atmosphere. Interweaving Italian and Moroccan cuisine, expect dazzlingly fresh flavours and excellent presentation. Choose from both Italian and Moroccan mains that take advantage of the local seafood and wealth of produce, as well as a refreshingly urbane wine list to satisfy contemporary palates. And with stylish and chic open-air terraces from which to take in the stunning views, this restaurant succeeds in balancing style with great taste in every aspect of its experience.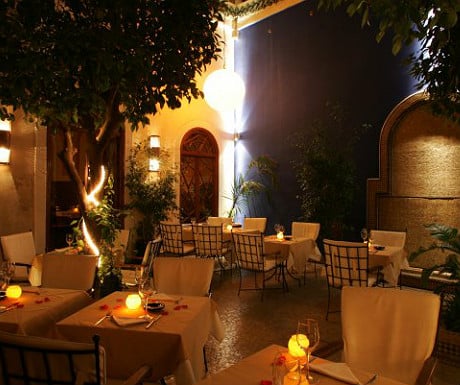 Stéphane Abtan is Director at Dar Ayniwen.