Summer in the UK may well be over, but there are still plenty of places nearby where you can soak up some rays. Greece is an excellent place to visit in Autumn; in fact, many prefer to visit at this time of year. There is plenty to see and do in Greece, from visiting historical sites, exploring the scenic countryside and beaches and sampling the delicious local cuisine. The more mild temperatures will allow you to spend the whole day comfortably discovering this beautiful country. Carry on reading to find out some more about the best places in Greece to have your Autumn break.
Crete
Visiting Crete during September and October will provide you with temperatures of a minimum of 20°C. The temperatures will drop slightly moving into November, making it a bit of a gamble, but if you are going to be a doing a lot of walking you may appreciate the cooler weather. Chania is one of the most popular areas on the island; so visiting during Autumn gives you the advantage of avoiding the crowds. The Venetian harbour is renowned for its beauty, you can spend your evenings looking out across the harbour at the lighthouse, and enjoying some fresh local cuisine. There are plenty of great restaurants, including Zepos restaurant, which is definitely worth a visit.
Rhodes
The island of Rhodes has plenty to offer all year round. Strolling around the UNESCO World Heritage Site of the Old Town of Rhodes you'll be transported back to medieval times. Autumn is a great time to explore the rich history of the area whilst avoiding the crowds and the high temperatures.  The island is only a 90-minute boat ride from Turkey, so if you wanted to travel further afield on your holiday, you could visit Fethiye, just don't forget your passport.
The beautiful village of Lindos is also worth seeing whilst you are in Rhodes, you can either walk or ride a donkey up to the Acropolis and look out over the stunning views.
Symi
The attractive island of Symi can only be accessed by boat, which adds to its charm and tranquillity.  If you are staying in Rhodes, Symi is only a ninety-minute ferry journey away and is definitely worth the visit. If you are looking for guaranteed Autumnal sunshine, this is the place for you. It is almost too hot to visit in the summer, so this is the perfect time to enjoy what the island has to offer. Toli Bay is a great spot to add to your itinerary, with a brilliant taverna providing authentic food and stunning views. It is slightly more difficult to get to than the other beaches, but this means it is much more peaceful. To get there you can walk, drive or ride a donkey. You can tell it is good as most of the patrons are locals.
Athens, the capital of Greece, has an abundance of historical and archaeological sites, and Autumn is the best time to visit them. You'll still see plenty of sun as it is on the south side of Greece, but it won't be unbearable hot, so you can spend plenty of time immersing yourself in the history of the area. With so much to see, including the Acropolis, Parthenon and Temple of Hephaestus, you'll want somewhere relaxing to spend your evenings. The Electra Palace Hotel is in a great location, and from the rooftop pool, bar and restaurant you will have stunning views across the city.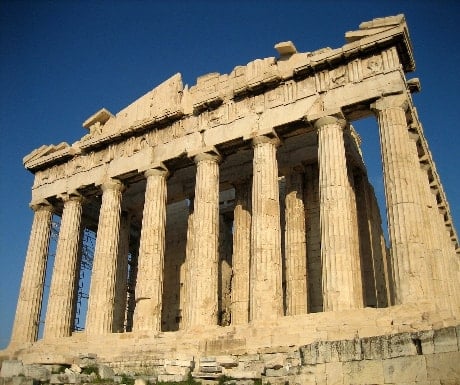 These are many other islands, towns and cities in Greece which all deserve a visit; it truly is a remarkable country. If you are planning on visiting in Autumn, make sure to stay in the south for the warmest temperatures.
Christos Hajipapas is Head of Business Development & Strategy at Cyplon Holidays.
If you would like to be a guest blogger on A Luxury Travel Blog in order to raise your profile, please contact us.