While summer in sunny Andalusia lives out its full term and autumn arrives sublimely, we're all aware of the abrupt, unofficial end of summer that comes with the close of August and the children's return to school. For those with a bit of flexibility, September and into October is possibly the best time of year to schedule an Andalusian vacation: the temperatures are more comfortable than in the steamy peak of summer, the crowded masses have dispersed, and not least of all because there are some great deals to be had. Here's how to get the most out of Andalusia after August.
Search for post-peak season deals
The first thing to know is that, as in many locations, traveler numbers decline sharply and quickly after the end of August. Hotels and private rentals that have been booked full for the previous couple of months suddenly find themselves with empty rooms and empty houses. The good news for you, traveler, is that this often equates with discounts, special value added offers and other enticements to maintain the business momentum into autumn. Peak season rates will have already dropped for September and additional offers abound.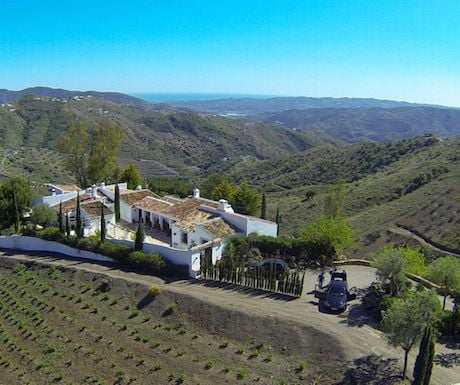 Book a private rental, not a hotel
This is generally a valuable tip. Hotel rates may also drop a bit after August, but if you're traveling with family or a group of friends you'll always get better value for money out of a single luxury rental over multiple hotel rooms. Even for couples, stylish and intimate options exist that will be more economical than a luxury hotel across a week and you need not sacrifice comfort. Besides, why share public space and the pool at a hotel with strangers when you can have luxurious privacy in a top rate vacation rental? Smaller independent rentals are also more likely to extend those special offers in September, whereas corporate hotel chains may be simply riding out their quarterly profits.
Avoid the tourist trap bars and restaurants
A discerning eye and even a little local experience will quickly raise red flags for the places to avoid. That glitzy beach club may or may not look interesting to you, but rest assured that the drink prices will be inflated; the humble "chiringuito" next door will have the same seafront view and the food is actually likely to be better, plus your gin and tonic will cost you considerably less. Unfortunately, an obvious foreigner in peak season may still unwittingly pay more for a drink than the local up next at the bar – less likely after August. In the city, the views from that hotel rooftop terrace might justify an increase in prices, but the atmosphere may leave you wondering what country you are in after all. The locals are more likely to be in the traditional bar on the street, where if you're lucky you'll still enjoy the old tradition of complimentary tapas with each drink you buy.
Enjoy all that Andalusia has to offer for free
Depending on your idea of luxury, Andalusia has a lot to offer for little or no money whatsoever. A stunning beach largely to yourself? Difficult in August, but in balmy September there are many beaches just off the beaten track where you can find beautiful, tranquil surroundings and hardly notice another soul (try between Maro and La Herradura, for example). Awe inspiring views from mountain top? Most hiking in the Andalusian mountains between July and August is downright dangerous due to the harsh summer sun beating down, but come September well timed treks can again reveal the surprisingly varied terrain of the Sierras. Cultural immersion? Once the tourist crowds have thinned, curious and adventurous sorts can more easily find themselves in rich and authentic experiences with locals. The festival season may have peaked but there is still a seemingly endless string of culinary and cultural fiestas in the cities and small pueblos alike. Participatory harvest or volunteer activities are just a couple of further examples of experiential and immersive opportunities.
Many people would argue that there is no bad time to visit Andalusia, with the best climate of mainland Europe, year-round cultural draws and a warm, open and inviting population. Still, some times of year are clearly better than others and late summer/early autumn is difficult to beat. Get the most from your experience.
Alan Hazel is Owner and Director of Cortijo El Carligto.
If you would like to be a guest blogger on A Luxury Travel Blog in order to raise your profile, please contact us.