There are many faces to Phuket. What started off as a backpacker hippy heaven now offers much more. Trisara is one of the island's best exponents of the very opposite end of this scale – ultimate luxury, where privacy and minimalist elegance are complemented by a spectacular location. The resorted was opened in 2006 by one of the luxury hotel industry's most renowned hoteliers: Anthony Lark, who oversaw the entire project from location scouting on the northwestern coast of Phuket, to construction to opening, and still continues today as General Manager of the property.
Snaking through narrow roads past Phuket International Airport on a path that veers from the main road at least a half-mile back, the atmosphere changes without notice from tourist trap stores to idle village to lush green as we enter a demarcated national park area. Deep inside this, by the coast, is our final destination for the next five days.
Straddling either side of a crescent-shaped hilly beachfront deep within northern Phuket's national park sits Trisara: transliterated from Sanskrit as 'the third garden in heaven'. It is an apt name, for upon checking-in, it's immediately clear why Trisara is considered one of, if not the very best, resort in Phuket: 39 one- and two-bedroom rooms, suites and villas, many free-standing, are arranged neatly in three rows across 40 acres along the hillside. A further 40 private residential villas take prime space across the two headlands from the beach.
All suites and villas come with its own pool and deck that differs in size and layout depending on the room category, but has one common theme running through it: each room is positioned perfectly to enjoy sweeping views across the Andaman. The multiple bedroom villas offer spacious living space in addition to larger private pools and an even more expansive private deck, capable of hosting dinner functions and parties.
The design is very unique, best described as contemporary Thai – employing elements of each. Our 300 square-metre two-bedroom oceanfront pool villa offers two bedrooms split by a living and dining space (there are no kitchens except in the residence villas). There is a Thai overlay, which is immediately obvious with the roofs of each villa and building that dot the resort, clearly imparting a sense of space and location. The interiors are decidedly more modern, but minimalist in design. There are no frills here or intricate designs (save for the statues and other ornaments), simply everything provided to a very high standard. Two ensuite oversized bathrooms, each with twin vanities, a separate toilet, a large soaking tub, and an indoor and outdoor shower, complete the indoor space.
The highlight at Trisara, however, is the outdoor terrace that accompanies each room. A teak dining table and sun loungers, along with a daybed are neatly arranged around the circumference of a 10-metre long infinity pool that protrudes beyond the limits of the villa. The dining table inside our room sees no use, as we opt to dine in the terrace – whether for breakfast for otherwise – on every occasion.
Unlike much of Phuket, northern Phuket is lesser developed and still enjoys serenity, and Trisara's design allows for maximum privacy – you'll never hear your neighbor, much less see one – unless it is at the resort's pool by the beach, beach club, or beachside café. Private beaches in Phuket are highly prized and rare, and Trisara's small beach is one of the most secluded. The sand is soft and golden, and although the sea is only swimmable from November to April due to the strong currents at other times of the year, the coral life around the resort is evident as corals wash ashore. The beachside offers more sun loungers, and more of a social scene, although reserved and quiet, as well as hammocks strung across trees. Just next to the beach is Trisara's main pool, cornered off by day beds.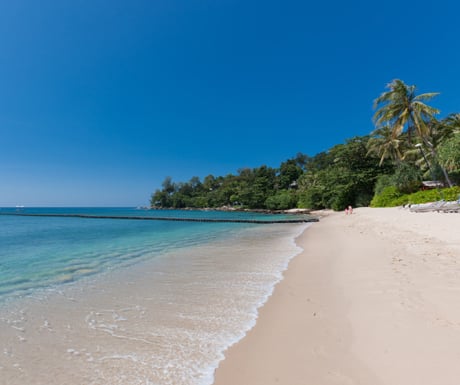 The pool is overlooked by The Deck and The Bar, which offer casual dining of both Thai and Western varieties. The food here is mixed – when sticking to Thai options, the quality is generally top-notch, with southern Thai favourites such as tom yum goong (hot and sour king prawn soup) and phad cha pla (wok-fried red snapper with ginger and green peppercorn) really excelling. The Western offerings can be a bit more miss than hit at The Deck, although Sunday's Champagne Brunch here is popular and draws tourists from around Phuket.
The same cannot be said of Trisara' fine-dining restaurant, Seafood,  that opens only for dinner. The restaurant, often awarded recognition in Thailand Tatler's Best Restaurants Guide, presents cuis ine based around the catch found near Phuket's prized coastline and around the world, complemented by cutting-edge modern cooking techniques and presentations. Despite the website's description of the restaurant offering 'simple' cooking, make no mistake: the style and presentation here is elaborate, perhaps too much so for a resort such as Trisara that offers a very casual, home-like vibe. However, the fine dining is a welcome surprise, and will certainly come of aid for those who plan to stay at the resort for longer.
For the more active, on- and off-site activities and experiences include beachside, poolside, or in-villa dinners, snorkeling and other water activities and sports, cruising, as well as a round of golf at Phuket's most prized golf-course. Fitness and holistic well-being is a large part of what makes Trisara special, with muay thai and yoga on offer – as well as a spa dedicated to bring you back to balance.
I might have missed a trick by not attempting the spa during my five-day stay here, but that is because I found myself perfectly balanced – often between the hammocks by the beach, or at other times lazing on one of the many sun loungers and day beds that are prevalent from our private pool to the beach.
Disclosure: Our stay was hosted courtesy of Trisara.