India is a beautiful country with love and romance evident around every corner. Where better to holiday with a loved one than in one of the wonderful locations below where you and your partner can revel in luxury and soak up some of the most iconic views from around the world…
Ladakh, North India
Soaring snow-capped mountains, swathes of sweeping valleys and the milky-blue Indus River undulating through the raw and awe-inspiring countryside… There is no two ways about it, Ladakh's soul-stirring scenery is possibly one of the most romantic rural settings in India. Get your heart racing by going for a walk amidst the most breathtaking landscape and raft on the gentle Indus River, stopping for a delicious picnic lunch on the picturesque river banks. With the dreamlike monastery horns blowing out across the silent valleys, you will be transported to another time and world, professing your love for your lover before you know it.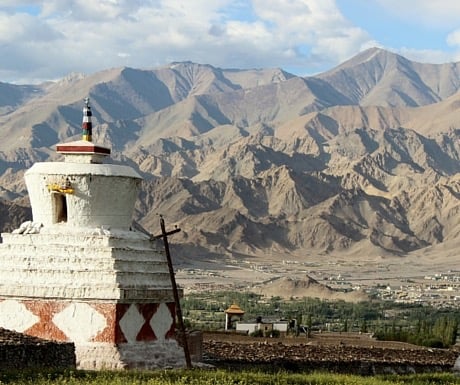 The Falaknuma Palace, Hyderabad, South India
The Falaknuma Palace is of Ampersand's most coveted romantic retreats. A jewel in the crown of the "City of Pearls", luxury exudes from every marbled surface. A stay here with your sweetheart will be all about extravagance, and you will be suitably indulged as your private butler will cater to your every fancy. While away the blissful evenings as you sip chilled champagne with your companion upon the magical Jade terrace. And as the sun sets over the old city, traditional 'musical poetry' (or Sufi Qawwali), a form of devotional music will have you entranced in this romantic setting.
Lake Pichola, Udaipur, North India
Is there anything more romantic than floating in pure luxury upon one of India's most iconic lakes? With the Taj Lake Palace as your backdrop, swill a cocktail as you glide along the glassy lake and soak up the sublime surroundings. Be warned though, your admirer might have to compete for your attentions, as you are sure to be entirely enchanted by the unsurpassed views of the glistening lake and the majestic Palaces of Udaipur. We cannot think of a more perfect scenario to confess your perpetual love for one another.
Taj Mahal, Agra, North India
It seems unthinkable to say "I love you" in India anywhere but in front of the Taj Mahal, the world's ultimate monument to love. Mughal emperor Shah Jahan, commissioned the erection of the Taj Mahal to house the remains of his cherished wife in 1632. A labour of love, the monument is inlaid with semi-precious gems and took 17 years to complete. Watch the sun set over this breathtaking monument from the idyllic Mehtab Bagh garden complex, and witness the colours slide from chalk white, to dusky pink, to a peaceful grey as twilight falls, and the twinkling stars puncture the night sky. This is the epitome of romance, and the words will be spilling from your mouth before you can stop yourself.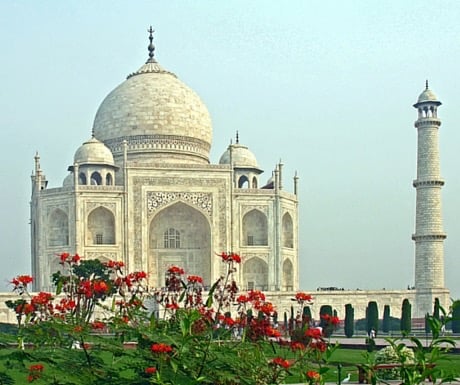 Ahilya Fort, Maheshwar, North India
Nestled on the banks on one of India's most sacred rivers, the Narmada (thought to have been created from a single drop of sweat from Shiva's head), the understated yet luxurious Ahilya Fort provides the perfect romantic hideaway for you and your beloved. Immerse yourself in history on a private picnic at the nearby secluded lakes and monuments, or take a picturesque boat to Baneshwar, a tiny island that is said to sit on the axis connecting the centre of the earth to the North Star. Is there a more perfect setting to tell your loved one how you feel? Elegant, sophisticated and dreamy, this beautiful hotel enriches everything there is to love about India.
Andaman Islands, South India
Scattered like gems in the middle of the cerulean Bay of Bengal, 1,000km from India's east coast, lies the Andaman Islands. Havelock Island is absolutely stunning, covered in exotic tropical forest with its own distinct flora and fauna. Barefoot at Havelock provides sweethearts with privacy, with each beautifully designed cottage nestled amidst the jungle on the edge of 2 kilometres of pristine white sand. Ideal for lovers, this romantic island will have you strolling down the beach at sunset, hand in hand, sinking your toes into the powder white sand, with the gin-clear waters lapping at your ankles, finding yourselves completely alone…
James Jayasundera is Founder and Managing Director of Ampersand Travel.
If you would like to be a guest blogger on A Luxury Travel Blog in order to raise your profile, please contact us.