Special feature: That Little Wine Bar, Penang, Malaysia
Penang has a reputation for being a food lover's paradise. Really? I've looked hard but very rarely seen it, and that's despite being a nomadic gourmet who likes to try all kinds of new things. I'm always on the lookout for exceptional places which provide an oasis from the usual fare. And I have just found one!
I'm delighted to share my good fortune with you, our luxury travel readers. It's
That Little Wine Bar
in George Town, Penang. The wine bar is tucked down a side-street a little way out from the old town, so it's unlikely you'll find this place unless you go looking for it. Of course, once you know where to look, it's very easy to find and only a short taxi ride from any George Town hotel. This European-style boutique wine bar and lounge provides excellent wines and delicious food in a very comfortable and relaxed environment. It's a relatively new place and is run by Louise, front of house, and Chef Tommes, who together with their very able and friendly staff have created a congenial atmosphere in which to enjoy good food and wine. The wine bar is consistently receiving great reviews on Trip Advisor, which was another reason why I was so keen to try the place. After being greeted at the door by Louise and seated inside at a large comfortable table, we started off with a friendly conversation about wine. Louise is an enthusiast and an expert and we are certainly enthusiastic about wine too. We like a nice crisp dry white wine (perhaps typically a New World Sauvignon Blanc). Louise asked our opinions on Chardonnay and we said that we had gone off it some time ago when over-oaked, flabby Australian and Californian Chardonnays had become so prevalent everywhere. She suggested we could try a Chardonnay which would maybe entice us back to the grape. We were very willing to try. We were impressed! The wine was excellent and definitely not over-oaked, crisp and dry, and we now think Chardonnay may well make a comeback, just as Louise predicts. The wine in question was Austrian, a Chardonnay from Claus Preisinger's biodynamic vineyard. (I wasn't sure what biodynamic farming was, so I looked it up. Apparently it's similar to organic farming, but goes one stage further by actively replenishing the soil's fertility.)
Rather than order a more formal three-course meal each, we expressed an interest in trying things by sharing our plates. Louise and Tommes were happy to oblige us. We started with mushroom soup, which was described as being a light soup, and it certainly made a change from the mushroom cappuccino which seems to have become so popular. The soup was light, in as much as it was a clear broth rather than a creamed soup, but it was bursting with flavour and had plenty of mushrooms in it and a subtle taste of Parmesan and herbs. I spotted about five different kinds of mushrooms in there, including slices of those big eryngii mushrooms and plenty of enoki too. It was really very good.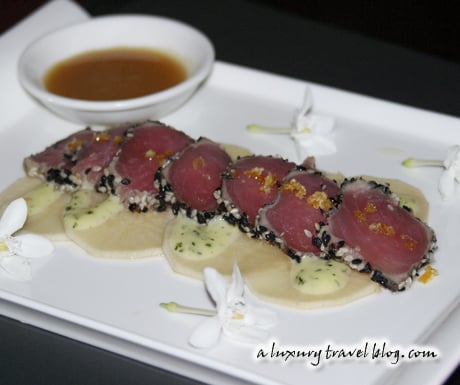 Next we tried the seared tuna, with black and white sesame seeds, which was absolutely delicious. It came beautifully presented, with little jasmine flowers, which apparently are edible. Lovely! The tuna was placed atop thin, thin disks of daikon radish, which added an interesting complexity, and a ginger-based sauce. We were supposed to be sharing but I must confess I rather took the lion's share of this one.
Next up came black cod, beautifully cooked, with Pommery sauce, which was a fairly delicate mushroom sauce. We loved it. It was accompanied by cauliflower purée and vegetables, and the pea sprouts round the edges perfectly set it off. The flavours were subtle and the fish was fantastically moist. This was truly fish cookery at its absolute best. By this time, we had moved on to red wine – a 2004 Madiran. Ooh! Seriously good with so many flavours going on in there. The Madiran vineyard's been producing wine since the fourth century BC, so they've had plenty of time to perfect it.
Then we had a superb piece of crusted beef tenderloin, with Mushrooms Royale, special mash and a red wine sauce. It was so perfectly cooked, I can hardly do justice to it with words. Chef Tommes, as well as being amiable and informative, is one of the most talented chefs whose food we've had the privilege to eat.
For dessert we had filo apple parcels with macadamia ice-cream and whipped cream. It was gorgeous with a nice hint of cinnamon in the apples, and despite it being pastry, ice cream, and whipped cream, it was surprisingly very light. If this has whetted your appetite you can find
That Little Wine Bar's menu
online, as well as their
extensive and fascinating wine list
. In addition to their usual menu, they also hold regular wine tastings, food and wine pairings, and fine dining events. There are also two private dining rooms, each with their own private balconies, for parties of 10-12 people. The private dining rooms offer a more extensive and refined bistro menu. We had a wonderful evening and I'd recommend this place to any luxury traveller who is looking for something a bit more special than the usual culinary offerings of Penang. So, next time you're in Penang and looking for something delightfully different, head on over to That Little Wine Bar. You're in for a gourmet treat!
Did you enjoy this article?
Receive similar content direct to your inbox.