The prestigious Mandarin Oriental Hotel contains several restaurants offering different cuisines. All are renowned for their excellence and Le Normandie is world-famous for its classical French fine dining. Opened in 1958 by Germain Krull, Le Normandie has produced the height of French gastronomy for more than 50 years. The restaurant provides a stunning view of Bangkok and an unbeatable view of the Chao Phraya river.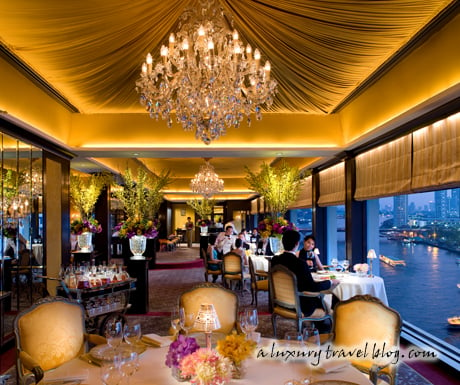 We were delighted to be invited to sample the food at Le Normandie, which was a real feast for the eyes. I've never before seen such exquisite presentation.
The Maitre D' asked us what kind of wine we liked and, given our food choices, we decided that a crisp, dry white would be appropriate. He suggested a white Bordeaux. Crisp and dry as requested and very enjoyable.
There was a great array of different breads available, including brioche, crusty French bread with salt, black olive bread, four-grain bread, and a very little mini-baguette. The butter dish was like a mini cloche, which rather amused us. (I want one of those!)
We started with an amuse-bouche of pike dumpling with morchel (morel) mushrooms and a gratinated sauce. The pike dumpling was interesting – it had a texture a bit like tod mun pla (Thai fish cakes). The mushrooms were gorgeous and the cheese was salty and cheesy and enjoyable.
Next, David had foie gras with cassis sauce. As any gourmand will know, foie gras is about 90% fat so it's quite rare to see it without an accompanying puddle of grease. Le Normandie's version was superb. It was very crisp on the outside and held its texture well.
I had the other starter which was on their then current menu. It consisted of tiny little brunoises of pork, wrapped in air-dried ham and little crunchy rings holding the lot together atop a slice of raw tuna.
Let me say again how the very intricate presentation was a delight.
We moved on to the vegetable soup, which was bright green and foamy on the top and garnished with little brunoise croutons. The best way I could describe it would be that it was like a cappuccino of asparagus which was tasty and fresh.
We also had seafood cromesquis. We weren't sure what fish these were made from but guessed at sardines. This came with a nice white wine sauce.
We tried two different main courses, one chicken and one fish, both of which were accompanied by interesting sauces. The fish came with a sort of chocolatey, lavender sauce which was quite a revelation. (If you read my previous reviews you'll see that I've been eating a lot of flowers recently.)
Mr Somkid then served our desserts. Again, we were impressed by the absolutely beautiful presentation. To call it art isn't an exaggeration. I wondered what he was doing prior to serving from the dessert trolley, but the results of his endeavours were quite stunning. He'd painted some very elaborate flowers in the sauce. It was beautifully done, and if you didn't know that the plates were going to be washed afterwards you might think it was a shame to destroy it by eating it, but you might as well enjoy the flavour of the sauce too. (Isn't ephemeral art a very Zen thing?) Meanwhile the mascarpone-based dessert was very nice and not too sweet.
We had espressos with petits fours afterwards. They came on a little chocolate stand with a mirrored surface and also a little compartment underneath containing dry ice, so that it was put down in a swirl of 'smoke'. Once again, the presentation was very exciting!
There were also beautiful floral arrangements around the restaurant and on each table. There was a gigantic hydrangea flower on ours.
Sorry, there aren't photographs for this special feature, but for the comfort of other diners photography is discouraged in the restaurant.
If you want to visit a world-renowned restaurant, and this one had certainly been on my wish list for a long time, then where better to choose than the prestigious Le Normandie?