This is a heads-up on how you can enjoy a luxurious hotel stay without paying five-star prices. It's "simple luxury". The concept is that a premium room in a four-star hotel can offer better facilities and services at a price cheaper than a standard room in a five-star. We tried it and here's how we got on.
The Peninsula Excelsior, which is located in Coleman Street, Clarke Quay, is primarily a business hotel. Spokeswoman Corina Teo explained that in these days of economic recession, many businesses are cutting back on the business travel expenses of their executives. Thus the Peninsula Excelsior is offering a different kind of service. Companies can save money by accommodating their executives in a premium room in a four-star hotel and yet the executives still have a better room and facilities than they would in a basic five-star room.
Despite billing itself as being mainly for business travellers, the Peninsula Excelsior has a lot to offer for luxury tourists too. It's only a few minutes' walk to many of Singapore's best attractions. You have the night-life of the waterfront area, Clarke's Quay and Robertson Quay where there are lots of restaurants to try, the Raffles City shopping centre is only a stone's throw away, and St Andrew's Cathedral is virtually on your doorstep. I don't usually get excited about cathedrals, but this one is so pristine, so beautiful, and so strange, sited as it is in this space-age cityscape that it almost seems like something from a computer fantasy game. (It's even better if you get a room on a high floor overlooking the Marina Bay. The Premier Club rooms are on the 19th floor and upwards!) It's also only a five-minute taxi ride to the Marina Bay Sands casino, Chinatown and the posh shops in Orchard Road, ten minutes to the Universal Studios Theme Park and the Resorts World Sentosa casino, and only 20 minutes' drive away from the airport.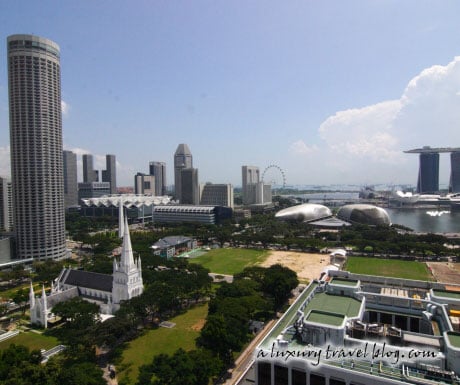 The rooms are clean and newly refurbished. The hotel recently underwent a multi-million dollar renovation. The process is not yet totally complete but they expect to finish in the first quarter of 2012. Our room on the 19th floor had already been done with new furniture, attractive soft furnishings, large flat-screen TV, tea and coffee-making facilities, a good-sized well-stocked mini-bar, a generously proportioned safe and a large, comfortable bed which we estimated as being at least 6'6″ wide. Broadband Internet access is free, as is the daily shoe shine service, and laundry facilities are discounted by 20 per cent.
One of the main benefits of staying Premier Club class at the Peninsula Excelsior is that you get access to the Sky Lounge on the 22nd floor – from the beginning of your stay to the end, as you get to check in and out there too. Much more comfortable than queueing in reception. I wrote about the Sky Lounge before and am still of the opinion that the view from up there is possibly the best you could find in all of Singapore.
In addition to the spectacular view of Marina Bay (including a clear view of the Marina Bay Sands Skypark, which offers what is considered to be one of the most amazing swimming pools in the world), the Peninsula Excelsior Sky Lounge also has a clear view of the many events staged in this central area of Singapore city. It's in a prime location to watch the Singapore Formula 1 Grand Prix every September. If your need for speed is of a more aquatic nature, there's F1H₂O – the Nations Cup for power boat racing – which is being held in Marina Bay this month (19-20 November 2011). In addition to their usual room stays, the Peninsula Excelsior is also offering daytime packages for guests to watch the action from the Sky Lounge whilst enjoying food and beverages.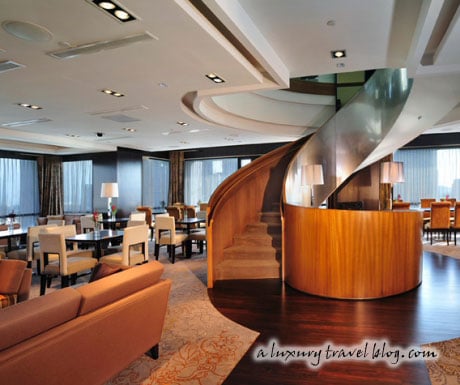 It seems there is nearly always something going on here. As with many other hotels, the Peninsula Excelsior enjoys high occupancy levels (they were recently running at 100% occupancy!) so you need to book reasonably early to avoid disappointment. However, you can't book too far ahead for some of these events, as the government imposes a charge on those hotels which have the privileged vantage points. And the hotels need to know what the service levy is before they can set their room rates. The levy goes towards providing the infrastructure required to stage these events.
Even if your stay doesn't coincide with a specific event, you can enjoy a nightly light show from the Marina Bay Sands complex. Lights and lasers change the colours of the various architectural features of Marina Bay. It really is a space-age scene and one almost expects to see flying cars and space ships going about their business. Given Singapore's rate of innovation, perhaps we will see that in a few years time.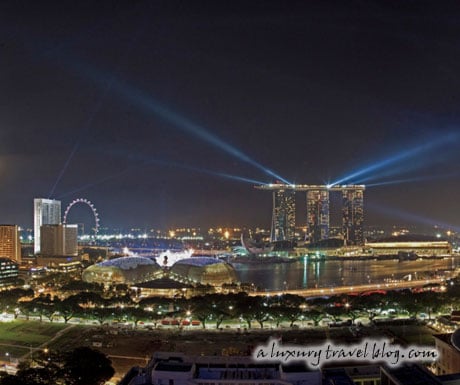 The Sky Lounge's facilities include a complimentary buffet breakfast with eggs cooked to order (you can choose to breakfast in Coleman's on the fifth floor along with the standard-class guests if you prefer), sundowner drinks with canapés, free WiFi, freeflow tea and coffee all day, and newspapers and magazines. If you need to conduct business, a private meeting room's available – two hours of complimentary usage per room per stay, subject to availability. Smoking is not permitted in the Sky Lounge, but there is an area set aside for the human chimneys outside on the balcony. I was pleased to note that there is a disabled-accessible toilet in the Sky Lounge and stuck my head around the door for a look. It's clean, spacious, and fully equipped with grab rails.
There is also a menu for snacks and meals beyond the complimentary offerings. We spent a leisurely evening over a four-course dinner, and couldn't have wished for more congenial surroundings to eat it in. As for the food itself, the cream of mushroom soup was a tasty affair made with proper mushrooms and cream, with an added herby dimension – far more satisfying than the cappuccino soups that seem to be ubiquitous just now. The Caesar salad was good, with fresh Cos lettuce leaves, crisp bacon, and even crisper croutons. And the main course – a rib-eye steak – was done perfectly medium-rare as ordered, and came with a pepper sauce that was pleasantly piquant rather than bland or overly fierce, as well as gratin potatoes Dauphinoises (which we chose rather than fries) and mixed vegetables. The Tiger beer we ordered to wash it all down with was perfectly chilled, and everything we needed was brought to us by staff that were friendly, polite and eager to please.
If you're feeling guilty about over-indulging – or if you're already fit and want to keep that way – the hotel has a gym, a sauna and not one but two swimming pools!
So if you want "simple luxury", try staying in a Premier Club room in the Peninsula Excelsior rather than a standard room in a five-star. You'll get a lot more bang for your buck.