By
Matt Payne
on Nov 12, 2012 in
Accommodation
,
California
,
Canada
,
Europe
,
Featured
,
France
,
Fun Stuff
,
Hotels
,
Idaho
,
Nevada
,
New York
,
North America
,
Regions
,
Resorts
,
Sweden
,
Travel Miscellany
,
USA
,
Western Europe
Hotel rooms can be expensive, especially while on a city break – aiming to take in more sights than your balcony or window has to offer. Some of these suites offer more than just a stunning view. From quirky exteriors, underground caverns and tree top orbs, this post will take you through an alternate look on some of the most stunning hotel suites across the world. Sit back, relax, and enjoy seeing how far your money could get you.
The Hardwood Suite – Palms Casino, Las Vegas
The Palms Casino Hardwood Suite has to be one of the most extravagant rooms on our list. From around $25,000 a night, you'd have to be a real baller to be able to afford this 10,000 square foot, 2 floored suite. Comes complete with a half-court, locker room, pool table, bar and lounge. Wow.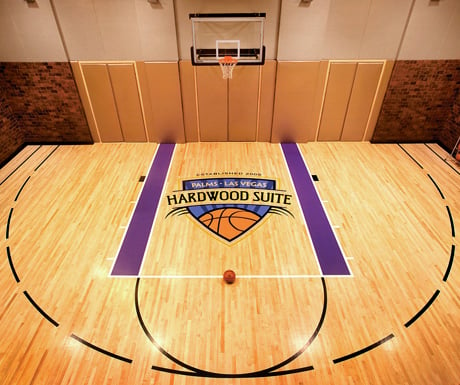 Free Spirit Spheres – Vancouver Island, Canada
Starting at around $150 a night, the Free Spirit Spheres are a little more on most people's accommodation budget. Nestled up a tree in the wilderness in British Columbia, this getaway will have you retracing your roots as you relax in the minimalist space. Staying at the spheres has been said to be a unique experience and boost creativity, as the orb slowly rocks you to sleep in the wind.
Two Storey Sky Villa – Palms Casino, Las Vegas
The Sky Villa at Palms is even more lavish than the hardwood suite, not only reflected in its $30,000-£50,000 a night price tag! All complete with a media room, massage parlour, balconies and Jacuzzis overlooking the Vegas Strip, revolving bed and glass elevator. This has to be one of the best, if not the best Suite in the best casino resort the world has to offer!
Romeo and Juliette Suite – Black Swan Inn, Pocatello, Idaho
From $169 a night, this suite is one for all the romantics and Shakespeare lovers out there. Comes complete with your own heart shaped jetted tub, turret staircase and balcony bed. O Romeo, Romeo! Wherefore art thou Romeo?
The Archaeologist's Digs Cottage – The Roxbury Motel, Roxbury, New York
From $590 a night, this suite exudes luxury, as well as being fun themed. The Archeologist's Digs Cottage has an air of Indiana Jones about it, without the action and unwanted guests! About 3 hours drive from New York, taking a vacation at this motel offers surroundings of white water rapids and historical architecture. Of course you could just stay in the archeologist's suite and stick to the spas on site. The exterior of the building is also illuminated by lights which display a range of colours!
Caveman Suite – The Madonna Inn, California
The Caveman Suite in the Madonna Inn will make you feel like Fred Flintstone from Bedrock! Kitted out fully with animal pint furniture and a waterfall style shower, this room at $279 isn't too shabby, considering real cave men wouldn't have had these luxuries.
Panic Room by Tilt – Au Vieux Panier, Marseille
This room designed by an international graffiti artist from Toulouse named Tilt. The room is priced at €135 a night, which you may think is pricey for a basic room. You can always stay under a bridge and get a similar vibe right?
The Mine Suite – Sala Silvermine, Sweden
This suite is 155m underground in a cave! Now that's some real cave, man! Upon arrival you will receive a guided tour and refreshments. Telephones don't work this far underground and the natural temperature this far down is 2 degrees. An experience not to be missed.
Dog Bark Park Inn – Cottonwood, Idaho
Dog Bark Park Inn is home to Toby and Sweet Willy, the world's biggest beagles. Sweet Willy was originally built for the days when truckers and travellers would need a rest stop, gas, food and the like. Today the Inn is a glimpse at the past, with modern day luxuries. From $86 a night and self-service breakfast, this is one to see if you are on the road.
The Mirrorcube – Treehotel, Sweden
Another really cool resort, the Treehotel has a number of retreats in the treetops for you to have a different experience away. The Mirrorcube looks like something from a sci-fi movie, with its deceptive mirrored exterior. Other rooms include The UFO and The Birdhouse. There is a tree sauna on site too, and from 3050 Swedish Krona, this resort in Sweden is a serious one to consider.
Matt Payne is Managing Director at Oomph Ltd.
If you would like to be a guest blogger on A Luxury Travel Blog in order to raise your profile, please contact us.