Dubbed "Vulgarity Arch" by the Daily Mail when its sale to developer Rafael Sorrano was announced last year, it has been confirmed that London's Admiralty Arch is to be transformed in to a £100 million Armani hotel. Originally designed by Aston Webb as a ceremonial passage from Trafalgar Square to Pall Mall and Buckingham Palace, the impressive Grade 1 listed building, situated on the south side of  Trafalgar Square has been left empty recently.  Admiralty Arch, which consists of three arches, was commissioned by Edward VII in memory of his mother, Queen Victoria.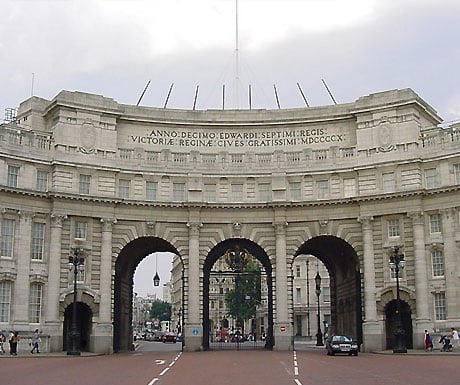 Armani has already added its name to hotels in Dubai and Milan so the purchase of the London landmark is not so out of character for the luxury design company and wholly in line with trends set by designer brands such as Bulgari, Versace, Lecroix and Ralph Lauren – the developer behind the purchase is Rafael Sorrano who was also behind the recently opened 85-room Bulgari Hotel & Residences in Knightsbridge.
Sorrano says the building's original features will be preserved, although it is unclear if that includes its famous nose, placed on the arch in 1997 by Rick Buckley in protest at "big brother" society.
The rooms where originally offices and residences for the Sea Lords who were the commanders of the Royal Navy. It has been used as a hostel for the homeless and since 2000 it had been home to a range of government offices including the Cabinet Office and the Social Exclusion Task Force.
The hotel is expected to open in 2015.
Simon Harding is Editor at Theatre Breaks.
If you would like to be a guest blogger on A Luxury Travel Blog in order to raise your profile, please contact us.