I've recently had the pleasure of being given a guided tour of Abu Dhabi's pride and joy, the fabulous Emirates Palace. Landing in Abu Dhabi and making our way from the airport, this iconic metropolis is visible from some distance. And as we were told by our guide on arrival, this is a 100% fully functioning palace as well as a hotel for discerning clientele.  Several floors of the hotel are used as the private residences of some of the Emirate's leading dignitaries.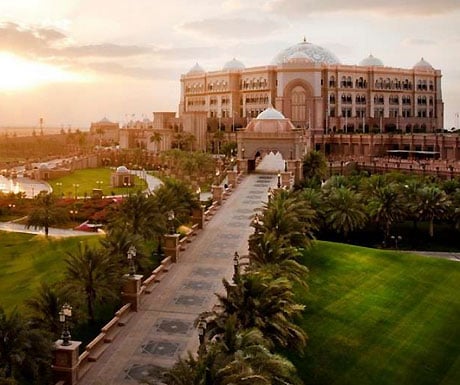 Stepping into the palace is like stepping into an Arabian themed amphitheatre. It's everything like a palace and nothing like a hotel! Huge open marble floors, ornately furnished domed ceilings and outlandish opulence at every turn greeted us. This is quite some place to visit let alone stay.  Yet the Emirates Palace and the staff who worked there were welcoming and personable on a level that seemed genuine – there was nothing pretentious despite the extremely luxurious surroundings – and this was to their great credit.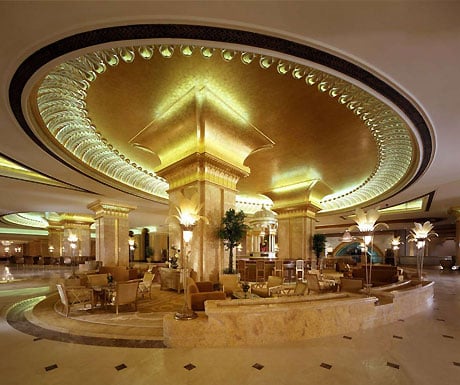 The tour was an all-encompassing one. We were shown the Pearl and Coral guest rooms, which are both identical differing only by their location and view. These rooms feature gigantic 50" flat screen televisions controlled by a universal remote which also closes your curtains, changes the lighting, controls the air conditioning – there's very little it doesn't do!
The beds are enormous and each room features a smart balcony overlooking the gardens, pool or Arabian Gulf (depending on whether you choose the Coral, Pearl or Diamond room types)
We were told that everything in the palace is custom made. You cannot buy any of the fixtures, fittings or furnishings anywhere else. One-of-a-kind Persian rugs adorn the entire Palace. Even the glasses by your bedside are crystal and made to order. The hotel keep a tight rein on their inventory as each item is of high value. No expense has been spared on anything, which is exactly how the Sheikh wanted it when he first commissioned the build.
There's a beautiful pool for each wing of this huge palace. Traversing it all in one afternoon will completely tire you out! Along the way you'll way some boutique jewellery and clothes stores, the Anantara Spa and a sprawling conference complex with auditorium, ball room and meeting rooms.  There's a huge array of other facilities and it was impossible for us to see everything.
In the evening we were treated to a meal at the Vendome Brasserie – which is by some distance the best buffet restaurant I have ever encountered. The choice of food was amazing from fresh lobster and oysters to Teriyaki chicken, Mexican quesadilla, Indian curries, freshly baked sea bass – and the most impressive array of desserts from cheesecakes to fruit kebabs with an amazing chocolate fountain for dipping!
We were informed by our host that at the end of each day, any food left over is packaged up and sent to charities and organisations to feed the poor and underprivileged. So we were able to enjoy our meal knowing that none of this amazing food would be going to waste.
To conclude, if you are heading to the Middle East – make sure you at least call in to the Emirates Palace even if it's just for the tour or for a lunch you won't forget in a hurry.
Carole Booth is Commercial Director at Destinology.
If you would like to be a guest blogger on A Luxury Travel Blog in order to raise your profile, please contact us.