Black sturgeon caviar has been a luxury delicacy for centuries, though it is only in the past couple of decades that our taste for it has driven the sturgeon, an ancient species with a history of at least 250 million years, to near extinction. Despite a temporary and partial ban on wild sturgeon fishing in the open waters of the Caspian sea where Russian and Iranian Beluga caviar became the most expensive and sought after in the world, the rarity of the product may only make it more desirable to less ethical consumers. Luckily there is a somewhat surprising source of sustainable caviar, though it still is not cheap!
Riofrio Caviar is the world's only certified organic caviar. Located in Granada Province of Andalucia, the sturgeon farm sits downstream from a natural cold spring running from the Sierra Nevada mountains. This provides an eternal source and near constant temperature of natural cool water to the farm, where the sturgeon are raised in as natural an environment as possible. At Riofrio, the sturgeon need at least 15 years to mature to the age necessary to produce the perfect caviar, whereas other farms introduce hormones and other additives to speed the process. Due to the careful and sustainable process by which the sturgeon are raised, it's nearly impossible to tell wild sturgeon caviar from the Riofrio farm raised caviar. Of course, Riofrio Caviar export manager, Yamila Tawfik, may tell you it's even better than wild caviar.
From the Adriatic sturgeon (A. naccarii), Riofrio organic certified caviar will set you back about €100 for 30 grams (around $130 per ounce). It can be ordered directly from Riofrio at caviarderiofrio.es, or from other organic suppliers such as Biobox.es.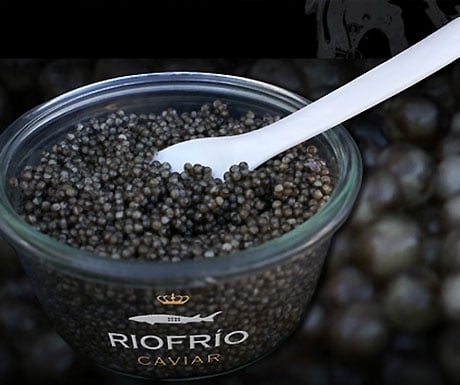 Alan Hazel is Owner and Director of Cortijo El Carligto.
If you would like to be a guest blogger on A Luxury Travel Blog in order to raise your profile, please contact us.