Steeped in legends and myths, boasting spectacular mountain ranges, mile upon mile of Mediterranean beaches and a plethora of ancient sites, it's unsurprising that visitors flock to Crete.
It can become a bit of a hot and crowded affair when the visitor numbers swell during the summer months, but if you choose to go outside of the height of the summer season you get a completely different experience of the Island. In May and early June, the weather is warming up nicely and beaches and other attractions are less crowded; perfect conditions for exploring Crete in comfort.
Here are just a few ideas for what to enjoy.
The Minoan Palace of Knossos
They say that no visit to Crete is complete without a trip to the Palace of Knossos. The vast Minoan Palace has wowed visitors since it was discovered in the early 1900s by British archaeologist Sir Arthur Evans. He believed it to be home to King Minos and the legendary Minotaur of the Labyrinth.
The unearthed Bronze Age ruins were partially rebuilt to give visitors a literal sense of what it must have been like to live, work and worship within the Palace in ancient times. When walking in the footsteps of this ancient civilisation it's hard not be impressed. Restored Minoan frescoes and beautiful architecture show an appreciation for the aesthetic, whilst building techniques used to ventilate and sanitise buildings show the importance they placed on the health and welfare of all citizens.
The Venetian fortress of Spinalonga
More recent ruins are found on the small island of Spinalonga, which is easily reached by a short (15 minute) boat ride from Elounda. After a history of Arab, Ottoman, Venetian and finally Cretan rule, the last inhabitants of the island's Venetian fortress was a colony of lepers who lived there from 1903 to 1957.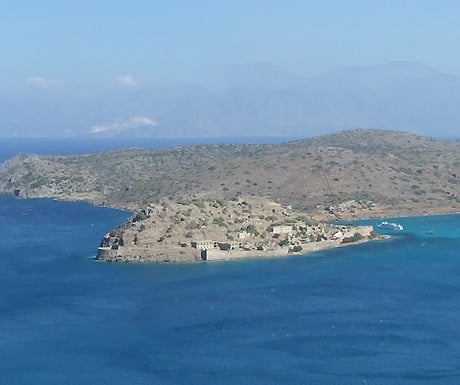 A visit to this now uninhabited island is an atmospheric and somewhat eerie experience as you follow in the footsteps of its last occupants. Don't miss the tunnel used by the lepers to enter the island which they called Dante's Gate.  So named as they didn't know what fate awaited them when they arrived. The best option is to take one of the organised tours of the island to hear more about its fascinating history and what life was like in the leper colony.
The Lasithi Plateau
The mountains of Crete dominate the Island and are well worth braving the buttock-clenching drives up winding mountain roads to reach spectacular views, caves full of myths and lush green plateaus. One particular area that is well worth a visit is the fertile Lasithi Plateau in the Dikti Mountain range.
Up here, away from the regular tourist haunts you will find delicious and authentic Cretan cuisine created from produce grown by farmers on the plateau. Sitting down to your meal you can tuck into local favourites and take in sweeping views across the plateau which is dotted with windmills drawing up fresh mountain water to irrigate the crops.
The birthplace of Zeus
After lunch stay on the Lassithi Plateau and head over to the Dikteon Cave. This cave is perhaps the most famous of all Crete's 3000 caves.  It is believed to be the legendary birthplace of Zeus, father of the Gods and ruler of Mount Olympus.
The cave shows signs of human inhabitation dating back over 6000 years. Finds suggest that the early inhabitants seem to have used it both as a home and a place of burial. Whereas it later became a place of worship from Minoan through to Roman times and beyond, with offerings and rock inscriptions being found at a small stone alter in the cave.
Nowadays rock doves and long-eared bats roost amongst the stalactites and stalagmites of the cave's five chambers. Exploring these chambers through a clearly marked route will take you to the deepest most mythical part of the cave. At the furthest, darkest end of the system you suddenly find yourself at the edge of an underground lake surrounded by stunning rock formations. Look across the dark still waters and you'll see a small chamber which is said to be the very spot said to be Zeus' place of birth.
Vai Beach
Crete has a wealth of gorgeous sandy beaches to choose from but none quite so unusual as Vai beach. Found at the Eastern most tip of Crete, Vai is a beautiful small curving sandy bay backed by Europe's largest natural palm grove. Some 5000 palm trees have been growing here in an oasis fed by a stream for over 2000 years. How they got here adds to the many legends of the Island. It is said that they grew from date stones discarded by Saracen pirates and washed ashore by the Mediterranean sea.
Victoria Brenner is Director at The Couture Travel Company.
If you would like to be a guest blogger on A Luxury Travel Blog in order to raise your profile, please contact us.