The Greek islands have long been a popular destination; here many people opt for either a villa or boat, but our suggestion is that you try combining the two, to enable you to get the most out of your Greek island experience. Here are our top 3 choices for a combined villa and boat holiday in the Greek islands.
Spetses is one of Greece's secret playgrounds, a charming and cosmopolitan island with a historically important town which is car-free so transport is by horse and carriage, bicycle or scooter. The 18th Century mansions provide a very ornamental waterfront,  and the island is a magnet for yachts and international jetsetters who come to enjoy the unpretentious yet quality restaurants, bars and shops, in an elegant and picturesque setting. All this conveniently close to Athens, and a stone's throw away from the magnificent archaeological sites of the Peloponnese located opposite. Spetses was the home of Bouboulina, the ferocious Resistance fighter who harried the Ottomans with her private navy  but came to a sticky end. Visit the museum dedicated to her and soak up the atmosphere of 19th Century Greece – Lord Byron, Albanian Corsairs and dastardly Ottoman pashas! The still, calm weather in the Saronic gulf is ideal for yachting, so  those in the know will take a villa with its own waterfront and private jetty, and charter a captained cabin cruiser like a Riva to go with it.  Ideal to take a trip around the island exploring the bays and coves and crystalline waters, visit Hydra across the sea for cocktails, and spend a day exploring  Mycenae or Epidauros, perhaps taking in a spa treatment at the new Aman hotel  on the way.
In contrast,  try a new way to experience Santorini: lying just a quarter of a mile off Oia is the small island of Thirassia seemingly an afterthought of the great volcanic explosion that blasted the top off  Bronze Age Santorini  and created the mysterious islet-strewn lagoon framed by the famous cliffs of Santorini's Caldera. The Hideaway on Thirassia is a perfect James Bond baddies' lair which can only be reached by the Hideaway boat, a fast Sunseeker that can take you across to play, shop and dine on Santorini,  then bring you back to exclusive seclusion.  Sail around at sunset to view the red and black cliffs of the caldera,  or go  fishing, scuba diving or  snorkeling in the navy blue waters off Little Burnt Island or Big Burnt Island. If that sounds too fiery, the chilled beaches of Ios across the sea are also reachable with your boat. Ideal for a special 3 or 4 day break.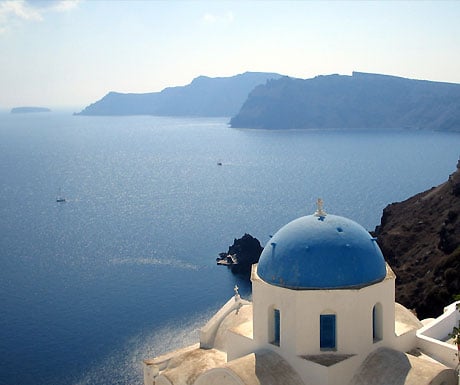 For something more peaceful, Ithaca is one of Greece's last unspoiled paradises –  the small jewel of the  calm and green Ionian Islands. It  has no airport and poor ferry connections, so its pristine nature and undeveloped coast are there for the enterprising visitor to enjoy. The  coast is indented with dozens of small bays and coves where the water, coloured like a peacock's tail, lie motionless against white pebble beaches.  Don't come looking for sophistication or somewhere to show off your Louboutins – Ithaca offers utter peace and beauty. You need a boat to enjoy it though as there are few roads and the beaches are not accessible by foot,  so it is the perfect island to try the villa and boat combination.
Andrew Loyd is Founder and Chairman of The Bespoke Travel Club.
If you would like to be a guest blogger on A Luxury Travel Blog in order to raise your profile, please contact us.