10 great reasons to visit Chamonix this Summer
Stretching from Servoz to the Swiss border town of Barberine, the quaint Chamonix Valley is home to lovely mountain villages and high altitude summer fun. The stately slopes provide both a luxurious mountain oasis, as well as excellent opportunities for mountain biking, trail running and rock climbing. As a result, the area is widely recognised as the world capital of mountaineering, and is a Mecca for adventurous travellers. However, those seeking an exclusive getaway, world class cuisine and stunning natural beauty will not be disappointed.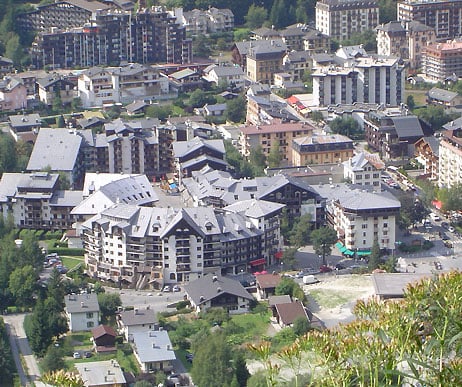 The valley's lofty spruces and wildflower-covered meadows provide a beautiful setting for summer escapes, as well as a thriving habitat for wildlife including mountain hares, marmots, lynx and majestic royal eagles. The area is also ideal for equestrians and amateur geologists, and is rife with fossils, volcanic rock and crystallized minerals.
Brave travellers can soar above the natural landscape in a paragliding adventure, scale the area's Via Ferrata climbing routes or even raft the rapids. Leisure lovers will also appreciate the Richard Bozon squash and tennis courts or the lush Italian community of Courmayeur. Located just across the tunnel, this idyllic town is renowned for its time-honored traditions, charming architecture and unique shopping and dining. However, for a truly memorable culinary experience guests flock to Michelin-starred Albert Premier, Auberge du Bois Prin and the creative, yet refined, Jeu du Paume for top tier gastronomic fare.
The popular Aiguille du Midi cable car also carries guests from valley to peak in only 20 minutes, and offers unparalleled panoramic vistas. Meanwhile the Mont Blanc Tramway offers visitors an impressive tour through the area's alpine forests and sweeping pastures to beautiful Bionnassay glacier.
The Chamonix Valley also hosts a variety of events throughout the year ranging from rugged to luxurious, and even a little bit quirky!  So here are our 10 great reasons to visit Chamonix this Summer:
22nd – 23rd June 2013
The Saint-Gervais Pandathlon is amusing for both participants and spectators as hundreds of panda-suited runners and hikers traverse the slopes to benefit the World Wildlife Fund.
22nd – 23rd June 2013
Le Grand Parcours Chamonix allows visitors of all ages to learn basic mountaineering, while more advanced climbers can further develop their skills.
28th – 30th June 2013
The famous Marathon du Mont-Blanc dedicates an entire weekend to high altitude distance running.
11th – 13th July 2013
Festival International d'Escalade is an essential stage in the Climbing European Championship, which draws climbing and mountaineering enthusiasts from around the world.
18th – 19th July 2013
A true family event, the Festival "Servoz en Ebullition" features concerts, outdoor cinema and children's programs.
21st July – 2nd August 2013
The annual Festival "Rencontres et Nature" hosts various environmental, cultural and artistic programming which this year focus on water.
27th July – 4th August 2013
Jazz aficionados celebrate their love of the genre and listen to modern greats in the midst of the beautiful Chamonix Valley.
6th – 11th August 2013
The Festival Musicalitude presents Raphaëlle Farman and Jacques Gay's whimsical take on the music and humor.
14th July – 18th August 2013
The Festival des Heures d'Orgue celebrates traditional and contemporary organ music and is one of the summer's most popular musical events.
26th August – 1st September 2013
Crossing three countries, the North Face Ultra Trail du Mont Blanc foot race spans 166 kilometers and climbs nearly 9,400 meters.
The Chamonix Valley also hosts ongoing events throughout the summer months such as French language courses and weekly markets where guests can sample Tomme, Reblochon and Beaufort cheeses, as well as other local produce. The Hotel le Prieure will also host an exhibition of Jacques Daugeron works through August 31, and town tours are held weekly to acquaint guests with the charming local area.
Ollivier Jacq is Founder of Paradizo.
If you would like to be a guest blogger on A Luxury Travel Blog in order to raise your profile, please contact us.
Did you enjoy this article?
Receive similar content direct to your inbox.