I was not in love with Morocco when we first arrived in Marrakesh an hour before sunset. The journey had been long, the roads bumpy and the bus driver clearly demented. The hotel manager who welcomed us took one look at my doleful expression and insisted we drop our bags and head straight back out into the hustle and bustle of the nearby square, ready to have, he assured us, the experience of a lifetime.
We turned a few corners and were soon standing at the edge of the Jemaa el-Fna square. We had reached the suggested destination so we sat ourselves upstairs on the terrace of the Argana restaurant and threw back a couple of long, cooling and spirit lifting drinks.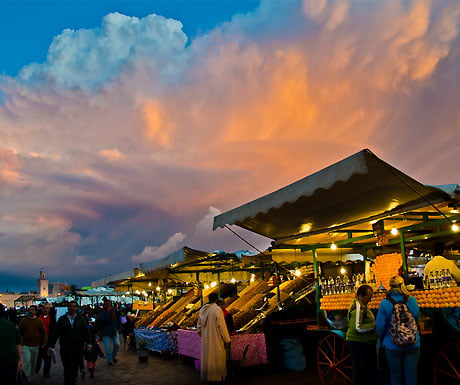 And then it began…
As the sun headed toward the horizon, the square before us transformed. The few temporary stalls on one side of the square were joined by rickety looking carts and pop-up benches and tables. A hive of activity from an army of djellaba-clad figures magically turned what had been a dusty square into the biggest open air restaurant I have ever seen. Within minutes it went from empty space to bustling food market.
There were endless stalls each lighting up huge cooking fires. As the flames took hold, the sun dropped from the sky, candles were lit and suddenly it was a fairyland. The whole place was wreathed in curling wisps of smoke and a beguiling cavalcade of intriguing aromas reached across and dragged us down to street level and across the road to the square.
Instantly, the sights sounds and smells demanded every inch of my attention. We had been thrown headlong into a wonderland of the exotic and unusual. Moustached men in gleaming white suits welcomed us to come sit at their restaurant; Berber water sellers in huge red tasselled hats grinned toothlessly as we passed; sizzling plates of unidentified delicacies whirled past us and always the scents of wood smoke, spices and frying onions pulled us on through the growing crowd.
Crowds of locals moved this way and that and we simply followed wherever people seemed to be heading. A snake charmer here, a storyteller there. On a small rug a dentist neatly piled his collection of pulled teeth to show haw much experience he had. A little further along a game of skittles was being played.
At every turn something was happening. People were happy to talk to us and share the friendly frenetic, heady atmosphere with us.
We must have circled the square four or five times, eaten snacks from 3 different stalls and watched the dancer spinning his hat tassel at least twice before I suddenly realised my mood from earlier had been lifted, tied up, thrown in the back of a lorry and driven off into the desert never to be seen again. After an evening on the Jemaa el-Fna it turned out I was in love with Morocco after all.
Victoria Brenner is Director at The Couture Travel Company.
If you would like to be a guest blogger on A Luxury Travel Blog in order to raise your profile, please contact us.