By
Jan Edwards
on Aug 20, 2013 in
Accommodation
,
Europe
,
Events
,
Hotels
,
Leisure Travel
,
Regions
,
Spain
,
Speciality Travel
,
Travel Miscellany
,
Western Europe
Culture may not be something you immediately associate with Mallorca, but the Spanish island has a thriving cultural scene – including art, ballet, opera, and music of every genre. There are several annual music festivals, each comprising a series of concerts over a certain period. These range from the intimate weekly open-air jazz concerts of Banyalbujazz (July and August), in the coastal village of Banyalbufar, to the holiday season's massive Tuesday night gigs at Magaluf's Mallorca Rocks venue, starring some of Britain's top bands, singers and DJs.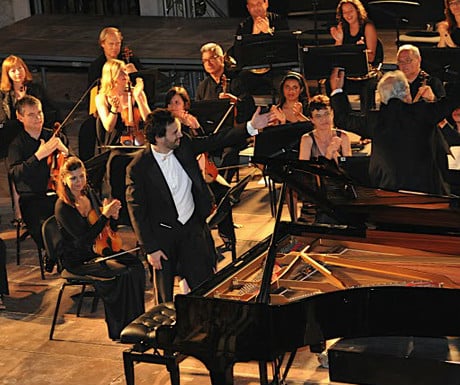 Lovers of classical music may want to schedule their visit to Mallorca to coincide with one of the many concerts that take place during the various annual music festivals. Here's my top five – worth checking out if you're planning a visit to the island – with a suggested place to stay in each locality.
Deià International Music Festival
Now in its 35th year, this festival offers regular classical music concerts from May to September, featuring artistes from all over the world. The venue is the Son Marroig country house, which offers views of Mallorca's dramatic northwest coast and the sparkling Mediterranean. In the late 19th century, Son Marroig was one of several country estates near Deià which belonged to the Austrian explorer Archduke Ludwig Salvador – who fell in love with Mallorca during his travels. Visitors can enjoy a glorious sunset as well as classical music.
Stay: Ca's Xorc is a boutique hotel with just 13 rooms, and is part of a renovated 18th Century Mallorcan country estate, offering extensive views over the Sóller valley and the sea in the distance. Located between the village of Deià and the town of Sóller, in the Tramuntana mountain range (a UNESCO World Heritage Site), it's an ideal base for exploring Mallorca's northwest coast.
Valldemossa's international fame is largely due to the book 'A Winter in Majorca', written by George Sand about the winter she endured staying in the village monastery, with her lover Frédéric Chopin. Valldemossa's inaugural Chopin Festival in 1930 was the first dedicated to the Polish composer, who wrote some of his work while staying in the village. The festival stopped when Franco came into power, and wasn't revived until 1981. Today there are concerts featuring international prize-winning pianists, on Sunday nights throughout August, held in the atmospheric atmosphere of the monastery cloisters.
Stay: Hotel Valldemossa is a romantic stone-built hotel and member of Relaix & Châteaux. Perched on the outskirts of the village, it has 12 individually named and decorated guest rooms.
Started 52 years ago, this arts festival takes place in August and includes music, art, cinema, and literature. Most of the concerts – of a variety of musical genres – take place under the stars in the cloister of Sant Domingo Convent in the town of Pollença. The Hotel Barceló Formentor also hosts occasional festival events.
Stay: The 122-room 5-star Hotel Barceló Formentor has a beachfront location on the forested Formentor peninsular, and first opened its doors to guests in 1929.
Festival de Música Clásica Port de Sóller
Autumn brings this season of weekly classical music concerts, which take place at the charming Oratorio de Santa Caterina d'Alexandria del Museu del Mar in Port de Sóller, and often featuring artistes from Germany. The final concert in the series usually takes place at the Jumeirah Port Sóller Hotel & Spa.
Stay: The five-star Jumeirah Port Sóller Hotel & Spa opened in the spring of 2012. Among several accolades already received, it was named one of the Sunday Times' 'Hottest Hotels of 2013'. Views down over the port and Mediterranean are breathtaking.
Now in its 11th year, this festival includes performances of well-known operatic works, featuring artistes and orchestras from Germany, as well as the local Balearic Symphony. The main venue for this German-organized festival is the handsomely restored Teatre Principal in central Palma de Mallorca. This year's festival features seven concerts, between 6th October and 16th November.
Stay: The boutique Can Cera Hotel is located a pleasant walk away in Palma's Old Town. A sympathetically restored 17th Century palacio, with traditional cobbled and gated courtyard, it has 12 rooms/suites, and a cosy spa that can be booked for exclusive use.