Kuala Lumpur is a visually stunning city. As the capital of Malaysia which encompasses not just the Malay peninsula, but also Sabah, Sarawak and Labuan in Borneo, Kuala Lumpur is a fusion of its cultures. Malays, Chinese and Indians as well as many other sub ethnic groups make up the people living in this huge vibrant city. It is also a synthesis of the old and the new. This adds to its intensity. Its history is also interesting and it gained its independence from the British Empire in 1957. Kuala Lumpur is a very wealthy city, rivalling Singapore. This is evidential in the luxurious hotels and restaurants, the immaculate gardens and the well maintained and clean city. There is a lot to see and do here. These are but a few suggestions.
Petronas Towers, Kuala Lumpur
These towers are architecturally and visually amazing, and well worth seeing both by day and by night.  Once, the largest structure in the world it is now eclipsed by another, yet still retains the dignity of being the "tallest" twin towers. It really doesn't matter, as they are so spectacular.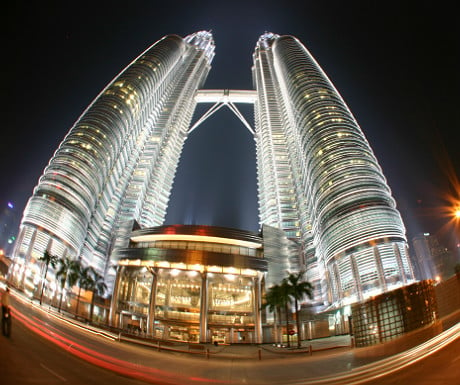 The Heritage walk, Kuala Lumpur
Volunteer tour guides take you to many of the historic sites of Kuala Lumpur explaining as they go, what things means and adding information about Kuala Lumpur and Malaysia in general. You also get to see the cultural and historical areas as well a further understanding of the history of this country, from a locals perspective.
Bukit Bintang, Kuala Lumpur
This place is lively, and that is an understatement. Filled with chic shopping malls, trendy bars, lapping at the side of some of the best hawker food you will ever eat. You will find some excellent restaurants here as well as up market bars, and it is a people watching mecca.
Batu Caves, Kuala Lumpur
One of Malaysia's most distinctive geographical feature is the labyrinth of caves found right on the edge of the city. There are temples to visit and a lot of souvenir stalls. There are a couple of steps to climb to reach this – just 272. It is seriously hard work. Monkeys will keep you amused on your ascent and the caves are phenomenal.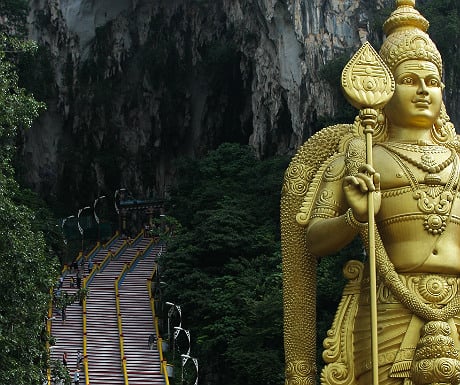 Modernist National Mosque, Kuala Lumpur
In Kuala Lumpur you will hear the daily call to prayers, which beckons  Muslims to wake up and come to the morning prayer at the mosques. This is such a unique experience to hear at around 4.45am as the music and voices over loud speakers  resound from the many mosques. As a predominantly Islamic country, the mosque(s) are very interesting. The Modernist National Mosque, is a resource centre for Islamic studies and a very interesting and worthwhile visit. The permanent collection and travelling exhibitions are all highly informative.
China Town and Little India,  Kuala Lumpur
There are roughly 44% Malays, 43% Chinese and 10% Indians in Kuala Lumpur, which gives it its multicultural approach to life. For entertainment value, this Chinatown would probably score highly. Expect to be offered fake everything at ridiculously low prices. Just enjoy it and decide whether you want some "real" designer bags, clothing, watches, or jewellery. Some are quite good actually. It is what it is – fun, noisy, colourful, and very cheeky. Little India is tiny, yet is similarly full on with fantastic hawker food and spice aromas through the air. Again, it is loud, colourful, and brash.
MAP, Kuala Lumpur
This was once a housing district that has become the centre for art, with ongoing exhibitions, displays, theatre, and comedy clubs, all enticing visitors. It is a bustling and thriving artists' colony. Everything is about the art in all of its shapes and forms.
Royal Palace, Kuala Lumpur
You can't go in but it is still worth a visit, to see the phenomenal gardens and the changing of the guards. The architecture is classic Islamic with multiple domes and massive gates.
Orchid Park (Taman Orchid)
This park has over 3,000 species that include 800 unique to Malaysia. The orchids are serious business for the Malays, as are all forms of gardening,
Merdeka Square
A clock Tower which used to show that Malaysia was once part of the British Empire, now proudly flies its own flags (multiple) since it gained independence in 1957. The cricket ground is also a reminder of this.
Kuala Lumpur is a city, where the new and the old mix extremely well. It is a city that is wealthy and does not mind showing it off.