Top 5 coastal bike rides in Europe
There is something special about biking along the coast. Maybe it is the refreshing salty breeze keeping you cool, the sunlight sparkling like diamonds on the vast blue sea, or the possibility of a refreshing dip when the ride is done. Europe has the most gorgeous biking locations in world, and this includes some fantastic coastal rides. Here are the best of the best when it comes to sea-side riding in Europe.
Puglia
Nestled in the heel of Italy's boot, Puglia has some of the country's most pristine beaches, freshest food and friendliest people. Cycling in Puglia is filled with amazing panoramic views of the Adriatic Sea. The coastal road to the village of Leuca will take your breath away with its views of cliffs and bays
.
You will pass through fishing villages like Porto Badisco and Santa Cesarea Terme, stop for a seafood lunch at a local restaurant overlooking the cerulean sea.
Mallorca
In Mallorca cyclists do not have to choose between mountain climbs or sea level cruising, you can have it on this Mediterranean island. Start your day with a climb high into the Tramuntana mountain range on quiet, traffic free roads amongst pine forests with incredible views of tree covered valleys. As you begin your descent, just when you think the scenery cannot get any more beautiful,  dramatic cliffs drop off to reveal endless views of the bright blue ocean. It is no wonder that this idyllic island was frequented by historic figures such as Winston Churchill, Agatha Christie, and Peter Ustinov.
Corsica
You'll ride like a pro and be rewarded like royalty on a bike tour in Corsica. Climb up soaring mountain roads and along the stunning
calanches,
the natural granite formations the Corsican coast is famous. Wind through delightful coastal towns, from Bastia to Calvi and Piana to Ajaccio, every day enjoying spectacular views of the Mediterranean. And for all your hard work you will be rewarded with world-class luxury accommodations to unwind at in the evening.  It is no wonder the Tour de France choose to start the 2013 race on this stunning island paradise.
Croatia
Croatia is a hidden gem along the eastern coast of the Adriatic. Imagine island-hopping along the spectacular, lavender-rich Dalmatian coast with unique bike adventures ready for you at each destination. In Croatia you will be given the opportunity not only to cycle along the sun-kissed coast but also to explore Croatia by sea. Jump off the bike for an afternoon to visit small fishing towns by kayak or simply relax on the local beach.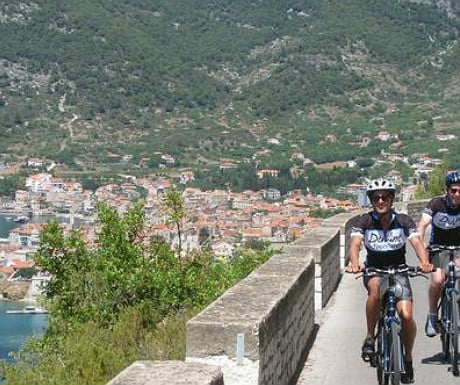 Brittany
Looking for an easy-going coastal ride? Look no further than Brittany, France where you can cycle along the craggy Atlantic coastline with the ocean breeze on your face. When stopping to admire the 12th century chapel in St Cado, you will hear about the legend of the deaf being cured by listening to the lapping waves. Continue on to Gavres, the local sardine capital and enjoy the chance to visit a local oyster farmer and taste the fruits of his harvest. Seafood lovers can rejoice on this tour, where the freshest seafood in France awaits your palate.
Andy Levine is the President/Founder of DuVine Cycling + Adventure Co.
If you would like to be a guest blogger on A Luxury Travel Blog in order to raise your profile, please contact us.
Did you enjoy this article?
Receive similar content direct to your inbox.