Fascinating ice sculpture festivals from around the world
Ice sculpting continues to not just intrigue but to fascinate many people. It is the extreme skills of the sculptors themselves, their technical ability and their imagination that is part of the mystique. It is also the magic that surrounds the many ice sculpture festivals held all over the world – literally. Even the countries with severe weather extremes are hosting events. The following are some of the festivals that occur annually and a carnival atmosphere accompanies each and every one. People come rugged up to stare agog and some of these masterpieces.
Sapporo, Japan
This is
Japan's largest snow festival
, which attracts millions of visitors from all over the world for 7 days each February. The festival is held in 3 major venues, Odori Park, Susukino and Tsu Dome. The ice sculptures are spectacularly clever and creative and the whole area is alive with well, everything associated with ice. Ice bars, historic sculptures, animals and iconic Japanese Hello Kitty, are just a few. It is so highly popular that you need to book well in advance. The area itself offers a lot at this time of the year, including some amazing skiing.
Bruges, Belgium
The seriously beautiful town that Hitler refused to destroy or be hurt in anyway, stages
a snow and ice festival
each November to early January. Professional ice sculptors from around the world come here to carve over 300,000kg of ice all based on a theme. This year's theme is based on the Disney movie "Frozen".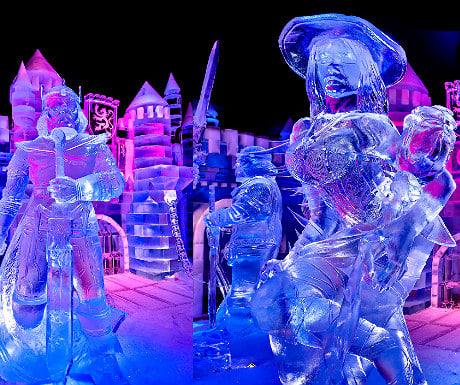 Fairbanks, Alaska
Ice Alaska is huge. This is the
World Ice Art Championships
and is a highly contended event. The 2014 event runs from February 24th to March 30th. Apparently the quality of the ice at the George Horner Ice Park is superb for the sculptors to vie for the all important titles. Russia and
China
are big players as is the
USA
. For spectators, the event offers a lot including dog sled rides and ice skating ring. So if you like the sound of chain saws and chisels hitting ice, this will be mandatory viewing.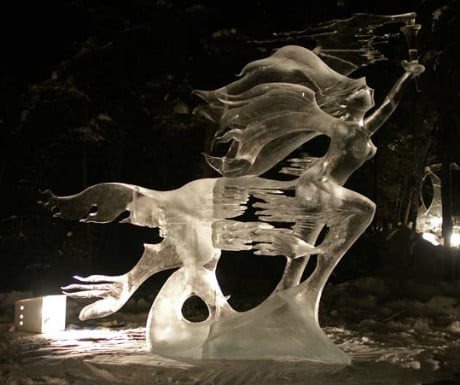 Harbin, China
This is the
one of the biggest ice sculpture festivals in the world
. It runs from early January until late February in the Heilongjiang province in North east China. Harbin is known as the Ice city, or Little Moscow and not just because of its sculptures, but because it is severely cold here. In saying that however, the sculptures are immense, often lit and using every bit of technology to produce enthralling pieces. Nearby you can see Siberian tigers and lions roaming freely. They also have an emerging ski destination at Harbin.
Lake Khovsgol Ice Festival, Mongolia
This is a little different as it serves to break up the relentless harshness of the Winter by bringing the people together in a variety of activities. Fancy ice sumo, or ice speed skating competitions all of which are fiercely contested. After all the this is Genghis Khan territory and the people are tough. Even the nomadic Tsaanten or reindeer people come to town to share their particular culture. This event is held each March, but come prepared.
Russia
There are numerous festivals held in St Petersburg, Moscow and other areas, a lot aimed at achieving a place in the World Ice Art Sculpting Competition. Gorky Park is a great venue and a there are numerous Christmas Ice sculpture festivals all over. Many other countries have ice sculpture festivals as well like Sweden, Poland, France and Latvia for example. Each and every ice festival can be combined with other activities like skiing, or ice road trucking. There is nothing that can take away from the magic and mystique of seeing the amazing ice sculptures in both the day and the night in many different countries.
Did you enjoy this article?
Receive similar content direct to your inbox.