By
Magali Déchelette
on Oct 11, 2013 in
Attractions
,
Europe
,
Events
,
Family Travel
,
Featured
,
France
,
Going Out
,
Regions
,
Speciality Travel
,
Travel Miscellany
,
Western Europe
Halloween is coming up in less than a month now. Are you tired of the standard, same old ghost and vampire fancy dress outfits? Looking for something different from the usual pumpkin carving this year? We've selected 5 quirky, freaky activities especially for you so that you and the family can enjoy a spooky, spine-chilling trip to Paris!
Private tour of ghost Métro stations
For historical or economical reasons, many stations on the Paris metro have been made inaccessible and lie unused, bringing a sense of subterranean mystery to Parisians. Experience an incredible night tour aboard an old metro train listening to anecdotes and stories told by your guide. Visit the rail workshop, stop off at the famous old "Porte des Lilas" station as featured in Amélie, and enjoy feeling transported into the past…
Meet the spirits!
Descend to a depth of 20 metres below Paris to visit the Paris Catacombs, the municipal ossuary which dates back to the end of the 18th century. Walk through 1.7 km of galleries whose walls are made entirely of bones, skulls and skeletons! If the Catacombs are too frightening for you, try a tour of the famous Père Lachaise cemetery, affectionately known as la cité des morts – the city of the dead – by Parisians. You cannot but feel charmed by its rolling, gentle hills, thousands of trees in dozens of varieties, winding paths with carefully plotted "street" names, and elaborate sepulchres and tombs housing such famous figures as Molière, Balzac, Oscar Wilde and Jim Morrison.
The Haunted House – "Manoir de Paris"
Discover the dark Parisian legends that await you at Le Manoir de Paris. Follow a unique and terrifying indoor tour, where history haunts you at every turn. Explore the cavernous hideout of the "phantom of the opéra", let yourself be tempted by the fine food of the real bloody baker and escape the knife of Catherine de Médicis's hired assassin.
Halloween Festival at Disneyland Paris
This autumn the magic takes an unexpected twist. From 5th to 31st October only, Disneyland Paris casts its spell as Disney Characters sneak about in kooky costumes along playful pumpkin-peppered streets. This is sure to be the year's sweetest Halloween treat. Catch Mickey and friends on their spectacular parade and celebrate the spookiest season of the year together in a glorious flurry of autumn colours.
Halloween cooking workshop
This activity will introduce you to the most enjoyable part of Parisian culture: the food. Learn how to cook à la française with a Halloween touch! Enjoy spending precious this time with your kids, who will enjoy drawing on their chef's hat to make it as freaky as possible. With your English-speaking French chef, you will learn how to cook bread, cakes or biscuits in freaky shapes. And then, of course, you'll have the pleasure of tasting your horrible and scary creations!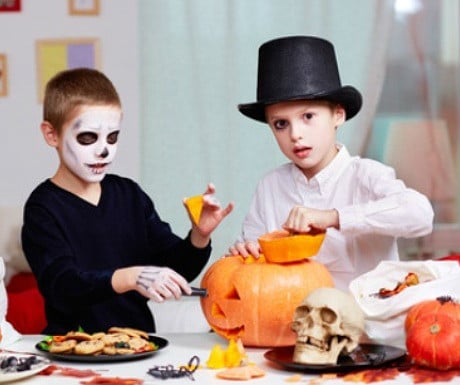 Magali Déchelette is CEO at Family Twist.
If you would like to be a guest blogger on A Luxury Travel Blog in order to raise your profile, please contact us.