Sounds odd doesn't it? No sunshine, no beaches, no tropical rainforests? What can London offer a honeymooning couple looking for the most romantic two weeks of their lives? Well quite simply, London can offer everything. It is one of the world's great cities and has more than enough charm, history, beauty and 'wow factor' for it to be considered a truly great romantic destination.
The Kinks had a hit with Waterloo Sunset in 1967 and in the years since then, the river views have if anything got better and better. From Waterloo bridge, the view downstream is beautifully romantic, with the dome of St Paul's Cathedral, sharing the skyline with modern skyscrapers. As the light changes from late afternoon sunshine to being lit by a million light bulbs, you really can be transfixed. To enjoy the amazing view and fine dining at the same time, the OXO Tower Restaurant must rate as one of the finest places to eat, but there are plenty of other restaurants with a view in the city.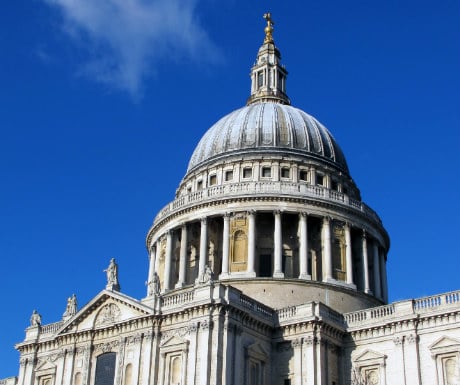 If you want to combine good food, a great view and some of the world's finest artworks, stroll a little way along the south bank of the river Thames to the Tate Modern art gallery. The restaurant in this huge former power station housing a world class collection of works by the world's greatest modern artists has been getting rave reviews ever since it opened.
London is home to the Prime Meridian at 0 degrees longitude, the line from which the world is divided into eastern and western hemispheres. Take a romantic river cruise downstream and at Greenwich a stroll through the park will lead you up to the Royal Observatory where the exact line of the meridian is marked by ancient brass strips in the pavement and walls and also by a laser beam, shining down toward the river. Greenwich has lots of other attractions including museums, craft markets and ancient sailing ships and is well worth a day trip.
Another great romantic day trip is a visit to Windsor, 20 miles west of the capital. Windsor Castle is where Her Majesty Queen Elizabeth II spends most weekends and the beauty and opulence of this 1000 year old castle make it a definite highlight of any London visit. Other attractions in the area include carriage rides in Windsor's Great Park and tours of the world-famous Eton College where 19 British Prime Ministers went to school. In Bray, the next village upstream from Windsor, Heston Blumenthal's Fat Duck restaurant has been regularly voted as the world's greatest restaurant.
There are plenty of excellent restaurants across the capital, but continuing with the romantic theme, you might consider trying some of the smaller old eateries that have survived for generations selling traditional fayre to the common people of the city and east end. Two of my favourites are the amazing Ye Olde Cheshire Cheese in Fleet Street, (a labyrinthine pub dating back to the 1500s) where Charles Dickens was once a regular and Manze's Pie and Mash Shop on Tower Bridge Road which has been serving jellied eel, meat pies and mash potatoes to London's workers for more than 110 years.
The romance of a night out at the theatre is all the greater when the theatre itself has been standing for a good few years. The Theatre Royal in Drury Lane celebrates its 350th birthday this year and is currently hosting a musical production of Charlie and the Chocolate Factory. If you prefer your theatre a little more highbrow, it doesn't get much better than enjoying a play at Shakespeare's Globe, a faithful recreation of the original 17th Shakespearian theatre that stood just a few hundred yards away from its modern counterpart.
These are just a few ideas, but the list literally is endless. Exploring all the delights of London would take an entire lifetime, so if you pick the city as your honeymoon destination you will have to choose what to see and do carefully as you will only be able to experience a tiny fraction of what this amazing world class metropolis has to offer. The one certainty is that you will never be bored.
Victoria Brenner is Director at The Couture Travel Company.
If you would like to be a guest blogger on A Luxury Travel Blog in order to raise your profile, please contact us.