In today's digital day and age, one couldn't dream of defining 'luxury' without referring to the great Wikipedia in the cloud.
According to the online encyclopedia, 'luxury' is defined as:
very wealthy and comfortable surroundings
something desirable but expensive
something very pleasant but not really needed in life
A luxury ski chalet not really needed? I beg to differ. Of course I would, but the fact of the matter is so many companies these days claim to offer a 'luxury' ski chalet experience these days. 'Wealthy and comfortable surroundings' has to be a given, but that's still not enough to earn the 'luxury' badge. Surely? Because the truth is 'luxury' is so much more than the threadcount of the Eygptian cotton bed linen, more than the fur throws and fine leather clad plasma screens.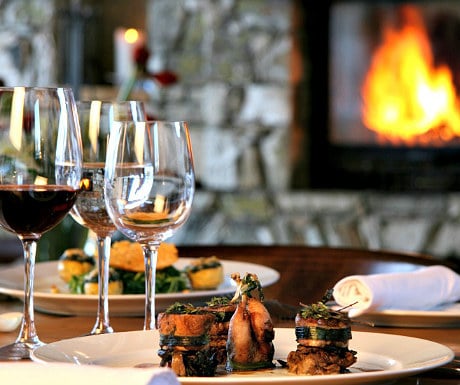 So what should you expect in a chalet which describes itself as a 'luxury ski chalet'?
In our book, the 'luxury' experience starts the minute that a contact is made by a client – through the website, by phone or by email. It's:
the anticipation of your every need, guiding you to the best chalet for your needs, advising on room arrangements, travel and the finer details right from the start
removing any hint of stress from resort transfers whether it's organising the swifter, more exhilarating helicopter transfer or a luxury vehicle alternative
arriving in resort, knowing that every detail has already been taken care of
a surprise gift on your pillow
a Champagne 'boot fit' to finesse the ski equipment process
waking up every morning to a breathtaking, uninterrupted mountain view
the deafening silence of an exclusive, ski in ski out location away from the main ski drag
sumptuous gourmet food that is tailored to your own personal tastes not what we think those tastes should be
little touches like daily weather reports and your favourite newspaper delivered in time for breakfast
access to the resort's best ski instructors that never disappoint and who speak English, Russian, German, French and several other languages
a personal masseur waiting to sooth the aches and pains of a hard day's ski
Champagne or whatever your preferred tipple, served where you want it, when you want it
discretion of the highest order, full stop
Lastly, it is knowing the answer's yes before you've even asked the question. So fair winter luxury snow seekers, before you're seduced by the subterranean swimming pool, flat screen TVs at every turn and rather out-of-alpine-character bling, are you confident the service is up to scratch? Because 'service' is the difference between a true 'luxury' ski chalet experience and a distinctly average one.
Jamie Rennie is Director at Le Chardon Mountain Lodges, Val d'Isere.
If you would like to be a guest blogger on A Luxury Travel Blog in order to raise your profile, please contact us.