By
Pierre Fortier
on Dec 05, 2013 in
Accommodation
,
Africa
,
Asia
,
Australia
,
Brazil
,
Caribbean
,
Europe
,
Fiji
,
Greece
,
Hotels
,
Maldives
,
Mexico
,
North America
,
Oceania
,
Regions
,
Resorts
,
Saint Vincent and the Grenadines
,
Seychelles
,
South America
,
Thailand
,
Turks and Caicos
,
Western Europe
Oh, relaxing on exotic beaches, taking in the sun and surf, with sand between your toes and a drink in hand. All the better, of course, when put together with an incredibly luxurious beach resort, complete with world-class accommodations and  service. We scoured the globe for some of the dreamiest destinations, so before you plan your next getaway, take a look at 10 of the very best beach resorts in the world. Don't forget your sunscreen protection…
Cotton House Resort, Mustique Island
One of the most exclusive private islands in the world is home to this amazing resort complex. Fine indoor amenities are complimented by a nice range of outdoor activities. Horseback riding, tennis, exploring, water sports including scuba diving and snorkeling, and lying on beautiful beaches can fill your day. Incidentally, the island was where the Duke and Duchess of Cambridge took a recent holiday.
Copacabana Palace, Rio de Janeiro
The 2014 World Cup and 2016 Summer Olympic Games are both being hosted by Brazil. Why not join the action in luxurious splendor? The Copacabana Palace is an art deco masterpiece fronting the white sands of Copacabana Beach. One of the world's most famous stretches of sand is always bustling and alive. The hotel spa provides a nice respite that gets you ready to go out again.
Danai Beach Resort and Villas, Greece
The romance of antiquity envelops the high bluffs over the Aegean Sea in Northern Greece. Lush gardens and peaceful Mediterranean pines offer serenity. Elegantly designed villas invite you in from the sensuous scenery to enjoy intimate moments. Discover the land of Apollo and Aphrodite with someone special.
The furthest east of the granite islands of the Seychelles is a unique wonder. Not only is it a luxurious paradise, it's also a model of conservation. The magnificent private island is home to 2000 free-roaming Giant Aldabra Tortoises and safe nesting sites for Hawksbill turtles. Protection of endangered birds and forest restoration are priorities. Set among all this are a nice selection of private villas and a pampering spa.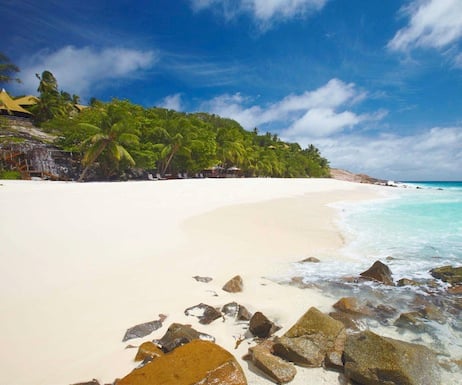 The striking cliffs lunging upward out of the jungle help provide an exotic backdrop to an incredibly luxurious experience. Located on the Phranang Peninsula near Krabi Marine National Park, the property invites those who seek a retreat in the midst of natural wonder. Beach side coconut groves invite exploration and an upscale spa provides rejuvenation.
Parrot Cay by COMO, Turks and Caicos
This penultimate Caribbean resort is found on an amazing private island with beautiful beaches and a full plate of water sports, including exclusive tours to neighboring islands. Water skiing, windsurfing, paddle boarding, and amazing dive opportunities await. The highly-rated restaurants feature exquisite cuisine prepared to your liking.
At the tip of Baja California, near a phenomenal beach with interesting rock formations and natural beauty, find this incredible resort. From the moment you are met by your personal concierge until time to leave, the staff goes above and beyond to make your stay truly memorable. Cliff side dining on the rocks affords incredible views. The excitement in town is just a few minutes away, while the relaxation of the spa offers a break. Onsite yoga and pilates classes help keep you in shape.
The sensual nature of this small private island is reflected in its name. Davui is the Fijian word for the conch shell, used for centuries to call invitations for celebrations. Join the helpful staff on this beautiful outpost in the South Pacific to discover for yourself. The villas invite honeymooners to discover intimate luxury and vacationers to experience sublime relaxation. As an adults only resort, the Royal Davui offers an extra layer of privacy.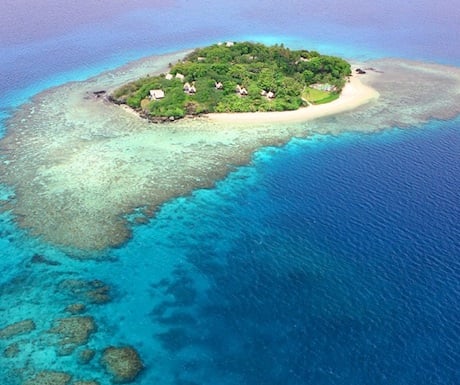 Bederra Island Resort, Australia
North Queensland and the Great Barrier Reef invite you to this slice of paradise. The all-inclusive resort opens up a world of wonder and solitude. Just seven private villas are spread over the 45 hectares of tropical forest. Take a small boat to a nearby deserted island or cozy up to the open bar for an expertly designed cocktail. All sorts of water activities – from sea kayaking to diving on the Barrier Reef are available.
Set on the private island of Lankanfushi in the North Male Atoll of the spectacular Indian Ocean island chain that makes up the Maldives is this stunning resort. Some villas are actually in the lagoon, set off jetties that thrust out into the sparkling water. Others are even more private, built as stand-alone structures that are reachable only by boat. An astounding variety of marine life beckons you to explore, while the spa facilities and dining options promise to pamper.
These extraordinary properties bring a unique promise of luxury set among some of the most amazing natural areas in the world. Staying at one of them provides the combination of incredible amenities and attention to detail, together with the opportunity to explore fascinating destinations.
Pierre Fortier is General Manager for Palmex International.
If you would like to be a guest blogger on A Luxury Travel Blog in order to raise your profile, please contact us.