Tucked away in the far southwest of New Zealand is a magnificent wonder called Doubtful Sound. Accessible only by mountain pass or sea, makes this mysterious beauty very remote and far from crowed! You may have heard of the more popular Milford Sound, which does seem to steal the limelight from Doubtful, as Milford is much easier and quicker to get to.  However, the remoteness of Doubtful Sound is what makes it so magical. You may not even see another boat the entire time your out there.
Although there are a few different ways to experience Doubtful Sound, the overnight cruise is my preferred and advised option for you. This takes away the rush and allows you to relax with a glass of wine and take in the beauty. It also gives you a much longer sailing time in the sound, with plenty of time to head out on a kayak, tender craft, swim or even dive or fish for your dinner.
Having anchored for the evening and with the ships engines off, the bush comes alive with sounds of wildlife. If you did not know any better, you would think you were in Jurassic Park. It is absolutely incredible. The step sheer mountainsides are all National Park and bursting with native bird life.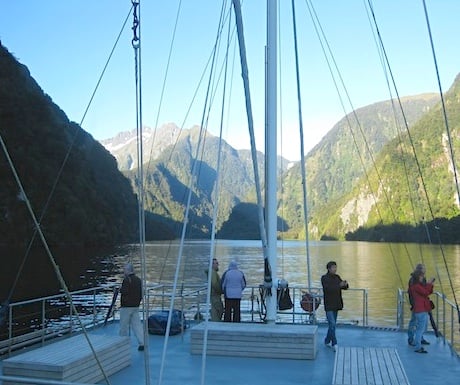 Of course there is also the star-gazing. And with not an artificial source of light for literally miles, the Milky Way lights up clear as crystal. A smear of white sparkles across the night sky. And if you are lucky, on a clear night you can spot Jupiter's moons with just a strong pair of binoculars.
There are some different options for the overnight cruise. They all offer a similar experience, with the main defining aspect being the size of the boat, and the number of guests aboard. Real Journeys offer a larger boat, which can hold up to 70 guests in a variety of room options. Or for a more intimate and personalised experience, Deep Cove offers small groups of 2-12 guests. Fiordland Cruises offer a similar product with a maximum of 12 guests.  Whichever option you choose, I have no doubt you will have an incredible experience.
Angela Schrider is Director at NZ Snow Tours.