5 unusual festivals to tick off your bucket list for 2014
The Bucket List: a selection of numerous flamboyant must-dos before you, well, "kick the bucket". Everyone has one, each goal is different, but which is the most unusual? Take a look at 5 of the weirdest fesitvals from around the world and see which one could win the top spot on your wish list for this upcoming New Year.
The Cooper's Hill Cheese-rolling and Wake
Held on a lovely June afternoon, hundreds of contestants chase a 9-pound roll of Double Gloucester cheese down the very steep Cooper's Hill in Gloucestershire,
England
in hopes of taking it home to devour. The odd event was originally open to locals only, but now welcomes contestants from around the world including people like the 2013 champions from Japan and North America.
The Battle of the Oranges
"I would like 50,000 cases of oranges, please!" is one tall order to say the least, but a necessary one for the northern Italian city of Ivrea. For three days, there is a massive food fight involving solely oranges whilst townspeople dress up to reenact the Middle Age battle. However, if orange-flinging brawls are not your thing, you can always check out
Spain
's La Tomatina (The difference? Just imagine 20,000 people hurling tomatoes at each other instead of oranges).
The International Bognor Birdman Festival
Originally created to raise money for charity, this set of two competitions held in West Sussex, England constists of thrill-seeking contestants catching flight by creating ellaborate costumes/hand gliders. When the festival was first introduced, the goal was to reach a short distance of 50 yards for a £1,000. However, the the finish line has significantly increased to an extensive 330 yard mark with a total of £30,000 waiting to be collected. So, how far could you fly?
Wife Carrying World Championship
This Finnish contest is an unusual one and requires an explanation of very few words. The objective? Men have to win a relay race whilst carrying their wives on their shoulders. The prize? Their wife's weight in beer. Jackpot!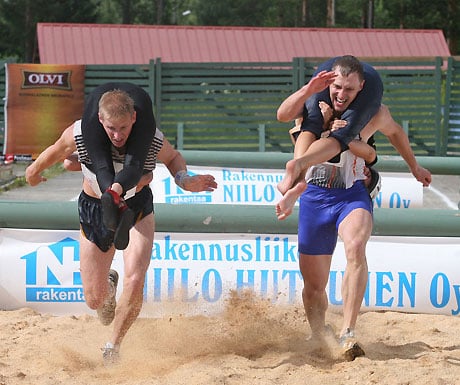 The Monkey Buffet Festival
This festival in Lopburi, Thailand is a mix of unusual and sweet. Held in November, the locals invite over 600 monkeys to chow down on a feast including over two tonnes of grilled sausages and yummy treats like fruit and ice cream. It's a way for the village to show their appreiciation for the furry friend's tourist-attracting cuteness.
John-Christian Moquette is a Partner at IAVRA.
Did you enjoy this article?
Receive similar content direct to your inbox.