By
Paul Shipway
on Dec 30, 2013 in
Africa
,
Asia
,
Barbados
,
Caribbean
,
Events
,
Mauritius
,
Middle East
,
Oman
,
Regions
,
Tanzania
,
Travel Miscellany
,
Vietnam
We all know that February is the season of amore, with love ballads blaring in shops, red and pink dotting every street corner, and restaurants filling up for that special Valentine's Day dinner. So escape the commercial madness taking hold of the country, and spoil yourself by taking a trip to the following sunlit destinations:
Barbados, Caribbean
Though anywhere in the Caribbean is good at this time of year for swimming, sunbathing, and cocktails, Barbados is a particular gem due to the numerous romantic attractions available. Take a tour of Harrison's Cave from 4pm daily to view amazing rock formations, and once you're done, hop onto any of the available cruise boats in the harbour to enjoy a romantic twilight cruise.
For those interested in sports, polo matches are plentiful at this time of the year with the BPC Village Tour and Ladies tour taking place through mid-February, though the highlight of any trip to Barbados in February has to be experiencing the musical and cultural festival of Holder's Season. This event takes place in late February and lasts for two weeks within the grounds of the 17th Century Holder's House, a historical plantation. There will be comedy shows, blues and gospel music performances, along with Shakespearean plays, and many other fantastic entertainments on the line up. If you'll still be in Barbados in April, keep an eye out for the ambient Reggae festival.
Tanzania, Africa
Tanzania is the perfect place for those wild at heart, so head to the Serengeti National Park, as it is here that you can catch the "Circle of Life" in action – from baby wildebeest being birthed, to leaping lionesses and sprinting cheetahs. The wildebeest who roam the vast plains of the Serengeti birth up to 500,000 calves each February, and when they're not looking after the little ones, they're grazing on the short grass, in preparation for the migration to Kenya in May. Cheetahs, lionesses, and other predators often take the opportunity to selectively cull the growing herds during February's baby boom, which means you'll definitely get plenty of thrilling photographs.
Vietnam, South-East Asia
With a temperate climate, friendly locals, and unique food flavours, Vietnam in February is particularly rewarding for those hoping to experience the traditional Vietnamese garments, along with a festive and cultural atmosphere. The two main festivals of note are the Lim festival and the Perfume Pagoda Festival, which are both within driving distance of the Hanoi province.
The Lim festival occurs on the 12th February and takes place within the lush Lim Hill, in Bac Ninh. The population of Lim Hill performs traditional folk songs (quan ho) from boats that glide across the lake, and also serenade visitors from the nearby hilltops, and from the Pagoda. Following the ceremonial aspects of the festival which is done to worship Ba Mu, the lien anh and lien chi (male and female) singers, as well as the Noi Due girls – who weave while singing – focus on intricate love songs, folk songs, and songs about every-day items.
If you're unable to catch the Lim Festival, then head to the area of Mu Duc on the 14th February to enjoy the Huong Pagoda – Perfume Pagoda – festival. This area is 69km away from Hanoi, and contains the most famous Buddhist Pilgrimage site, which consists of a vast temple complex built into the mountains limestone. These caves and caverns are ornately decorated with lacquers of whites and gold's, along with flower and food offerings. The Perfume Pagoda is reached by boat, and the journey here is undertaken by thousands of pilgrims. Take time to admire the scenery of smooth waters, rising mountain peaks, and rice paddy terraces before disembarking and climbing the hundreds of stone steps past various shrines, to reach your destination.
Oman
Turquoise waters that are home to dolphins and guaranteed summer heat, coupled with many interesting cultural sites, make Oman perfect for couples and families looking to get away. Those after something adventurous will get to pick and choose between desert safaris, caving, rocking climbing, and the chance to visit an ancient Frankincense Route, while lovers can enjoy secluded strolls on the beaches and cruises.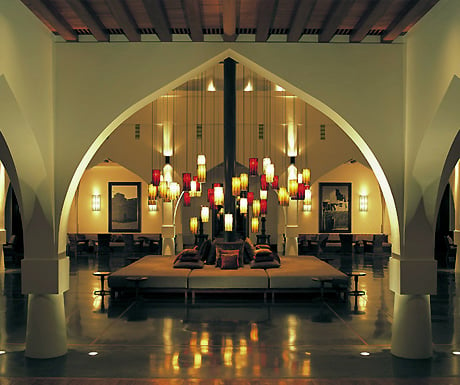 Those after an authentic experience should know that the Ministry of Tourism annually organises cultural events from December to March, and Muscat, the capital of Oman, has an annual Muscat festival, between January and February. During this festival, visitors can experience the vibrant Omani culture that includes folk song and dances, traditional dress, and a unique Heritage and Cultural village for visitors to walk through in Qurum Park. Other attractions to see during the festival include a circus, traditional arts, a fashion show, a food festival, and amusement parks.
Mauritius, Africa
Known for gorgeous weather, lush scenery, and great outdoor adventures, Mauritius is an ideal spot for travellers to explore. Deep sea fishing, scuba diving, and snorkeling in Blue Bay to see the coral reef is highly rated, though for couples after some R&R together, bronzing on the bone white beaches with a picnic basket should certainly be on the to-do list. There's a chance you'll experience a rainy day in Mauritius in February, but there's plenty to do in Mauritius besides spending time at the seaside, such as watching the Thaipoosam Cavadee.
This festival is celebrated at the beginning of February and involves the Tamil Hindu community fasting for 10 days, washing, and engaging in ritual mortification's (predominantly body piercings). During this time you can expect to see fire walking, sword climbing, and a several hundred devotees carrying a Cavadee on their backs to the temple, as a symbol of the sacred mountain. A Cavadee is a blossom covered piece of wood with milk jugs attached, and the milk jugs are detached and given to the temple deity as an offering once . Another interesting festival to see takes place at the end of February / beginning of March and is called Maha Shivratree. During this festival, thousands of pilgrims travel in white robes with mirror and flower decked Kanwar arches. They will walk for miles to the Grand Bassin lake, to fetch holy water and make food sacrifices.
Paul Shipway is Business Development Director at Simply Luxury Holidays.
If you would like to be a guest blogger on A Luxury Travel Blog in order to raise your profile, please contact us.