By
Andrea Crome
on Jan 21, 2014 in
Africa
,
Asia
,
Australia
,
Botswana
,
Europe
,
Greece
,
Honeymoons
,
Indonesia
,
Leisure Travel
,
Oceania
,
Regions
,
Speciality Travel
,
Vietnam
,
Western Europe
When you think of romantic places, the common ones like Paris, Venice and the Seychelles always come up.  If you are planning something for Valentine's Day, or are in need of a romantic getaway with your partner, how about a break that is much more romantic then the popular choices?  Here are 5 romantic getaways that will blow your mind and make you even more attractive to your loved one !
Halong Bay, Vietnam
Spend a few days is a tall junk sailing ship and slowly cruise through captivating scenery and surreal rock formations.  The sea is completely calm and you can have the whole ship to yourself (or share with up to 12 people, each sharing double cabins).  Lounge on the top deck to watch the subset over the rock pinnacles that jot out of the water and swim or canoe at any time you please.  Your journey can stop at many unique sights including secluded beaches, caves and fishing spots.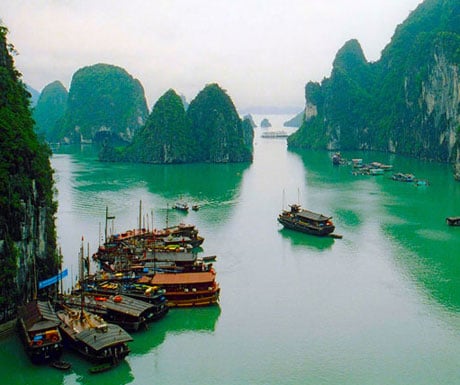 Bali, Indonesia
The centre of Bali can be hectic so stay at one of the many spa hotels in Ubud.  This quaint town is beautiful and has many delightful little shops with well-crafted goods that are usually made by hand.  See monkeys as you walk through Monkey Forest or take a day trip to one of the man beaches.  There are many days out where you can see Balinese dancing, a volcano or visit one of several captivating temples.
The Whitsundays, Australia
The Whitsunday Islands are made up of 74 magical islands that are sure to wow you.  Take a private boat to explore inhabited islands, snorkel and finish the day with an epic sunset.  There are many different islands you can stay on, or you can opt for a range of overnight sailing trips instead.
Santorini, Grece
With gorgeous views, delightful food and plenty of variation, Santorini makes an ideal place to take your special someone. Explore black and red sand beaches, fantastic galleries, amazing panoramas and delectable wines.  Santorini is curved round lagoon and has plenty of tavernas to sit back and lap up your surroundings and you can enjoy some night life if you feel like dancing.
Botswana, Africa
Take your loved one to Botswana for a luxury safari in the Okavango Delta, and they will love you forever!  Dramatic wilderness, watching wild animals in their natural habitat and the extravagance of a luxury resort far from anywhere; you would think that's hard to beat… but no, you can also sleep under the stars!
Andrea Crome is Marketing Manager at WorldSIM.