I was once told by an Italian friend, "the world is divided into two: The Tuscans and the Jealous."
Standing outside the Palazzo Vecchio I was forced to agree. There, beneath the imposing presence of Michelangelo's David (a copy – the original was moved indoors away from the pigeons about 140 years ago ) I was surrounded by art and architecture that I felt I had known all my life. Beautiful buildings, Roman busts, elaborate fountains, stunning mythical beasts and ancient gods and goddesses are found on every street, in every square and around almost every corner of Florence, the capital city of Tuscany.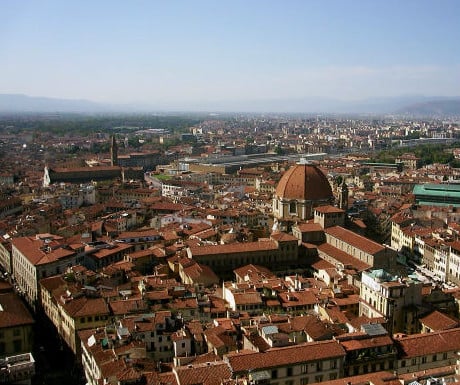 Inside at the Uffizi Gallery, Pitti Palace and the the churches of Santa Maria del Fiore and Santa Croce, the works of great masters such as Michelangelo, Botticelli, Giotto, and Brunelleschi jostle each other for some elbow room. Florence really is unashamedly all about high culture in bucket loads. The over-abundance of sites in Florence leaves most visitors open mouthed in wonder.
Just walk around and enjoy the sights. Florence's old city is small enough to walk around at your leisure. The danger is that you can literally lose yourself in the splendour of it all so make sure your hotel is in a memorable location.  The Continentale which is memorably just yards from the Ponte Vecchio, is a really good choice for both the quality of the modern rooms and also for the lovely spa offering top of the range pampering.
The Continentale also features a stunning 'Sky Lounge' which has amazing views and is the perfect spot for a cool Campari and soda. In fact getting up high and looking down on Florence is definitely one of the repeatable pleasures of the city. Whether it is from the hotel's roof bar, Giottos bell tower or the top of Brunelleschi's cupola of the Duomo, the views over the city are not to be missed.
My personal tip for an alternative heartbreakingly good view is to head south over the river Arno and walk up to the Piazzale Michelangelo. From here the whole of the old city is spread before you like a living renascence masterpiece… which fundamentally is what Florence is.
A week will give you time to see much of what the city has to offer but near the end of your trip you really should seek out the bronze statue of a boar known locally as Porcellino (the piglet). Put a coin into his mouth and let it fall through the grating for good luck. Now rub his snout (polished by centuries of visitors) and the gods will ensure that you will one day return to Florence.
Victoria Brenner is Director at The Couture Travel Company.
If you would like to be a guest blogger on A Luxury Travel Blog in order to raise your profile, please contact us.