Civilized yet wild, a romantic escape to the adults-only, Viceroy Riviera Maya in Playa Del Carmen, Mexico offers a 2 for 1: an exotic Mayan jungle refuge nestled behind the white-sandy beach and aquamarine waters of the Caribbean. The Viceroy is the perfect place to pop the big question, renew your love, or just chill-out in style. Here are 8 reasons why the Viceroy offers Romance (with a capital R).
1. One of world's most unique check-ins
Sure, a glass of Champagne at the front desk is always welcome, but nothing beats a traditional Mayan blessing by Jose Colli, The Viceroy's resident Shaman, to dispel your stress and open you to positive energy. The ceremony consists of Shaman Colli circling you with the purifying, aromatic smoke of Copal incense while reciting "Ah yum hunab ku evam maya ema ho" – which means "The peace and nature of the cosmos will be in all of us".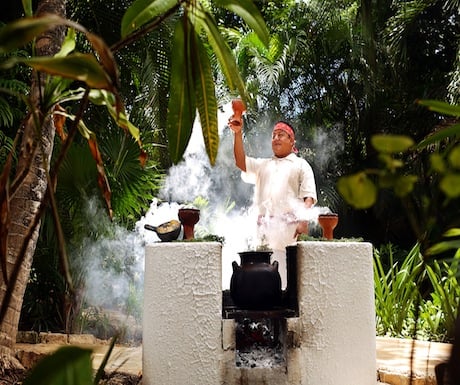 For couples getting married or renewing their vows, the shaman will perform a memorable beachside ceremony, complete with drums, conch-shell horns ending with flowers flung into the ocean.
Tip: There's even a doggie version of the blessing if you brought Fido along.
2.  How have I lived so long without a soap concierge?
This is (clean) hands-down the first time I've ever heard of a soap concierge. After you're shown to your villa, the Soap Concierge arrives with huge bricks of organic  sweet-smelling, seasonal soaps made by a local Mayan community. After explaining the properties of the different ingredients (oatmeal is good for exfoliating, rosemary is refreshing, the lavender is relaxing, however, a romantic getaway calls for the aphrodisiac qualities of chocolate) the concierge slices you off some personal-sized pieces for your washing pleasure.
Tip: The bars are sold in the boutique and make perfect take-home prezzies.
3.  Delectable dining
You'll heartily agree that "Man does not live by bread alone" after trying Chef Jetzabel Rojas (the only local female chef invited to cook at the 2014 Cancun-Riviera Maya Wine  & Food Festival) flavorful corn tortillas, which I scarfed down every morning at the airy, beachside Coral Grill, accompanied by a tropical fruit plate, a specialty Mexican egg dish and a Mimosa. Thankfully, I didn't succumb to the basket of assorted sweet breads (think buttery croissants, chocolate-filled rolls and pan dulce) until the last morning or I would have put on another 5 pounds!
And don't even get me started on their lunch and dinner. What that woman can do with a simple hamburger should be illegal, not to mention her Michelin-caliber, haute Mexican cuisine served in La Marea, a romantic, candle-lit loft space overlooking the ocean.  A few not-to-be- missed, modern Mayan creations are the Black Paella (reconfigured with Mexican chili peppers, turkey and smoked sausage, with the black color coming from the huitlacoche) duck confit enchiladas, and a Mexican Boullaibaise filled with dried chilies and local seafood.
Tip: The Viceroy offers a user-friendly "Dine Anytime, Anywhere" policy which makes it easy to plan a palapa moonlit meal on the beach or amorous dinner in bed.
4. Fun culinary events keep it fresh
Foodies will be tempted to leave their comfy beds for one of the daily culinary activities ranging from Tequila & Ceviche tastings (where the Maestro Tequilero reveals the secrets of Mexico's signature liquor), a lively Beach BBQ, or Paella by the Pool. My own personal fave, Antojeria Night, showcases Chef J's interpretation of traditional Mexican street food.
Tip: A man who can cook is so sexy so make sure to sign him up for one of Chef Jetzabel's hands-on cooking classes, such as her popular Master Grilling Class.
5.  Greta Garbo would love this all-private villa resort
You'll think you walked on a movie set when you first lay eyes on your individual thatched-palapa roofed villa with a generously-sized plunge pool, outdoor (no-peeking) moon shower under the palm trees and a terrace complete with a handmade crochet hammock.
Unobtrusive touches of reality include air con, DVD/CD player; flat-panel HD TVs with satellite television; selection of books; deluxe toiletries, hair dryers; safes; hand-stitched Egyptian cotton sheets, fine linen robes and complimentary Wi-Fi.
Tip: Pull out all the stops and reserve the Presidential Villa. This private, two-story, almost 3,000 sq.ft., Mayan masterpiece offers lush jungle ambiance as well as serene ocean views.
6. Wayak "The Dreamer" Spa
They had me at the big bowl of chocolate scrub waiting to be scooped before entering the rain showers. It's hard to choose from the extensive roster of services that run the gamut from Swedish massages and Iconic facials to traditional Mayan treatments such as the Earth and Air ritual that grounds your chakras, or the Sweet Honey and Rain Massage which uses medicinal honey from the rare stingless Meliponas bees that the Shaman harvests from the resort's hive.
Tip: Brave souls can experience the Temazcal- an authentic sweat lodge ritual that will purify your body and spirit.
7. Wide range of area activities
If you're feeling energetic there's a compact Fitness Center or miles of relatively empty (compared to Cancun) white-sand beach just begging for a morning run followed by yoga on the pier.  If you're looking for more excitement, lively Playa del Carmen, known for restaurants, boutiques and nightlife, is just three miles away. Sportsy options include golf, horseback riding, parasailing, fishing, kite surfing, and tennis. Some interesting ancient Mayan ruins and landmarks worth a visit are: Xcaret, Xel-ha, Tulum, Coba, Chichen-Itza and Akumal.
Tip: To arrange any of the above simply dial 0 to reach the mayordomo, your butler, who is at your command.
8. Add new meaning to the term "turndown"
On your last night, surprise your honey by arranging for a private plunge pool paradise. The sensual "Plunge Pool Turndown" sets the scene with flickering tiki lanterns, aromatherapy, floating candles and rose petals, mood music and your choice of food and wine.
Tip: I'm envisioning Champagne and chocolate with their signature coco copal scent, and "Unchained Melody" playing in the background but you might want to see what the mayordomo suggests.
Janice Nieder is Founder of Travel with Taste.
If you would like to be a guest blogger on A Luxury Travel Blog in order to raise your profile, please contact us.