A private island in the middle of the Indian Ocean but with so many amazing opportunities. Whether you are looking for a laid back beach holiday, a diving expedition (Vamizi is one of the top 10 dive sites in the world) getting to one with nature or practising yoga and pilates. There really is something for everyone.
Vamizi is a year round destination, depending on what you want to gain from your time on Vamizi depends on the time of year you need to visit, looking for some guidance and inspiration? Follow our top tips below on what you can expect throughout the seasons:
March
Along with September, March is one of the best months for fishing on Vamizi, There are plenty of Giant Trevally (aka GT or Kingfish) around and it is still possible to catch Dogtooth Tuna. Yellow Fin Tuna also arrive in huge numbers in March. It is not uncommon when out fishing during this time of the year to have multiple strikes making a fishing trip very exciting. Giant Trevally, Dogtooth Tuna and Yellow Fin Tuna aside, fishing excursions in March often have success with Sailfish and Dorado. On land March is the best month of the year to see Green Turtles nesting and is also very popular for Nature Walks, since birding is prolific with sightings of redbacked shrikes, greyrumped swallows, diedrik cuckoos and different raptors, including peregrine falcos, Madagascar sparrowhawks and brown snake eagles. March is also a very good time to see the massive coconut crabs in the island interior (not on the beach, do not worry!).
March highlights: fishing, turtle nesting and birding.
April
April is one of Vamizi's best months for the weather: days are clear, sunny and not too hot (Approximately 28° C). The southerly winds at this time of year mean that the lodge is protected and the sea in front is calm and warm (approximately 29°C). Turtle eggs start hatching and it is a great time to see turtle hatchlings scurrying down to the sea… yes, on Vamizi we have Easter Turtles! Birding and nature walks are also excellent and yellow-spotted nicators, kites and buzzards join the usual array of birds present on the island. The plants are flowering and there are a large amount of butterflies making nature walks across the island a must at this time.
April highlights: weather, turtle hatchlings, birding and nature walks.
May
Another one of Vamizi's best months for the weather: a little cooler than April (approximately 27° C) but with very calm days and calm warm waters. Turtles are still hatching and there is a great chance of seeing them in May. On land May is harvesting time so it is a very good month for community tours: women carrying cassava (staple food) on their heads, men preparing their fishing gear and kids still at school busy with many activities (guests are welcome to join in on).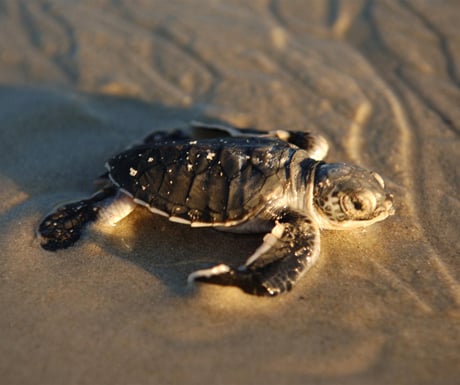 May highlights: Kimwani celebrations, weather, culture, turtle hatchings.
June
1st June is the Kimwanis' (local inhabitants') big celebration of the year, a celebration which includes traditional dances, theatres and music. Be sure not to miss this one. June has great beach weather with calm seas; and still offers good chances to see turtle hatchlings.
June highlights: Kimwani Festival, weather, turtle hatchings.
September
September like March offers world class fishing at Vamizi. The Wahoo are schooling in huge numbers and their average size is unbelievable. The water is thick with Giant Trevally (aka GT or Kingfish). Yellow Fin Tuna move in and out as do the Sailfish and Mako Sharks. General game fishing is fantastic at this time as well as bottom fishing. If you want to try and catch a world record fish, September is the month! The weather is ideal and the sea is flat and calm. The whales that move in from June/July and stay around till October/November are very easy to spot and can be seen very close: great whale-watching tours! Divers and sealovers in general have very good chances to witness the incredible and unique Coral Spawning. In September grey reef sharks start moving into the region thus making a dive at Neptune's Arm even more spectacular and exciting. On land it is the 2nd Ide celebration and it is exciting to see the Kimwani women in their colourful Capulanas (traditional dress). All flowers are in full bloom and the nectar and insect feeding birds on the island start to increase.
September highlights: fishing, whale-watching, diving, culture.
November
Diving is spectacular in November with plenty of Grey Reef Sharks and good visibility. On land the nectar and insect feeding birds have arrived and are plentiful. These include Sunbirds (five different species), Paradise Flycatchers, bulbuls, beeeaters, dimorphic egrets and ospreys. Whales have started to head south but the beginning of November still offers the chance to see these giants of the oceans.
November highlights: diving, birding, whales.
Holly McQueen is Sales Manager for Indigo Lodges.
If you would like to be a guest blogger on A Luxury Travel Blog in order to raise your profile, please contact us.