To achieve a crisp, well-done duck you have to roast the whole bird. It is best to use whole ducks, as the carcass is used for the sauce and the legs and fat can be used to make confit. If well-done is the desired result, crisp duck confit is ideal. We hope you enjoy this recipe for Gressingham duck with potato pancake, cider and apple sauce. Serves 8.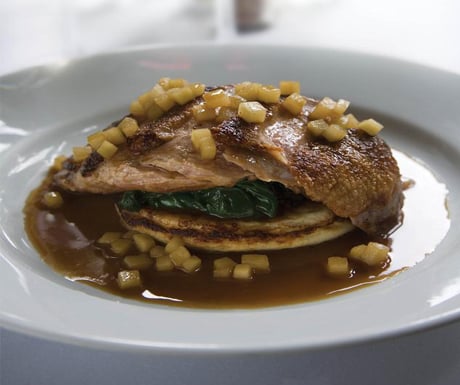 Ingredients
4 large Gressingham ducks
2 Granny Smith apples
25g butter
4 large peeled and sliced shallots
6 sticks of celery, chopped
1 large carrot, chopped
1 litre bottle of dry cider
500m1 apple juice Sprig of thyme 4 bay leaves
500m1 chicken stock
500ml veal stock 25ml Calvados
Potato pancake mix
Spinach
Directions
1. Bone out the ducks and trim the breasts, reserve the fat and legs.
2. Chop the bones and roast in a hot oven until golden brown.
3. Peel and cut the apples into a small dice, melt the butter and cook the apple dice for a few minutes. Add the Calvados and leave to one side. Keep all the trimming, peelings and core.
4. Drain the fat from the roasted bones into a large saucepan and add the shallots, carrots and celery. Cook until slightly brown, drain off any remaining fat. Add the bones back to the pan and pour in the cider and apple juice, bring to the boil, add the thyme, bay leaves and apple trimmings, boil for 5 minutes. Add the chicken and veal stocks and cover with cold water, bring to a gentle simmer. Skim off any fat and scum and simmer for 1 hour.
5. Drain though a fine sieve into a clean saucepan and reduce to a slightly thick sauce.
6. Everything for this dish can be done in advance up to this stage.
7. Season the duck breasts and place two into a large frying pan skin side down and cook until golden. Turn over for 1 minute, then transfer to a tray, drain off the fat and repeat with the other two breasts.
8. Roast in a hot oven 220°C for 10 minutes for pink) and leave to rest in a warm place for a further 10 minutes while you cook the pancakes and spinach.
9. To serve place a pancake onto four heated plates and top with a spoonful of spinach. Carve the breasts and arrange on top. Spoon the heated sauce over and serve at once.
Thank you to Bryan Webb, Head Chef and Co-Owner at Tyddyn Lian Restaurant with Rooms, North Wales, for the recipe.
If you have a recipe you would like to share with  A Luxury Travel Blog's readers, please contact us.