By
Lisa Anderson
on May 22, 2014 in
Accommodation
,
Adventure Travel
,
Africa
,
Air Travel
,
Asia
,
Botswana
,
British Virgin Islands
,
Caribbean
,
Europe
,
Finland
,
Hotels
,
Leisure Travel
,
Regions
,
Resorts
,
Speciality Travel
,
Thailand
,
Western Europe
,
Zambia
For the traveling enthusiasts among us – winning the lottery promises us luxury travel nirvana. Our luxury travel dreams encompass the whole experience and not just the glorious end-destination. So naturally, the first thing to be ditched would be travelling commercial airlines (fondly described as 'cattle class'). No more sitting like a sardine packed into a very small, smelly tin. From now on, it's private jets and personal stewards. I have always said if you are going to dream, dream big! Then it occurred to me that I wouldn't know where to start. So I decided to speak to an expert. With a little research I found Jenny Graham, a travel specialist, from luxury travel concierge service, Quintessentially Travel.
Q. "For someone used to travelling economy, an influx of money means no more sardine flying. What is the best way to travel? Private Jet? First class?"
A. "Without a doubt, for ultimate luxury, the client has to travel via private jet! Your flight will be scheduled to meet with your diary, saving you precious time; it only takes 15/20 minutes to check in and you can enjoy the ultimate privacy, security and comfort when travelling this way."
Q. "If you wanted to hire a private jet, how would you go about this?"
A. "Call Quintessentially Aviation who are on hand 24/7/365, worldwide. Delivering a flexible and professional service, they are well versed in catering to a host of requests and will source the most suitable option from a selection of worldwide aircraft, each and every time you fly."
Q. "As a big lottery winner, the odds are good that your face is plastered all over the news. Do you need any special insurance? How do you ensure your privacy (and that of your family) while travelling?"
A. "All luxury hotels will be well versed in catering to high profile clients and ensuring all clients receive the privacy they require – obviously there are some properties which excel in the 'hideaway' concept, making them perhaps more desirable and appropriate for a client who wishes to avoid the public eye."
Q. "What (where) would you personally recommend to someone, who wants to take their family on the ultimate luxury holiday for the first time? (Think mind-blowing)"
A. "The world is a big and exciting place; here are some suggestions based on different types of holidays you may want to consider:
For luxurious adventure…
Botswana and Zambia
Consider a trip to Botswana and Zambia. 12 days of luxurious adventure. 5 different amazing camps in different animal reserves. Experience all that Africa has to offer – the magnificent wildlife, the incredible vistas and all this in the lap of luxury.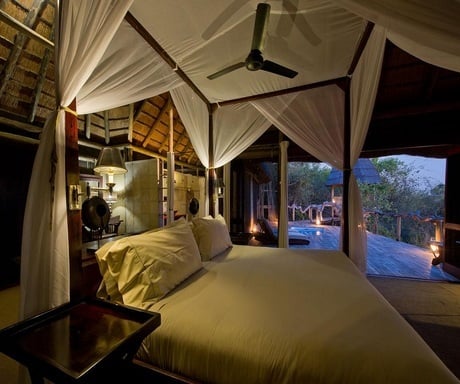 For those with a big family…
Finland, Scandinavia
This holiday is designed for the active family with a great love of all things winter. From snowmobiling across the wilderness in Lapland, fishing, and dog sledding and of course no trip to this part of the world would be complete without a stay at the incredible Ice Hotel.
For the ultimate in luxury…
Thailand
Two weeks of pure unadulterated exotic luxury. Starting in Bangkok and ending in Phuket, this trip will introduce you to the all the amazing culture and nature that Thailand has to offer. You will be able to enjoy exciting elephant trekking, river excursions, traditional Thai massages and much more. Following which you can return to the incredible luxury camp – Four Seasons Tented Camp, Golden triangle.
Last but not least, for the holiday only a lottery winner can truly enjoy and appreciate…
The private island (by private jet!)
Nothing quite says "wealth and luxury" like taking a private jet, to a private island resort for a holiday. Necker Island owned the Sir Richard Branson, is located in the British Virgin Islands. The entire island just for you and your family. 74 acres surrounded by coral reefs, white sandy beaches and turquoise waters. This holiday gives the term "all inclusive" and new meaning. With a team at the standby to arrange whatever activity you desire from water sports to spa treatments, you can do as much or as little as you please."
"Thank you so much Jenny, for your answers and inside look into the world of luxury travel."
So there you have it. The biggest luxury when travelling could very well be the travel concierge service. The personal, expert service with extensive knowledge and information about luxury travel for the uninitiated is a must.
Lisa Anderson is Marketing Director at thelotter.com.
If you would like to be a guest blogger on A Luxury Travel Blog in order to raise your profile, please contact us.