Now that the Winter Olympics are over, you may be wondering what else Sochi has to offer. Funnily enough, Sochi in the past hasn't been particularly famous for its winter sports scene, but rather as one of the most beautiful summer beach resorts in Russia, with a huge number of people travelling from within Russia and elsewhere each year. Located on the coast of the Black Sea (which is also bordered by Turkey, Bulgaria, Romania and others), temperatures in the height of summer are consistently in the mid-to-high 20s. There's plenty to do at all times of the year in this beautiful city – let us take you through just a handful of our favourites when the weather's good enough to get into the great outdoors.
Dendrariy Park
Also known as the Sochi Arboretum, Dendrariy Park is a subtropical park and botanic garden built back in 1892. The park is best known for its plantlife, with over 1,000 species of trees growing inside its boundaries from all around the world. The layout of the park is formal, centred around a stunning Italian-style villa which was once home to the park's founder. It also contains a beautiful English-style lower park, with flowerbeds and a large lake.
Akhun Mountain
The Akhun Mountain is the highest coastal point in the Sochi area and is therefore extremely popular for its scenic views over the city. The old observation tower, built in 1936, which lies at the top can be seen from the centre of Sochi and offers awe inspiring views and fantastic photo opportunities. It is possible to walk up, however at 7.5 miles it may be too far for most people. There is a road however, so public transport is available.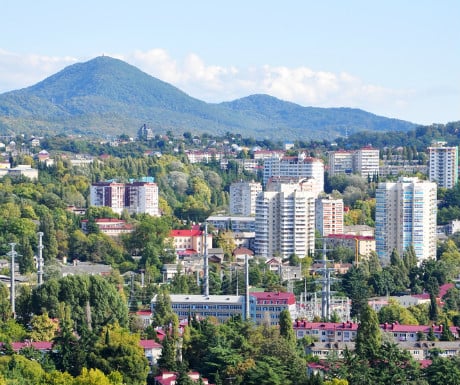 Matsetsa Tea Plantation
A home to the world's northernmost tea plantations, where the unique flavour of Matsesta tea has been cultivated for over 100 years. Sochi is home to numerous tea plantations, however the Matsesta Tea Garden is located just a few miles west of the city so easy to reach, and very friendly towards foreign visitors. The entire tea making process takes place in this one location, from the planting, harvesting, processing, drying and packing.
Loo Temple
There are a number of ancient Byzantine sites around Sochi, none of which are in particularly good states of repair. However, despite its poor condition, Loo Temple is an interesting place to explore and, as it's located on a hilltop, offers beautiful scenic views around the area. The temple was built between 1000-1200AD, underwent renovation in 1400, and was finally converted into a fortress around 1600.
Agura Waterfalls
The Agura River flows from the Alek Mountains and, just outside Sochi, in the Agurskoye Gorge, the river drops 30 metres, forming the impressive Agura Waterfalls. About 10km from Sochi city centre, the easiest way to reach the falls is on foot from the town of Nizhnyaya Plastunka. The scenic, forested footpath is an enjoyable walk in and of itself, and offers incredible views of the waterfalls after about 35 minutes walk.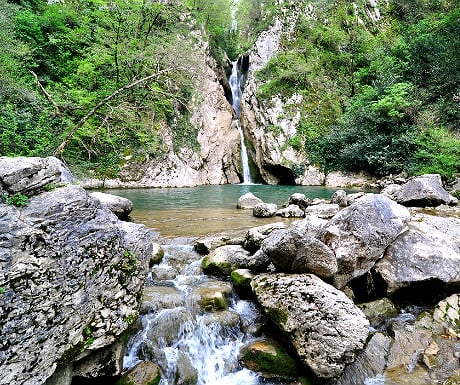 If you're planning a summer trip to Sochi, be sure to enjoy a few of the amazing scenic sights around the area. There's a lot more to do in the area besides these, but these are simply a few of our absolute favourites.
Images: Shutterstock
Kristi Rorison is Director of Outgoing Business at IntoRussia.
If you would like to be a guest blogger on A Luxury Travel Blog in order to raise your profile, please contact us.