By
Craig Burkinshaw
on May 22, 2014 in
Africa
,
Asia
,
Canada
,
China
,
Eastern Europe
,
Europe
,
Leisure Travel
,
Malaysia
,
Mongolia
,
North America
,
Peru
,
Rail Travel
,
Regions
,
Russia
,
Singapore
,
South Africa
,
South America
,
Speciality Travel
,
Thailand
Train journeys offer a more relaxed pace of travel and often evoke a feeling of a bygone era, with elaborately decorated carriages and the opportunity to mingle with likeminded people. There are countless rail journeys across the world all of which offer something different, but for me there are a few that really stand out. Here are five of my favourite rail journeys from around the world.
The Eastern & Oriental Express, Southeast Asia
Travel from Thailand's capital, Bangkok, through the country's beautiful landscape and into Malaysia and Singapore on board the Eastern & Oriental Express. This is Asia's most luxurious train ,with lavish carriages full of brass fittings, rich wood and comfortable ensuite compartments.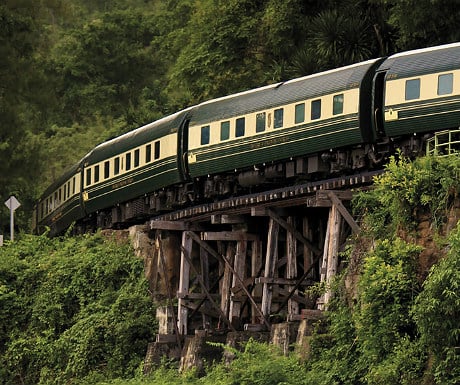 Take the opportunity to dress in your finest clothes for an evening of fine food and wine in the ambient dining car, where you are surrounded by the elegant style of the Twenties and Thirties. Stops include Georgetown in Penang, the bridge over the River Kwai.
If you're visiting South Africa, why not take in the beautiful scenery from the comfort of the luxurious and historic Rovos Rail. The train's carriages, including restaurant cars, observation carriages and sleeping compartments, have all been restored to their former glory, and a journey on this wonderful train is like taking a step back in time.
Designed for pioneering travellers and colonial grandees, the train is decorated with dark woods and period fittings – just perfect for enjoying a drink as you meet fellow passengers.
A journey on the Rocky Mountaineer in Canada takes you through grasslands, canyons, past thundering waterfalls and through mountain tunnels. There are three classes available on this famous train, Red, Silver and Gold Leaf, the latter offering a superb bi-level glass-dome coach with a wonderful viewing platform. Gourmet meals served below in the dining car for those travelling in Gold Leaf.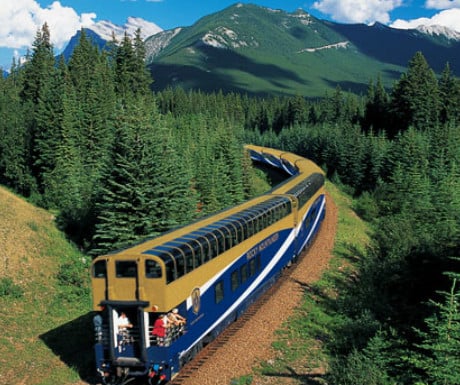 The train is one of Canada's most well-known and operates a few routes in the summer months – between Calgary, Banff, or Jasper and Vancouver, and between Jasper and Whistler.
A fantastic overland journey awaits those who travel on this epic route. A series of railways which connect Moscow in the west of Russia to either Vladivostok in the far east of the country (the true Trans-Siberian route) or Beijing in China (known as the Trans-Mongolian as it crosses through Mongolia), the Trans-Siberian traverses several landscapes, time-zones and cultures whichever route you choose. Travelling by public trains, the Trans-Siberian may not be the most luxurious on this list but it is certainly one of the most impressive, attracting travellers from all over the world with a sense of adventure and a desire to experience the might and splendour of European Russia and the mysterious Far East. For those who prefer a more luxurious stance, there are a couple of private trains which offer set itineraries.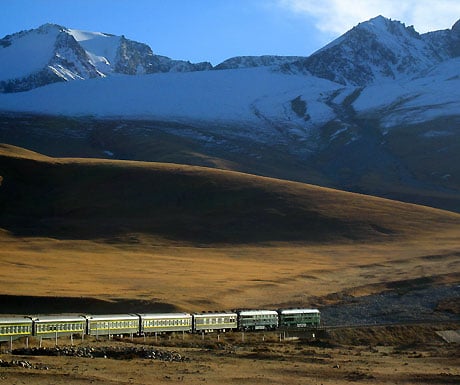 Chosen by the readers of Condé Nast Traveller UK as the best train in the world (2011) the Hiram Bingham is a luxurious train in Peru that takes you from the small village of Poroy, just outside of Cuzco, and on towards the world-famous site of Machu Picchu.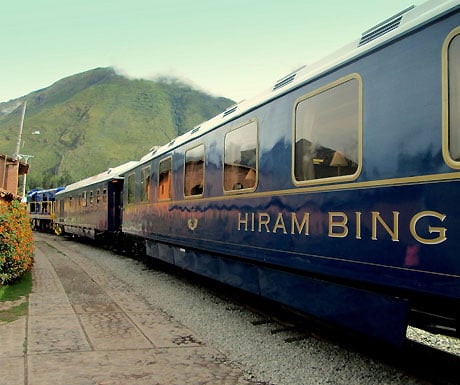 Enjoy a hearty brunch, learn how to make a Pisco Sour in the bar car or take in the scenery from the observation carriage, as you journey alongside the mighty Urubamba River in the Sacred Valley.
Craig Burkinshaw is a Founder Director of Audley Travel.
If you would like to be a guest blogger on A Luxury Travel Blog in order to raise your profile, please contact us.