If Amanjiwo isn't yet on your luxury travel bucket list, it should be. Its name means peaceful soul, and peace is exactly what you'll find during your stay in this beautiful, intimate setting, with just 36 suites set in two crescents around a graceful rotunda that echoes the striking design of Buddhist sanctuary Borobudur.
Getting there
The closest airport is Yogyakarta, with direct flights from Singapore (Air Asia, SilkAir, Tiger Airways); Bali (Air Asia, Garuda Indonesia, Lion Air) and Jakarta as well as other cities within Indonesia. Amanjiwo provides complimentary roundtrip airport transfer in a comfortable air-conditioned private car, complete with a friendly English speaking driver, delectable homemade brownies and cookies, and even WiFi. If only all luxury resorts included this service!
Your suite
Even if your budget only allows for the entry level Garden Suite, not to worry – it's already magnificent, with its high ceilings, four pillar bed on a raised terrazzo dais, separate his and hers vanities and enticing fragrance, from fresh jasmine blossoms.
A sunken outdoor bathtub is perfect for outdoor bubble baths, and even a romantic rose petal bath by candlelight:
Sliding glass doors open to a garden terrace with a thatched roof bale and day bed for lounging in the shade, as well as sun beds.
What truly sets Amanjiwo apart is the service. While you're out for the day, or even just at dinner, your suite will be refreshed, new tropical fruits placed in the fruit bowl, bottled water replenished, and in the evenings, a thoughtful local handcrafted gift left at turndown. You'll wish you could take Amanjiwo's hard working housekeeping staff home with you.
Amanjiwo dining
Don't leave Amanjiwo without savoring delicious Indonesian specialties such as Mie Goreng (Indonesian stir fried noodles), Martabak (a savory meat filled pastry), and Ayam Goreng Bumbu (Fried Coriander Chicken).
But even if you crave more familiar tastes, Amanjiwo excels. A perfect start to the day: fresh squeezed tangerine juice, followed by lemon souffle pancakes with warm fruit compote, or perhaps crepes filled with mixed berries and drizzled with homemade yogurt with honey.
Don't miss…
A sunrise visit to Borobudur is a must, to marvel as its 9th century stone reliefs and sculptures emerge from darkness to be bathed in the rosy glow of dawn. Enjoy panoramic views of the surrounding Kedu Plain and of the twin mountains, Mount Merbabu and Mount Merapi.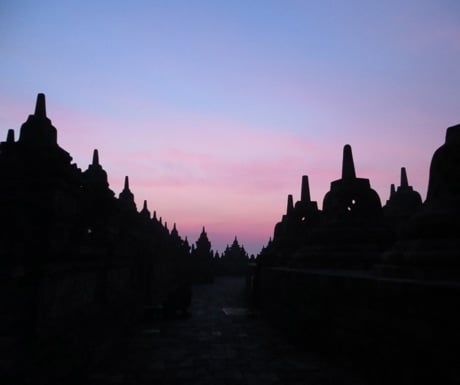 After sunrise at Borobudur, savor a delightful al fresco breakfast on Dagi Hill, with one of the best views of Borobudur. In addition to the delectable fresh squeezed juices, fruits, pastries and breakfast entrees, Amanjiwo provides watercolors and paper for you to rediscover your inner artist.
A perfect way to see some of the neighboring villages is by Andong, or Javanese horse cart. You'll see the many rice paddies and perhaps rice threshing, happy and curious schoolchildren, a family-run pottery business where you can try your hand at the pottery wheel, a tofu business where you can try some of the silky smooth fresh tofu, and more.
During the heat of the day, cool off in Amanjiwo's beautiful pool, before relaxing poolside with a good book and a refreshing drink.
For a special birthday, anniversary or honeymoon, nothing can compare to the romantic Selamatan Dinner, held in the wonderful rotunda of the Dalem Jiwo Suite, Amanjiwo's elegant private compound. Lanterns adorned by rose petals light the way to the Dalem Jiwo Suite, where an evening of traditional Indonesian gamelan music, dance and cuisine awaits you and your loved one. Truly an evening to treasure forever.
Have you experienced the magic of Amanjiwo and Borobudur?
Hilary Stockton is the CEO at TravelSort.
If you would like to be a guest blogger on A Luxury Travel Blog in order to raise your profile, please contact us.