Six years as the General Manager of the largest luxury river cruise company in Cambodia, German born Alexander Scheible has an encyclopaedic knowledge of the region. Here are his top 3 suggestions for visitors.
1. Cruise up the Mekong to see the rare river dolphins
The stretch of river around Kratie town is home to a group of rare sweet water dolphins. Kratie town is a sleepy but picturesque rural place with a fascinating fresh food market, with food you are never going to experience back home. Unlike many towns around Cambodia, the war years were kind to the French architecture. A great place for a cold beer while watching a dramatic sunset over the Mekong.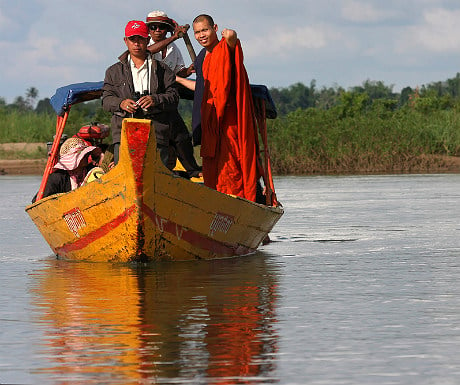 2. Cross the Tonlé Sap Great Lake to – or from – Siem Reap
The largest freshwater lake in Southeast Asia is an ecological hot spot and designated UNESCO biosphere. Cambodia's capital city, Phnom Penh, was built at the convergence of the Tonlé Sap River and the mighty Mekong. Still today, the harbour resembles the descriptions recorded by first explorers, and a boat adventure from Phnom Penh to Siem Reap is the best way to explore the river and experience Cambodian culture.
The flow of the lake changes direction twice each year, shrinking and expanding dramatically. From November to May, the dry season, the Tonlé Sap drains into the Mekong River at Phnom Penh. When the year's heavy rains begin in June, it backs up to form an enormous lake.
3. Visit Angkor Wat
The 7th Wonder of the World is a vast architectural masterpiece. Its perfection in composition, balance, proportions, reliefs and sculpture make it one of the finest monuments in the world. The 12th century temple bespeaks a pomp and a luxury surpassing that of a Pharaoh, an impressiveness greater than that of the Pyramids, and artistic distinctiveness as fine as that of the Taj Mahal. Angkor Wat occupies a rectangular area of about 208 hectares (500 acres) defined by a laetrile wall, so dedicate most of a day to appreciate it fully.
Images: Shutterstock