If you are visiting the surf town of Jaco Beach, Costa Rica you may find cafes and eateries galore,  catering to various palates and price ranges.  The best eats in this town bring to life the essence of Costa Rica, and living the "Pura Vida" lifestyle.  In order to narrow them down, it is best to consider your appetite and options, as pure Costa Rican fare is somewhat limited in this beach town.
Soda Jaco Rustico
If you are craving real Costa Rican fare, you will find it here, a spot which is a lunch-time favorite for the locals.  It's casual yes, and inexpensive, but the variety is great and you can get a plate full of delicious rice, beans, plantains, meat and salad along with a  drink, to fulfill your post-surf appetite.  Beachwear is totally acceptable here, and welcome, as Rustico is only a few short blocks from the lovely Pacific Ocean and black sand of Jaco Beach.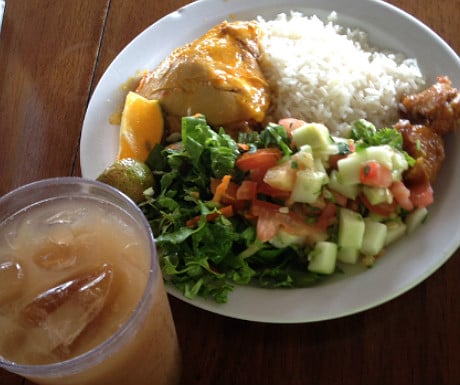 Green Room
Looking to step it up a bit, and enter a world of organic and local ingredients, with an American twist.  The Green Room will deliver a delicious, healthy, and innovative meal to suit your fancy.  Consider the local fruit and flower beers, or a guanabana margarita.  Or dine on some fresh fish, or a tasty grilled cheese.  Green room has a wonderful and fresh ambiance to add to the fresh food, which is sure to please your palate.  And flip flops are welcome here as well.
Seafood Place Hicaco Restaurant
Located right on the edge of Jaco Beach, where black sand meets dark water, you can dine in the open air luxury of Hicaco.  Lovely wood interiors and delicious drinks, such as the Guaro Sour, will draw you in, and the fresh seafood will keep you happy.
Graffiti Resto and Wine Bar
Located in the heart of Jaco Beach, this hip, or as they call it "ghetto gourmet" dining spot gets notoriety for it's delicious international cuisine, and great wine pairings. Dine on lamb lollipops, or a bottle of fine wine, and enjoy local art and music while you indulge.
Lemon Zest
In a plaza on the main drag of Jaco Beach, this restaurant boasts the best service in Jaco Beach, or so the locals will tell you.  Step into its fine dining atmosphere, or indulge in the extensive wine list, and try some of the innovative cuisine – such as the plantain coated dorado, and let your palate take over.
Whether you are in your beachwear or dressed up for a night on the town, Jaco Beach will deliver much more than just good surf for the discerning traveler.