6 of the best bars in Bali
Synonymous with tropical luxury, Bali is an urban travelers island dream. As a tourist mecca it seems cutting edge bars and restaurants are invading Bali's heady streets and lining the beaches at an undeniably fast past. Visitors could literally spend weeks in Bali eating out morning, noon and night and still not touch the sides of what's on offer on this small island. World-renowned restauranteurs have flocked to Bali setting up what can only be described as an unsurpassable number of fine establishments able to rival any major city in the world. To avoid feeling overwhelmed with choice, we recommend you sip decadent cocktails from one of the incredible bars listed below.
Sundara
Bali's newest addition in beach bars, Sundara, offers a relaxed and refined approach to the bar scene. With some of the best views in the region, Sundara is nestled in the privacy of trees on the shores of Jimbaran Bay. The impressive cocktail list on offer will leave your mouth watering and begging for you to try them all. Spend the day lounging beside the pool, watch the sunset and continue your night listening to the soothing sound of the waves alongside the beats of some of the worlds best international Lounge DJs.
Potato Head
This beachfront complex is one you won't want to miss! Offering three unique restaurants, various bars and an infinity pool, Potato Head is a world-class venue. Spend you day's poolside sampling some of the best cocktails on the island. A stunning display of architecture and design, Potato Head is part beach club, part art gallery. Renowned for extravagant parties and for its international entertainment acts, this is an beach bar that should be high on anyone's list.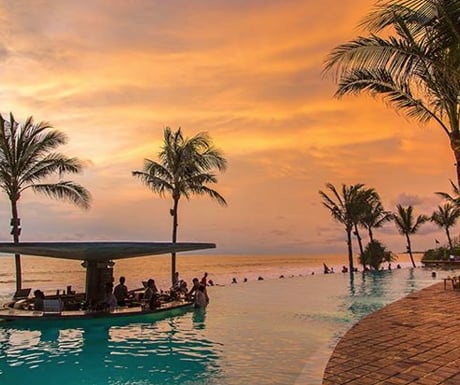 Rock Bar
Bali's most sought after sunset destination the Rock Bar at Ayana Resort and Spa is simply unforgettable. The exceptional views combined with signature cocktails and world class DJ's all set atop a platform seamlessly built into a unique natural rock formation set the scene for intimate and magical evenings. Note that a strict dress code does apply and before sunset queues for the inclinator can be long. Don't let the wait put you off, once you proceed down towards the bar you will realize it was worth every minute.
SOS Supper Club
A rooftop bar with a view like no other, SOS Supper Club is Bali's premier rooftop destination. Watch the sunset over the ocean while enjoying innovative cocktails from the impressive cockail list. The uniquely designed space is both seductive and chic, built to encompass the breathtaking views four floors up. Divided into three areas, guests can dine, relax or party in style. The 400 plus wine cellar is one of the best in Bali and is the perfect accompaniment to an alfresco dining experience.
Motel Mexicola
The first thing you notice at Motel Mexicola is the vibrant use of colour throughout, the second is the intoxicating atmosphere that seems to envelope the place. Offering a wide range of Mexican fare, the menu is both extensive and delicious. During the day the sunny courtyard is perfect for long lunches, while at night the place comes alive with mariachi music. Don't leave without trying one of the 13 different tequilas on offer. Located in trendy Seminyak, any time spent at Motel Mexicola promises to get you in a good mood.
Cocoon Beach Club
This popular spot is striking in design with a sparkling blue swimming pool as the centrepiece to all the action. Surrounded by palm trees and with wonderful views of the beach a day spent at Cocoon Beach Club will leave you in a state of euphoria. Famous for its legendary pool parties, Cocoon has a long-standing reputation as one of the best on the island. Food is Asian fusion and cocktails are a plenty, the relaxed atmosphere coupled with mesmerizing, opulent design mean Cocoon will continue to reel in the fashionable crowds seeking both relaxation and luxury.
Lizi Oldham is the Digital Marketing Manager at Amazing Accom.
If you would like to be a guest blogger on A Luxury Travel Blog in order to raise your profile, please contact us.
Did you enjoy this article?
Receive similar content direct to your inbox.