Being female, teetotal and anti-gambling to boot, Las Vegas is probably one of the last places you might imagine I would choose to go. I have, nevertheless, visited Sin City no fewer than five times. The first occasion was a family holiday back in 2001, and the subsequent trips have all taken place since 2009. What, you may ask, has prompted the repeat visits? There are numerous reasons, but these are the seven most compelling:
1. Restaurants
The dining options in Las Vegas are titillating. I cannot think of anywhere else in the world that there are so many cuisine varieties within such a concentrated area. These range from three star Michelin restaurants to all-you-can-eat, gorge yourself buffets. As well as outposts of global haute cuisine establishments (Nobu, Hakkassan, Michael Mina, Joel Robuchon, amongst others), there are some real gems. My personal favourite place to eat is at Andrea's at Encore. The restaurant offers an Asian fusion menu, with a menu dedicated to vegetarian and vegan options. The avocado and scrambled tofu sushi is sensationally good, and the ice cream tree is a pudding not to be missed.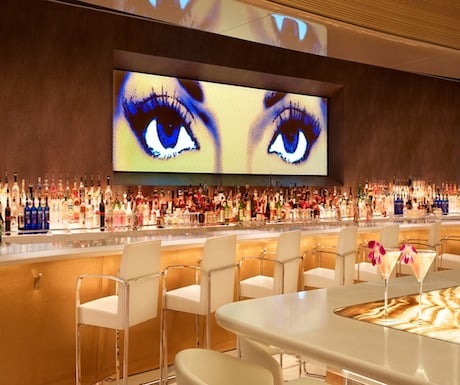 2. Dolphins
Amidst the chaos of the strip, there is a wonderful sanctuary of serenity to be discovered inside Siegfried and Roy's Garden at the Mirage. It is home to a dolphinarium containing ten dolphins, and I visit every time I am in Las Vegas. Entry to the garden is $19.95 for adults ($14.95 for children), and you can spend a wonderful afternoon looking at the wonderful creatures. There are a number of activities that you can take part in, for an additional cost. Last year, I did Yoga with the Dolphins (not, as I had thought, actually in the water, but inside the aquarium, looking up through the glass as the dolphins swam around). During my most recent trip in April 2014, I was lucky enough to take part in the Trainer For a Day programme, which I cannot recommend enough. The day is spent shadowing the trainers, and includes lots of interaction with the animals, as well as feeding, bucket cleaning and learning about the life of a full time trainer, which has got to be one of the best jobs in the world!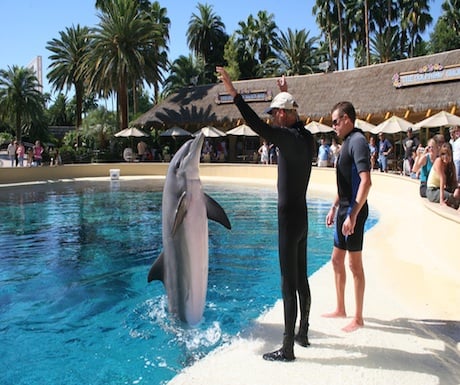 3. Helicopter tours
One of the best ways to see Las Vegas is from the air. Helicopter tours are easy to arrange, and best organized at night time, when the Strip is lit up. As well as offering an aerial view of Vegas, tours can be arranged to the Grand Canyon. In April, my husband and I went to visit the Grand Canyon with Papillon Tours, and I would highly recommend the experience to anyone, particularly those who are craving some wholesome scenery after a couple of days of excess in Las Vegas! We did the Grand Canyon Connoisseur Tour with Helicopter (http://www.papillon.com/las-vegas-tours/national-park-air-and-ground-tours/grand-canyon-connoisseur-with-helicopter), which was fantastic.
4. Shows
As you approach Las Vegas by car, the billboards displaying large glossy advertisements for shows are inescapable. There is a bewildering array of choice, and it helps to plan ahead, especially if there are artists (such as Britney or Elton John), who perform only on certain nights. Despite her touted Vegas 'residency', Britney was not performing any dates during my trip in April, which was disappointing, but there were many other distractions to make up for it! If you are a Cirque de Soleil fan, I would highly recommend Le Rêve at Wynn | Encore. Unlike a number of other Cirque shows that I have seen (including O at the Bellagio and Zorkana at Aria), Le Reve has a plot (albeit a thin one). The costumes, acrobatics and synchronized swimming features of this performance were absolutely breathtaking. If magic is more your cup of tea, Penn and Teller at the Rio is where you need to go. I have seen the show twice, and the show was outstanding and baffling on both occasions.
5. Shopping
Much as I adore sunbathing, sitting by the pool when the mercury hits 40, as it often does in the summer months, is simply unbearable. In the middle of the day, a trip to cool off in the air-conditioned, capacious shopping malls is bliss. On the Strip itself, there are four main shopping zones: the Forum Shops at Caesar's Palace, the Palazzo Shops at the Palazzo, the Miracle Mile and the new, glitzy Crystals shopping mall at Aria. If you decide to hop between the three in the heat of the day, a taxi is advisable: distance on the Strip is deceptive, as there are numerous footbridges and pedestrian traffic to contend with.
6. People watching
Las Vegas attracts an extraordinary mélange of people. For some, it is a once-in-a-lifetime trip. For others, like me, it is a repeat holiday destination. Walking along the Strip, the encounters are occasionally jaw-droppingly bizarre. You can pass a bridal party, a stag party dressed up as the cast of "The Hangover", strippers and midgets in the same hundred feet. Despite being a non-gambler, I find it fascinating to observe peoples' behavior in the casinos. Sociologically, Las Vegas is arguably the most intriguing place that I have ever been.
7. Getting hitched
I didn't actually get married in Vegas. That would have been once cliché too far. Having had our marriage ceremony in Big Sur, California, however, we decided that it would be foolish to pass on the opportunity to solidify our vows in Sin City later on the same week. After all, how often does one find oneself in Las Vegas equipped with wedding attire? My husband and I therefore had a vow renewal ceremony at the Bellagio (where we stayed, in a gorgeous Cypress Suite, which are unofficially regarded as the hotel's honeymoon suites). It was a simple, elegant affair on the Terrazzo di Sogno, and the ceremony culminated in the Bellagio fountains serenading us with Frank Sinatra's 'Fly me to the Moon', which was ultra romantic.