By
Jackie de Burca
on Aug 30, 2014 in
Accommodation
,
Asia
,
British Virgin Islands
,
Cambodia
,
Caribbean
,
Fiji
,
Hotels
,
Jamaica
,
Maldives
,
Mexico
,
New Zealand
,
North America
,
Oceania
,
Pacific Islands
,
Regions
,
Resorts
,
Worldwide
Does the phrase "fit for Royalty" sound good to you? Or maybe these days we judge the beauty and exclusivity of a luxury getaway by the celebrities who have visited it. Here are 9 intimate, luxurious hideaways that are fit for Royalty and celebrities – some of which have already been visited by them.
1. Casa Aramara, Punta Mita, Mexico
Offering priceless seclusion, Casa Aramara is Punta Mita's only five-star private residence. Casa Aramara is an ultra-luxurious private beach resort, set in beautiful tropical gardens, with a cost of between $15,000-$30,000 per night. Designed by Martyn Lawrence Bullard, and built originally by Joe Francis, the media entrepreneur – this magical luxury hideaway has been in demand with the right people. It was used by Kim Kardashian and Kanye West for his 37th birthday celebration on 8th June 2014, and other famous guests include Jennifer Aniston, Eva Longoria, Ashton Kutcher, Courtney Cox and Demi Moore.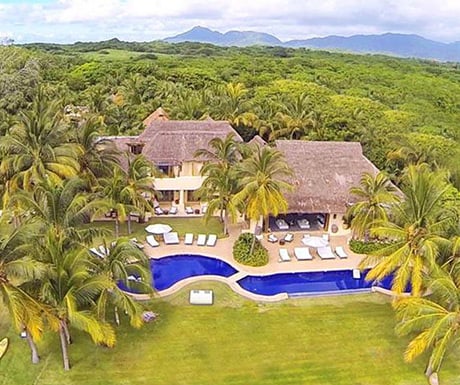 2. Soneva Fushi Resort, Maldives
One of the world's most expensive, exclusive resorts, Soneva Fushi is a wild, beautiful island where you'll need to lose your shoes and go barefoot during your stay. This is the original of the species when it comes to desert island hideaways, where you can also go snorkelling with a marine biologist.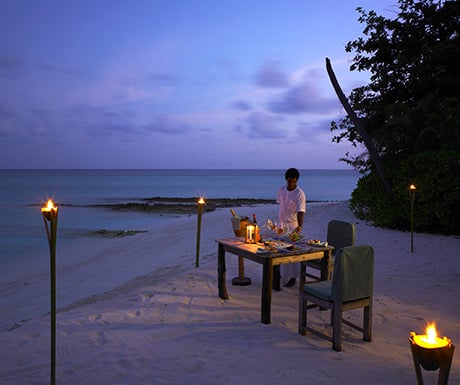 A big favourite of Madonna's, this resort gives you the opportunity to enjoy a luxurious hideaway, with a conscience. On top of the regular cost of your room, which can vary from about $1000-$8,000 per night, you will also pay a charge to cover your carbon footprint, of 2% extra, on top of your original bill. But the good news is that you'll leave there with your shoes and your conscience in a better place!
In 1946, Ian Fleming, the James Bond author, decided to buy what was then a 15 acre piece of land with tropical overbrush, in Oracabessa, a small port town in Jamaica. Afterwards he sketched his dream villa on a blotter. Today this is the Goldeneye Resort, which was his former home, and these days is a firm favourite with the likes of Johnny Depp and Sting. The best of both worlds is to book the Fleming Villa itself, which is like an island as it's so secluded, where you can have your own beach, pool and of course staff. However if you fancy any spa treatments, or a little bit more activity then all you have to do is wander over to the resort itself.
4. Wharekauhau Lodge, Wairarapa, New Zealand
The Duke and Duchess of Cambridge, and Prince George, stayed in Wharekauhau Lodge in April 2014. Kate, William and George stayed in a cottage suite, in this white-washed hideaway on its little 5000 acre farm!
The price tag to stay here in this little piece of heaven on earth starts off from around £220 (€273 approx.) per person per night, based on double occupancy in the low season. In this beautiful resort, you can be at one with nature, just like the sheep that you can see wandering around the pastures.
5. The Brando, Tetiaroa, French Polynesia
Fodor's Travel featured Tetiaroa as one of the 15 Best Beaches for 2014, and amongst the awards won by The Brando is the HEC Paris & 1.618 Sustainable Luxury Award (2013) – for the Brando's innovation and commitment towards sustainable development. Named after the former owner, the Brando also features a scientific research centre. In this breathtakingly beautiful setting, you should find it easy to understand why Marlon Brando said: "Tetiaroa is beautiful beyond my capacity to describe. One could say that Tetiaroa is the tincture of the South Seas."
The island is accessed by private plane, and you are most likely going to meet exotic birds, sea turtles and manta rays. The design of the resort reflects the Polynesian culture and lifestyle, and you can choose from 35 villas dotted on the white sandy beaches. This unique, carefree luxury experience costs from €1800 per day, for a one-bedroom villa, for up to 2 guests.
6. Romantic Pool Residence, Velaa Private Island Resort, Maldives
You can only access this property by boat, making this suspended luxury getaway the perfect choice for a really romantic, intimate, private escape. The Romantic Pool Residence sits above a lagoon, and has its own private gym, plus a spa treatment room.
If you do decide to venture away from your privacy, to explore the rest of the island, you'll find plenty of activities going on. These include a semi submarine, diving, snorkelling, squash, tennis, yoga, watersports, fishing and you can even adopt a coral dome.
7. Necker Island, British Virgin Islands
Owned by Sir Richard Branson, Necker Island is part of the Virgin Limited Edition Collection, and is Branson's home and favourite hideaway. Surrounded by beautiful sandy beaches, coral reefs and turquoise waters, the island's 74 acres are a haven for those seeking a luxurious getaway.
You'll also find a fascinating collection of rare animals and plants, and for those guests who are interested, there are feeding times which you can attend, just let the staff know in advance. There are iguanas, soldier crabs, lemurs and flamingos amongst the diverse animal residents of the island.
Necker Island has had Oprah Winfrey, Steven Spielberg and Mel Gibson, amongst its guests. In fact some stars rent out the whole island property, for a rack rate. There are offers for Celebration Weeks, which may suit some guests.
8. The Wakaya Club & Spa, Wakaya Island, Fiji
Privacy is highly valued here, which may be the reason that Melinda and Bill Gates spent their honeymoon at the Wakaya Club & Spa. However it could be because it's a particularly lovely, authentic development, where environmental practices are also much valued. Fijian culture is just as important, as ecological issues and privacy. In fact part of the beauty of this development comes from the indigenous methods that have been interwoven there.
A firm favourite with Keith Richards and his family, as well as Tom Cruise and Katie Holmes, the all-inclusive nightly rate starts from US $1,900.00.
9. Song Saa Private Island, Phnom Penh, Cambodia
Hideaways Magazine voted the Song Saa as Hideaway of the Year in 2013. Condé Nast Traveller 2014 considers it to be "a spa with a soul, that sets it apart from the pack."
This is the first private luxury island resort in Cambodia, set in a secluded seascape, which is accessed by a 35 minute boat journey from Sihanoukville. The resort is committed to keeping the natural assets of this untouched paradise in tact. This is a unique location, that offers a true tropical island private getaway. The rate for a one-bedroom villa starts from $1117 during the low season.
Jackie de Burca is Co-owner of Catalonia Valencia.
If you would like to be a guest blogger on A Luxury Travel Blog in order to raise your profile, please contact us.