Top 10 small boutique hotels in the Yucatan Peninsula, Mexico
The Yucatan Peninsula is a flat land between the Gulf of Mexico and the Caribbean, a haven for beach lovers. The powdery white sand and the intense turquoise of the sea give this holiday destination an irresistible appeal. This Peninsula has a lot more to offer, apart from its stunning beaches. This was the hub of the Mayans, where they set up their cities and ceremonial centers. You see evidence of that everywhere, in the culture, in the cuisine and the famous archaeological sites. With wildlife parks and nature reserves, the Yucatan boasts an ecological reserve of more than 450 species of birds. As you have probably gathered by now, vacationing here gives you a wonderful mix of the sea, the forest and the culture. Here are 10 small boutique hotels on the Yucatan Peninsula with views absolutely to die for. These delightful little boutique hotels are either right on the beach or partly nestled in the thick forest, giving you the best of both worlds. And here they are…
Hotel la Semila, Playa del Carmen
You will find the
Hotel la Semila
just a few steps away from the beach in the newly developed area of Playa del Carmen; in its proximity are Mayan ruins and the jungle. Not too far away is the very popular 5t
h
 Avenue to shop in. The carefully chosen furniture and objects d'art enhance the feeling of old Mexico, the predominantly white colors used gives you a feeling of space and stillness. There are 9 bedrooms, including 2 suites with rates that begin at USD 110, to choose from. Breakfast is served up in a unique open kitchen loft, made cozy and inviting by an informal scattering of comfortable seats and coffee tables, or you could relax outside in the pretty garden to enjoy your coffee.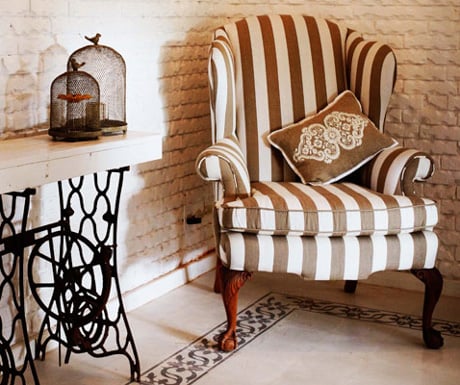 Hotel la Semila believes strongly in conservation and maintaining ecological processes working towards leaving behind a planet worth living on for future generations.
Jashita, Tulum
Set near the beautiful Soliman Bay of the Riviera Maya is the exclusive, eco-friendly
Jashita
, a hotel that allows you to commune with nature, up close and personal. This is a place to escape to from the demands of your everyday world, rejuvenate your body and soul, and time to bond with those dear to you. Spend your days in the sun with the beach practically at your doorstep. The turquoise water of the bay is protected by a magnificent reef that makes it safe to snorkel any time of the year.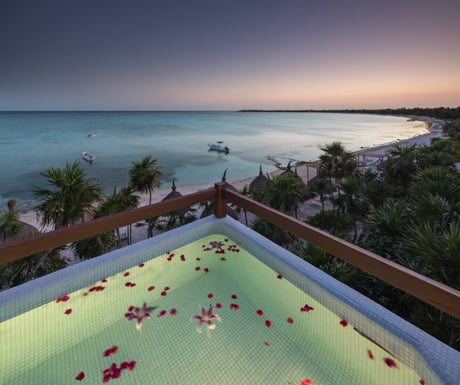 Plunge in and find yourself keeping company with an assortment of colorful marine life, surrounded by pretty coral formations.  Many archaeological sites around Tulum promise to slake your thirst for history. There are 17 rooms to choose from, and that includes the lovely Villa Jasmine, which accommodates 10. Rates begin at USD 180.
Hotel Esencia, Playa del Carmen
Listed as one of the top romantic resorts by Forbes,
Hotel Esencia
was originally the beachside resort of an Italian duchess. This 50acre private property is testimony to her impeccable taste, style and joie de vivre, an elegant Mediterranean styled resort. A stay at Esencia spoils you with its personalized service and luxurious facilities. A place that makes you never want to leave. The hotel is equipped with two swimming pools, a spa and a gourmet restaurant, set on one of the most beautiful stretches of the Riviera. Looking out from this beachfront property, the sight of the intense blue water and the brilliant white sand transports you into a slice of paradise. A dip in the clear water puts you in the midst of a lovely coral expanse.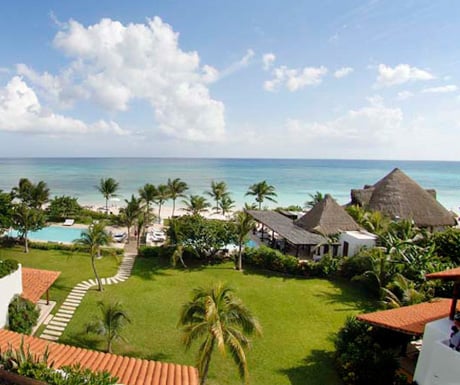 Esencia offers you the choice of 17 suites and 2 cottages that total 29 bedrooms, with rates beginning at USD 530.
Hotel Secreto, Isla Mujeres
You will find this highly recommended hotel on the lovely little Isla Mujeres, a few miles off the Cancun coast, all turquoise sea and white sand.
Hotel Secreto
seems more like a private beach house than a hotel, placed in a secluded part of the island, and as its name suggests, is an idyllic hideaway. The hotel has 12 beautiful rooms to offer, and a stunningly unique lap pool overlooking the cove that treats you to a panoramic view of the endless sea. The décor is understated and elegant, each room giving you a spectacular view from a sprawling balcony. Lull yourself to sleep every nightwith the sound of the waves. Spend the day traversing the island to explore your surrounds. Take a short walk to the center of the island that is home to a little fishing village,or slide into the water for the best snorkeling or
scuba diving
.Go across to Cancun on a trip to discover the Yucatan and explore the archaeological sites. With rates beginning at 280 XXX, the perfect weather makes it an all year round destination.
Viceroy Riviera Maya, Playa del Carmen
This seductively and unashamedly luxurious resort is tucked away in the little village of Playa Xcolococo, next to Playa del Carmen, and gives you the best of the verdant rain forest and the stunning seaside. A tranquil little sanctuary that boasts every modern amenity you can imagine that makes you feel pampered. The Mayan culture is brought to you right here in the resort through the décor and traditional treatments. Indulge in a Temazcal treatment in the spa that uses steam and herbs to purify your body and spirit. Beautiful Mayan wedding ceremonies make it one of the most sought after wedding destinations. The wedding is performed by a Shaman, conducted in the Mayan dialect and the instruction translated into English.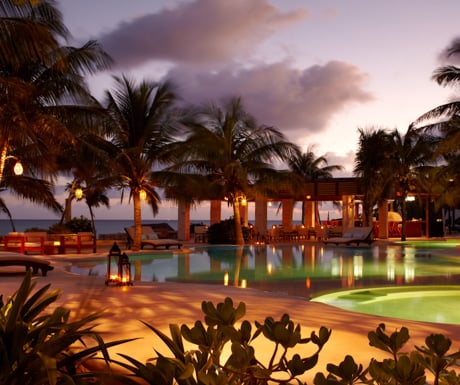 There are villas tucked away in the forest, ensconcing you in the green of the rain forest, and villas on the beachfront mesmerizing you with the turquoise expanse of the sea. There 41 exclusive suites to choose from, with rates beginning at USD 394.
Villa Las Estrellas, Tulum
This lovely resort sits on the beach with views of the beautiful Caribbean Sea, expanses of powdery white sand enhanced by anall-pervading air of tranquility that surrounds and seduces you. Soak in the sun, take a dip in the clear waters and be caressed by gentle sea breezes. The
Villa Las Estrellas
prides itself as the ultimate wedding destination. The hotel pulls out all stops to make the occasion unique and promises to take care of every detail of the wedding preparation, leaving you with nothing to stress about. What more can I say! Certainly a destination that never disappoints andinvitation to indulge yourself in the best holiday experience ever.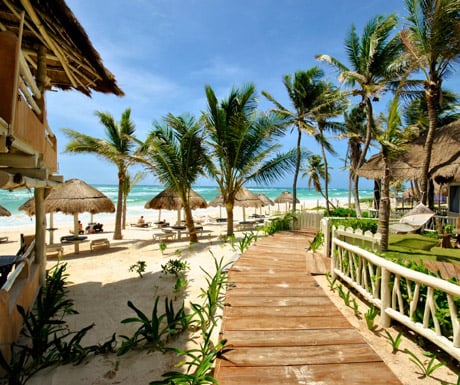 With six rooms and three suites, every room overlooks the sea and has a private terrace for your exclusive use. Rates at Villa Las Estrellas begin at USD 200.
CasaSandra Boutique Hotel, Holbox Island
Now here's a hotel that will appeal to the bohemian in you, created by Sandra Perez, a full time Cuban artist who decided to throw open the paradise she calls her home, to discerning guests. CasaSandra is built on the paradisiacal little island of Holbox, an island that is steeped in folklore about buried pirate treasures. The hotel is dramatically decorated with an abundance of spectacular paintings by Sandra Perez. Music is chosen to match the times of day from baroque in the morning to jazz at night. This elegant and rustic hotel embraces you in a world that becomes home to you with the warm hospitality and personalized service of the staff. Completely devoid of the distractions of the telephones, televisions and radios, you are assured of a rejuvenating holiday.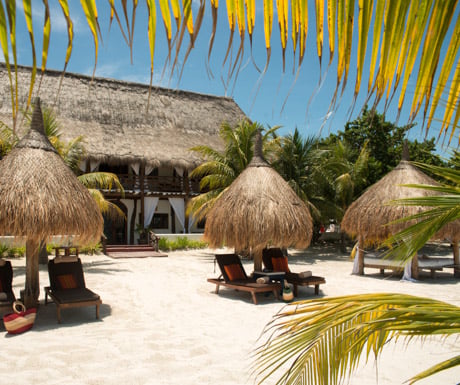 There are 18 rooms and a luxury villa to select from, each one unique in its appeal. The rates here begin at USD 240.
Le Reve Hotel & Spa, Playa del Carmen
Le Reve
sits on a prime beach location in the south of Cancun and is a much sought after holiday destination. Surrounded by the spectacular natural beauty of the land, it overlooks the Belize barrier reef, which is one of the longest reefs in the world, the crystal waters makes it irresistible for snorkeling and scuba diving. And not too far way are historic sites in Tulum and Chichen Itza, an exploratory trip gives you an insight into the Mayan culture. You will find La Reve to be one of the most beautiful boutique hotels on the Riviera, the warm Mexican hospitality, food that takes you on a culinary journey, customized spa treatments, all take you on an unimaginably luxurious trip that soothes and relaxes. There are 24 unique rooms in all that enfold you in a comforting embrace, rooms with private gardens and sea views with rates beginning with USD 429.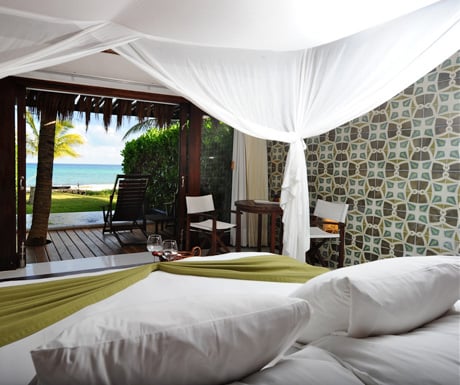 Hotel Encantada, Tulum
Encantada
is an intimate, eco-friendly luxury resort, a romantic getaway. This small family owned hotel sits on a long enchanting stretch of white sandy beach. There are 8 luxurious rooms to choose from with views of the soothing green of private gardens where you can laze around in a hammock under the shade of a tree, and rooms with spectacular views of the hypnotic blue ocean. An open air spa tempts you with traditional massages with herbs that ease your tensions, soothe your muscles and energize you. A five-minute drive takes you to explore Mayan archaeological sites. A slightly longer one takes you into town to shop or eat out at world class restaurants as your fancy takes you. Being an eco-friendly resort, they maintain a smoke free environment. Room rates during the low season begin at USD 195.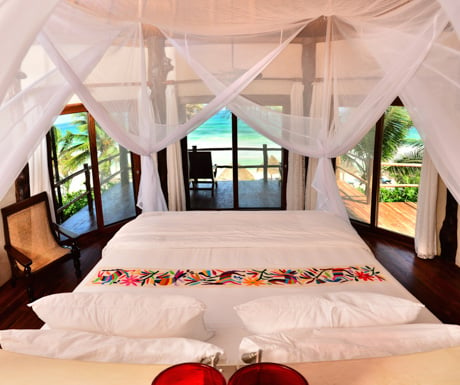 Acanto Boutique Hotel, Playa del Carmen
Acanto Boutique Hotel
is set in the little fishing village of Playa del Carmen. What makes Acanto different is its perfect offering for a perfect family holiday. Most of the bedrooms come with fully equipped kitchens, bedrooms that range from one to three, ample space for everyone in the family. Not the expected treading on each other's toes here! Acanto sits in a pedestrian only area, so no sounds of vehicles to sully your ears, just the pleasing sound of the waves. Acanto means 'heaven', and heaven it is – with lushly landscaped gardens resplendent with the vibrant colors of tropical flowers, swimming pool, private sit-outs in the penthouse units equipped with jacuzzis and barbecue grills with dramatic ocean views. The beach is just a block away where you can sunbathe on chaise lounges. A short walk out of this haven takes you to the famous 5th Avenue to shop, eat or just drink in the culture. Rates here begin at USD 135 during the low season.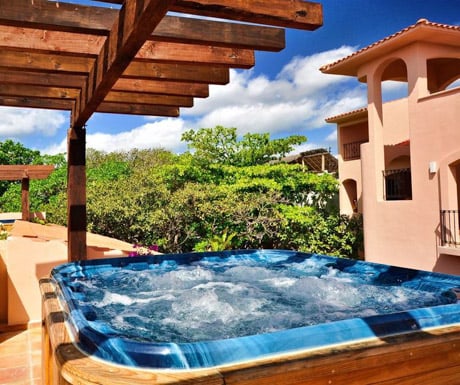 Carmen Anderson is Founder of Here and There Without a Care.
If you would like to be a guest blogger on A Luxury Travel Blog in order to raise your profile, please contact us.
Did you enjoy this article?
Receive similar content direct to your inbox.