Skiing in the Alps year after year can get, well, a bit 'samey': same hotels; same restaurants; same slopes. Sometimes you need to shake things up a bit—remind yourself why you fell in love with the mountains in the first place. Below are three guaranteed ways to put a child-like grin on your face when visiting the French Alps this winter: from taking to the air, albeit momentarily, to discovering forgotten valleys in the heart of this overcrowded continent. Perhaps it's time to stop thinking of skiing as a end in itself and more as a means to an end? Here's a flavour how:
Take a day trip from Les Deux Alpes to Alpe d'Huez by helicopter
Fancy skiing to an airport? And not just to the front doors but to the departure gate itself? No passports. No duty-free. Just arrive, unclip your skis and hop on? If so, head to Les Deux Alpes, France's second oldest ski resort nestled in the Massif des Écrins near Grenoble.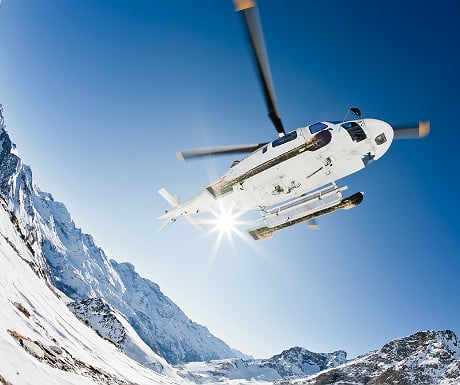 Granted, the resort's terminal is merely a wooden hut; the airfield, a patch of neatly raked snow. But that's plenty enough for the helicopters that buzz back and forth between this winter holiday spot and neighbouring Alpe d'Huez. For about €75 return you can take the five-minute trip to this sun-drenched resort where 155 miles of pistes await, including the longest black run in the Alps: the Sarenne run from the majestic Pic Blanc.
Spend the whole day exploring the slopes and when your lower limbs finally succumb to fatigue, stretch them out in the cozy restaurant which overlooks the airport. Grab a vin chaud or nurse a cold beer and wait for your carriage home. Whatever you do, try to book in advance to avoid disappointment. There are a limited number of spaces and flights.
Try the Vallée Blanche off-piste run in Chamonix
Chamonix is the home of mountaineering. Its narrow streets teem with skiers sporting the usual riot of eye-bruisingly garish outdoor gear; but this is where the similarities to other local resorts end.
Here, ski pants sprout climbing harnesses; rucksacks brandish ice-axes; and even boots have teeth thanks to the crampons strapped snugly to their soles. The town is catnip for enthusiasts of extreme sports. No wonder movie-makers chose the valley to film the nineteenth James Bond outing, the World is Not Enough, in 1999, when the majestic Vallée Blanche was transformed into a lost corner of Azerbaijan.
Have you been put off yet? Is this all too gnarly for you? Don't worry. Admittedly, this 13 mile long trail from the Aiguille du Midi to Chamonix itself—in good snow years—is not an adventure to be undertaken unadvisedly, lightly or wantonly. The ridge at the top, which you need to navigate to access the beginning of the run, is the stuff of nightmares for anybody with vertigo.
However, if you hire a local guide (a must) the mountainscape of this wild corner of Europe can be enjoyed by any confident intermediate skier. Ski through a stunning panorama of ice-blue glaciers and vertiginous cliffs, and when you finally reach the bottom and drink in the luxuriously thick air of the valley floor—it takes about four to six hours to get down—you can celebrate becoming a mountaineer yourself.
Don't forget that the Aiguille du Midi cable car often resembles rush hour on the Paris Metro when conditions look favourable, so book a guide as soon as you can (bearing in mind it is tricky to predict the weather more than a few days in advance). Equally as important, get your guide to book cable car spaces too. A guide for four people typically costs about €300, excluding lift costs
Take a snowmobile to a hidden restaurant in Le Grand Massif
Being just off the winners podium can be the loneliest place in the world. There is no gold, silver or bronze for being number four. Perhaps this is why Le Grand Massif—the fourth largest interlinked skiing area in the France—is often overlooked. The resorts that make up this vast skiing region are relatively unknown by many skiers outside of France: Flaine, Les Carroz, Morillon, Samoens and the beguiling Sixt Fer à Cheval.
It is apt, therefore, that one of the loneliest bistros in France, the Gîte du Lac de Gers, is to be found in an impossibly discrete corner of the resort. To get to it (via the easiest route) you take the Grandes Platières gondola to the highest part of the resort in Flaine and then tackle the 9 miles Les Cascades run. About two thirds of the way down call the restaurant—there's a telephone phone box for this purpose—and a driver will come to drag you to the isolated refuge by snowmobile.
Once there, the menu reflects the uncomplicated ethos of this pit stop for skiers: 'simplicité, chaleur et convivialité' ('simplicity, warmth and friendliness'). A typical Savoy fondue costs €25 per person or, for €4 more, you can do 'death by cheese' and endulge in a local speciality: the raclette. Reserving a table is a good idea particularly during peak season, holidays and weekends: there's only so many snowmobile runs that the owners can do!
So what is on your 'must-do' list this ski season? Let us know below…
Images: Shutterstock