Chocolate is perhaps one of the oldest pleasures known to mankind, dating back to 1900BC. The Aztecs believed that cacao was the food of the Gods, and even today many would agree. If you'd like to truly savour some luxury in Barcelona, and not just see it in the windows of Passeig de Gràcia, we suggest you visit one of these elegant "xocolaterias" and cafés.
Instead of falling for the temptation of a mediocre pseudo-chocolate bar from a metro vending machine, treat yourself to the very best quality, and have a memorable and delicious experience that will surely be one of the highlights of your stay in Barcelona.
Blast your tastebuds at Bombons Blasi
Enjoy an unparalleled selection of artisan chocolates prepared by Xavier Cordomí, the 4th generation "xocolater" to run this family business. The best recipes passed down from his great-great grandfather who was born in 1870 sit alongside tantalizing new creations.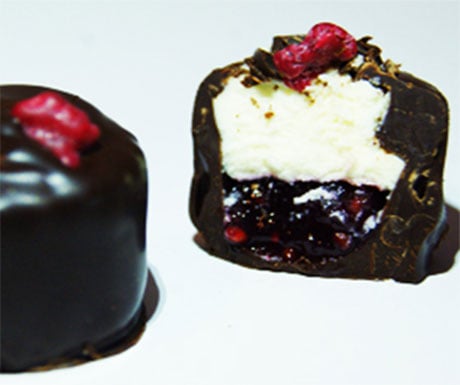 A couple of these chocolates deserve a special mention: the "Bombó Venecià", dark chocolate filled with mascarpone praline and fruits-of-the-forest jam, and the "Aromes de Montseny" which is made with mountain liquor and fresh herbs from the Montseny natural park. Stylish packaging makes this a great gift idea, and you're sure to impress by bringing home a more original taste of Barcelona than a DIY paella kit or duty-free sangria.
C/ Alfons XII, 26 (FGC: Sant Gervasi) and C/ Còrcega, 218 (Metro: Diagonal)
Heaven is a place on Earth at Natcha
This uptown patisserie and café is a chocolate lover's dream come true. Wide cabinets display creative cakes, elaborate treats and the kind of chocolates that would earn you forgiveness for any shortcomings. Chocolate coated candied orange, velvety truffles sprinkled with 80% pure cocoa, and their specialty "Bombons de Músic" covered with a selection of dried fruit and nuts are just three of many good reasons to visit. Take a stroll around Barcelona's most well-to-do neighbourhood and enjoy a whirl of "la dulce vida" with this moment of exceptional indulgence.
Av. Sarrià, 45 (Metro: Hospital Clinic)
Valor Chocolateria… because you're worth it
One thing we love about Valor chocolate bars is that they're large; twice the size of those regular supermarket own-brand bars. Their whole hazelnuts or almonds are bigger too. Valor clearly haven't bought into the minimalist gourmet trend, and if you're breathing a sigh of relief then make sure you stop off for a large cup of hot chocolate in their shop behind Barcelona cathedral. Choose from a wide range of hot chocolate flavours, accompanied by traditional churros, patisserie specialties and of course plenty of chocolate.
C/ Tapineria 10 (Metro: Jaume I)
Godiva… for a touch of elegance
Godiva chocolates were founded in Belgium in 1926. Their classy presentation and top-end price tag makes them a gift fit for royalty, several rungs up the social ladder from a Ferrero Rocher at an Ambassador's reception.
If you're looking for a special treat, then make a date at their Barcelona shop in the Eixample. Fresh fruit coated with chocolate, chocolate cream smoothies and a selection of their internationally renowned chocolates await.
Balmes 147 (Metro: Diagonal).
A world of chocolate: Cacao Sampaka
This chocolate emporium was created by Albert Adrià, brother of the celebrity chef Ferran Adrià, who was also responsible for desserts at the legendary El Bulli restaurant. Need we say more?!
The cafeteria serves breakfast and lunch, but those in the know will head straight for the chocolate menu. Their sampling selections of chocolates, ice-cream and hot chocolates are perfect to share. A wide range of specialties include the "Passion et Chocolat" range with natural ingredients and essential oils that promise aphrodisiac, energetic, sensual and stimulating effects. You'll also find everything from pralines and chocolate rice crackers to bars of chocolate with pistachio and saffron, and chocolate spreads.
Carrer del Consell de Cent, 292 (Metro: Passeig de Gràcia).
Barcelona's Chocolate Museum
If you'd like to learn more about the history of chocolate, and see chocolate replicas of Barcelona's most famous landmarks such as the Sagrada Familia and Camp Nou stadium then head to the Museu de la Xocolata. This is a perfect day out for all the family, and a happy ending is guaranteed for all at the gift shop and cafeteria.
C/ Comerç 36 (Metro: Jaume I)
Sandra Roig is Marketing Director at Apartment Barcelona.
If you would like to be a guest blogger on A Luxury Travel Blog in order to raise your profile, please contact us.