Top 6 things to do in Albuquerque, New Mexico
There was a time when Albuquerque was mostly a place that travelers passed through on their way to Santa Fe or Taos, but in the last few years Albuquerque has become a destination in its own right. This is due to the city's growth, the immensely popular Balloon Fiesta, and random things like the popularity of the show Breaking Bad using the city as a location for shooting and the film tourism that resulted. So the next time you fly into ABQ, stick around for a couple of days. It's a great opportunity to let your body acclimatize to altitude at about 5000 ft. before the higher elevations of Santa Fe and Taos. You'll find museums, quirky neighborhoods to explore, great food, markets, and outdoor activities. Here are six things to do while you're there.
Los Poblanos Inn
Los Poblanos
is an enchanting organic farm that functions as a
luxury hotel
featuring farm to table food. Just 15 minutes from the airport, Los Poblanos feels remote but it's in the heart of Albuquerque. The drive down the tree-lined entrance is like an escape into another world. A world where everything moves a little slower, where things feel saturated with authenticity and beauty.
The place is a magical destination in itself and the design is impeccable. Farm Suites are crisp and refreshing with white washed ceilings, adobe fireplaces, big bathtubs and charming artwork. A couch and leather chairs make a cozy seating area and a white barn door slides open to reveal a little kitchenette with organic coffee, a French press, and fridge. Amenities are exquisite non-toxic body products made with lavender grown on the farm. Every detail from the fabrics, to the light fixtures that are all on dimmer switches to the soft bedding makes you feel like you're home. Grounds are gorgeous and fun to explore, and you are likely to run into the two peacocks that wander around completely unfazed by people. Fuscia roses growing against a backdrop of adobe and cobalt blue sky make a pretty picture, especially when a snow-white peacock poses in the middle. A cute little farm shop offers snacks and an excellent assortment of goods like hand crafted soaps, rustic cutting boards, block print tea towels by a local artist, and other delightful things in keeping with the farm vibe.
Electra Townie cruiser bicycles and helmets are at your disposal so you can ride around the property or venture off to nearby shops and restaurants. A handy food co-op is right up the road where you can purchase things for a picnic to enjoy back at the farm. There are some great spots for this with views of the Sandia Mountains. Sandia means "watermelon" in Spanish, named for the pink glow the mountains get at sunset from the light reflecting off the granite faces. The hotel's restaurant offers dinner just three nights per week, but breakfast every morning. Healthy organic food served on a beautiful patio followed by a swim in the salt-water pool is the perfect way to start your day. Los Poblanos is completely unforgettable and among the best hotels in New Mexico.
Routes Bike Tour
Routes
is a bike shop that offers rentals and themed bike tours. The owners wanted to showcase Albuquerque as a destination in itself and began highlighting some events and attractions like the Balloon Fiesta, and pubs they visit on bike & brew tours. A knowledgeable guide will show you around this bike friendly city that has "bike boulevards" where the speed limit is 18 MPH and cars are required to defer to cyclists. You can get a customized tour specific to your needs that provides a different perspective of the city that you wouldn't get any other way.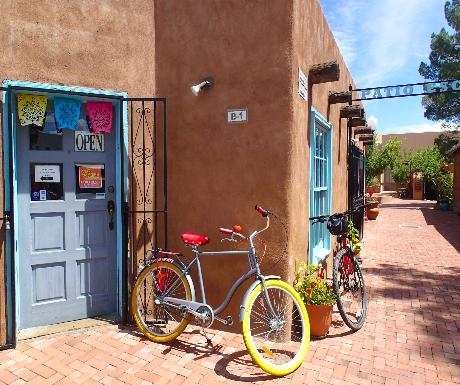 Old Town
Albuquerque's Old Town
is a colorful place with shops and restaurants. There's a Plaza in the center with several blocks of historic adobe buildings surrounding it. The San Felipe de Neri Church, which dates back to 1793 is on the north side of the Plaza and is one of the oldest buildings in the city.
Old Town is full of nooks and crannies and is a great place to people watch. You'll find local Native American artists selling their jewelry, merchants with local goods like Ristras (hanging strands of chili peppers) and the Candy Lady who is famous for selling candy meth that was made as a prop for the tv show Breaking Bad. The Guadalupe Chapel behind Routes Bike Shop is small and charming and worth popping in for a look.
Hyatt Regency Tamaya Resort
If you are keen to get a good dose of New Mexico's culture, head to the
Hyatt Tamaya Resort
. Located about 30 minutes from the Albuquerque airport, this family friendly resort is a unique property that is actually owned by the Santa Ana Pueblo. They offer cultural experiences like traditional music and dance performances and demonstrations of bread baking in the Huruna adobe oven followed by tastings with butter and jam. Or, you can enjoy watercolor painting and wine out on the patio where an artist will give you a lesson as you paint a lovely watercolor of the Sandia Mountains.
There are endless activities like bike trails, hiking, golf, and a fabulous pool with a big water slide housed in an adobe tower. Kids love this resort and there is more than enough to keep them busy including extras like storytelling and smores. The staff is warm and welcoming, and there is a club level if you'd like to enjoy the lounge with breakfast and evening appetizers. The most magical thing about this resort is the horse stable. Tamaya Stables are an on-site stable that also functions as a rehab facility for neglected and abused horses. The stables adopt them and transform into healthy happy horses that are super friendly, gentle and seem to love people. It's completely unlike your average stable, these horses are extra special. They call them "five star horses" at the stables, and it's true, they are exceptional.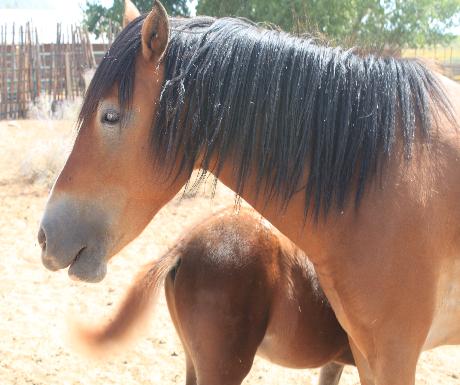 Beginners and children can go on trail rides in groups and more experienced riders can go on a private ride. If you are lucky, you'll get to ride with head wrangler Ernesto Lopez who will take you into some gorgeous sacred Native American territory on a responsive horse. You can ride at your own pace and if that means like the wind, then that's okay. And it's spectacularly freeing. It's an ecstatic feeling worth getting on a plane to experience. You might see wild mustangs, a rattlesnake, petroglyphs, and take a plunge into the Rio Grande River.
Hotel Andaluz
Hotel Andaluz
is an historic eco friendly boutique hotel in downtown Albuquerque. Built in 1930 by Conrad Hilton, it was one of the first Hilton hotels. Decor is a blend of Southwestern and Moroccan influence, and rooms feature a brown color scheme. The lobby offers a big glowing tiled fountain, live music and cozy alcoves with seating for guests to mingle on weekend evenings. Ibiza, the rooftop lounge with a patio overlooking the mountains and delicious tapas is not to be missed.  Hotel Andaluz is popular with film crews and celebrities that are filming in the area and you never know who you might see in the lobby. It's in a convenient location, near Old Town and quirky Knob Hill.
New Mexico Rail Runner Express Train
The Rail Runner is a commuter rail system that runs from Albuquerque to Santa Fe. It's super easy to hop on the train for a day trip to Santa Fe. The train will take you to every stop on this list. It's convenient, safe, clean, and cheap.
Leah DeAngelis is Editor of Best Travel Gear.
If you would like to be a guest blogger on A Luxury Travel Blog in order to raise your profile, please contact us.
Did you enjoy this article?
Receive similar content direct to your inbox.