By
Paul Eyers
on Jan 08, 2015 in
Accommodation
,
Asia
,
Food and Drink
,
Going Out
,
Hotels
,
Regions
,
Resorts
,
Restaurants
,
Singapore
,
Travel Miscellany
With the rapidly increasing number of people choosing a vegan lifestyle, luxury hotels and resorts are beginning to adapt their services to ensure guests looking for plant based luxury feel just as at home as their non-vegan counterparts. There are already some vegan hotspots in the world (including Berlin and Los Angeles) that are well known for their plentiful vegan offerings, where you can eat happily without having to accept salad at every meal.
Now Singapore, famed for it's culture, history and culinary adventures, is nipping at the heels of some of the more famous vegan cities in the world and it's luxury hotels are helping to lead the way.
It's also just over the Causeway from Johor Bahru in Malaysia, where the luxury continues and the vegan food is really pretty special.
Johor Bahru is often overlooked by those travelling in the region despite being just an hour from the centre of Singapore and a frequent destination for Singaporeans who love to shop, the city is currently undergoing huge development with shopping malls, new hotels and theme parks including Legoland and Hello Kitty World, all opening recently and drawing massive crowds.
Here's our pick of 6 luxury (vegan) hotels in Singapore (and Johor Bahru).
Situated in the heart of the Central Business District, The Westin Singapore is a modern and fresh new property with killer views and a weekend brunch event that's famous with food loving Singaporeans.
But a lesser known fact is that the Westin follows a culinary philosophy (SuperFoodsRX) that contains mainly vegan foods and they have a dedicated chef who deals with all special dietary requirements.
The hotel is also right near one of the iconic VeganBurg restaurants so guests wanting to try one of these world famous vegan burgers can pop by during their stay.
Right in the centre of the busy Orchard Road shopping and entertainment district, vegans will be very happy at Grand Hyatt Singapore.
Chefs at their signature, award winning restaurant Mezza9 are happy to put together a vegan menu where guests can dine on vegan versions of Asian cuisine from around the region.
Plus the in-room amenities are by New York based luxury brand June Jacobs whose products are all natural, organic and 100% vegan (rarely found in hotels so this is an added luxury vegan bonus).
Sheraton Towers Singapore has a great location on Scotts Road and offers all of the upscale amenities you would expect from a 5 star hotel in Singapore.
They earn their place on our list because of the amazing array of vegan delights, including a phenomenal vegan breakfast, where their talented team pulled out all the stops and made a stack of vegan pancakes, vegan banana bread, granola, a range of cooked options and a variety of fresh juices.
Drink vegan cocktails in the Towers Executive Lounge and eat dainty vegan canapes before heading down to Li Bai, the Sheraton Towers Singapore's fine dining Cantonese restaurant where you'll be seriously impressed by the vegan food on offer.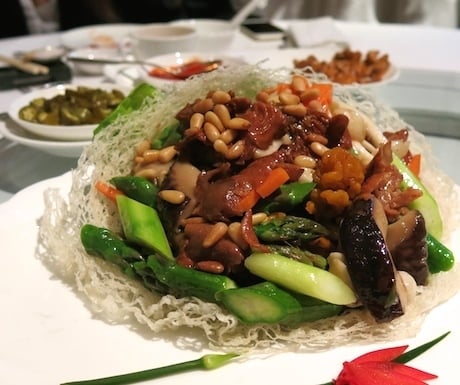 A stay here gets you a vegan banquet in the morning but make sure to leave room for all the other vegan food on offer because there is a lot of it!
Check in to be greeted by beautiful vegan snacks in your classic luxury suite. The Four Seasons brand is well established in the luxury travel world but they're also very well equipped to look after vegan travellers who want to experience what this top end brand has to offer.
The renowned fine dining Cantonese restaurant has a menu with a whole section of vegan (and vegetarian) dishes. Dinner at Jiang-Nan Chun as a vegan guest still offers the same high quality experience as other (non-vegan) guests with exquisite food being served at every course.
There's nothing out of the ordinary about eating plant-based food in this restaurant and the food is exceptional.
The other great thing about the Four Seasons Singapore is the great range of luxury vegan products available in their spa. Whether booking in for a treatment or stocking up on luxury skincare, vegan guests can choose from a range of products that contain no animal products and haven't been tested on animals.
Located just around the corner from the Four Seasons Singapore, the Regent Singapore is home to the seriously talented Chef Angelo, whose ability to make vegan guests feel at home is second to none.
Vegan visitors to the Regent Singapore will be well looked after during their stay but making a reservation at Basilico, their signature Italian restaurant guarantees a fine dining experience that won't be forgotten in a hurry.
At breakfast, they'll make you vegan versions of local favourites as well as coming up with a few extra dishes that taste as good as they look.
Our top pick in Johor Bahru has to be the Renaissance Johor Bahru, a 5 star luxury hotel just 10 minutes from the Malaysia – Singapore checkpoint, enabling guests to experience both Malaysia and Singapore on the same visit.
Expect modern rooms, state of the art fitness centre, a stylish outdoor pool and superb customer service, as well as delicious vegan dining at both Cafe BLD and Wan Li.
The award winning chef at Cafe BLD will prepare a vegan feast that not only tastes amazing but looks amazing too, including this exquisite 'Carrot Cake with Pepper Relish and a Green Pea Puree' and 'Potato Cake With Marmalade, Beetroot Puree'.
If Cantonese fine dining is your thing then Wan Li will not fail to impress with a wide range of vegan dishes, our favourite being the 'Bamboo Shoot Rolls with Golden Pumpkin Sauce' which were packed full of flavour.
The wonderful thing about all of these hotels is that even though they aren't specifically vegan companies, they cater exceptionally well for all their customers no matter what their dietary requirements are.
So now vegan travellers looking for luxury can head to Singapore and neighbouring Johor Bahru where they can see the sights, soak up the culture and enjoy the finer things in life in one of our chosen luxury hotels.
Amazing vegan food is guaranteed!
Paul Eyers is Founder of Vegan Food Quest.
If you would like to be a guest blogger on A Luxury Travel Blog in order to raise your profile, please contact us.