Banff National Park is a UNESCO World Heritage Site located in the heart of the Canadian Rockies in Alberta, Canada. The township of Banff is part of the National Park and is strictly maintained to keep its wild and pristine essence, which is off the charts gorgeous.
The town is nestled in the mountains, which are breathtaking in all directions. Wandering around downtown Banff with its charming little boutiques, pubs and coffee shops make a delightful afternoon. You'll find stores offering clothing and supplies to outfit your adventures as well as shops that carry local Canadian goods.
Banff's raw beauty and massive craggy mountains are so incredibly striking it's hard to believe this place really exists. Outdoor activities abound and include skiing, cycling, hiking, horseback riding, paddling, and even dog sledding. No matter what time of year you choose to visit, there are a ton of things to do. And your eyes will be on overdrive as they take in nature's stunning sights.
A novel way to get to Banff is to take the luxury train, Rocky Mountaineer. From Vancouver, it's a two-day trip filled with extraordinary scenery. The train offers three service options but the most popular and most luxurious is GoldLeaf.
A bi-level coach with a glass dome offers panoramic views from an elevated vantage point. Seating in GoldLeaf is the most comfortable on the train and the world opens up to you through the huge windows as you move along. Bright turquoise blue lakes and streams, mossy forests, and rocky bluffs all right there in front of you. It's likely you'll see wildlife like eagles, bighorn sheep, elk, and if you are really lucky–bears.
This train begins in Vancouver, overnights in Kamloops and then traverses through the Canadian Rockies to Banff. Meals are served in the dining car and your luggage is waiting for you in your upscale room in Kamloops. In the dining car, seating is in tables of four so that travelers can mingle over gourmet food prepared with a focus on local cuisine.
During the ride, the staff shares little nuggets of information about Canadian history and passengers learn how integral the trains were to the development of Alberta. When a good photo opportunity is coming up the staff will let you know, as well as wildlife sightings including the exciting declaration everyone wants to hear: "Bear on your right!"
The Fairmont Banff Springs Hotel
An historic hotel that looks like a Scottish castle, the Fairmont Banff Springs is the perfect place to stay after a ride on the Rocky Mountaineer, as train travel is key to the historic hotel's existence. In the late 1880's, the manager of the Canadian Pacific Railway had the idea to turn the town into a tourist attraction to generate revenue for the railroad. His vision was to create a luxury hotel and spa destination to draw people in.   The Banff Springs Hotel opened in 1888 and became a hot spot for luxury travelers.  Over the years the hotel has hosted many high profile guests including King George VI, Queen Elizabeth, and Marilyn Monroe.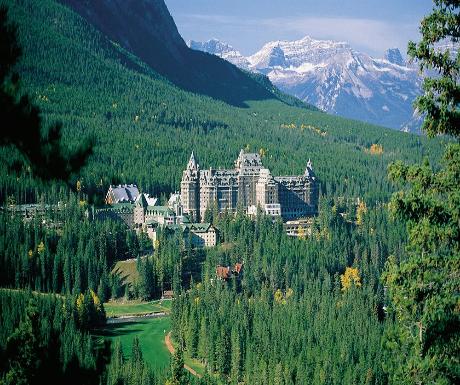 Today the hotel remains an icon and offers a full service spa, golf course, and various dining options. A swim in the outdoor hot pool yields fabulous mountain views and depending on where you are standing on the property (including in your room), you can see the Bow River Valley framed in such a way that you'd swear you were looking into a painting. A short walk will take you right into the heart of downtown Banff for shopping and restaurants, and be sure to look for elk on the golf course as you pass by.
If you want to feel like you are sleeping in the mountains and be able to open your curtains and see that magnificently imposing presence right in front of you, stay at the Rimrock Hotel.  Rooms are elegant with ample windows offering close up views of mountains so beautiful it's jarring. Décor is stately and comfortable.  A huge lobby with floor to ceiling windows and comfortable seating provides a communal gathering area around a giant fireplace.  There is a spa and indoor pool that opens to a patio with more lovely views.
This hotel has two lounges, one with a cozy pub vibe and the other with a sassy Hollywood diva theme. For upscale dining, head to Eden, famous for their gourmet food and wine pairings. The Rimrock is in a great location for hiking (the concierge will give you bear spray if you ask) and is also in close proximity to the Upper Hot Springs and The Banff Gondola.
The concept of Banff as a luxury destination was partially founded on the discovery of natural hot springs by railroad workers. The Upper Hot Springs are not the original natural springs discovered in 1884, however it embodies the tradition of "taking the waters." It's a large hot pool where you can melt away a day of hiking, skiing, or sight seeing while soaking in gorgeous views.
The Banff Gondola
Rising to the top of Sulphur Mountain, The Banff Gondola provides spectacular 360-degree views of six mountain ranges. It takes about 10 minutes to reach an elevation of 2281 meters (7486 feet). When you get to the top, you can enjoy the views from the observation deck and take a hike the along the interpretive SummitWalk to Sanson's Peak.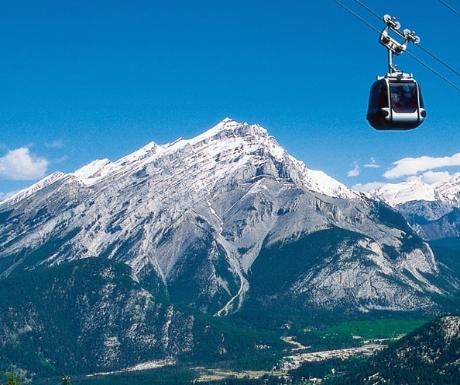 Ask any local where their favorite place to eat is and The Bear Street Tavern will be on the list. They have the best pizza in town and a great selection of craft beer. Pizza served with honey and rosemary-chili oil is the star of this restaurant and it is a delicious and unique way to enjoy a slice or two in a pub atmosphere.
To get a great overview of Banff's history, head to the Whyte Museum.  Interactive exhibits, artwork, and photographs  help you understand the culture of the First Nations and the fascinating history of Canada's Rocky Mountains.  It took a strong spirit to make a life in these rugged mountains, and the museum offers a little window into what those early days were like.  It's a family friendly museum and children will love the helicopter display.
A Banff classic, the Buffalo Mountain Lodge is for those that prefer a more rustic approach to their mountain accommodations. Here you will find wood burning fireplaces and claw foot bathtubs in a log cabin atmosphere. The restaurant in the lodge serves up wild fare like boar, elk, bison and indigenous berries with your morning pancakes.
Leah DeAngelis is Editor of Best Travel Gear.
If you would like to be a guest blogger on A Luxury Travel Blog in order to raise your profile, please contact us.