Southern Tanzania is so often overlooked in favour of the more famous Northern Circuit. This is such a shame – the game viewing in Southern Tanzania is far more rewarding and you can see some incredible sights here, and it's more than likely you'll be on your own. Southern Tanzania is one of the best safari options for those that truly want to get off the beaten track and experience things that no one else has. Here are our top five reasons to visit Southern Tanzania over Northern Tanzania (in no particular order!):
The lodges and camps
Thanks to the sheer remoteness of Southern Tanzania's Selous Game Reserve and Ruaha National Park the luxury safari lodges and camps which reside here are often in some of the most dramatic and breathtaking locations one can possibly imagine. One thing is for sure, they are always extremely remote. Most are located near rivers or lakes which brings game either into or around camp. The feeling of being out in the wilderness really is complete here and you will feel as if you are at the ends of the earth.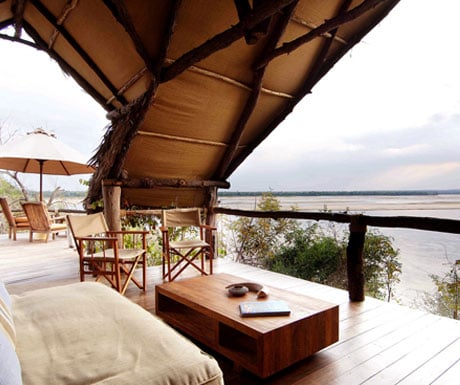 The close proximity to other places
Now this point may seem extraordinary when teamed with point one but the Selous and Ruaha are logistically incredibly easy to get to, both are just a short flight from Dar es Salaam or Zanzibar which also means your Southern Tanzania itinerary is always completely seamless, with no long waits at airports or expensive internal flights – this in turn leaves you a little more to spend on your luxury lodges and camps, and means often you can leave the UK the night before, and be in the middle of no where by brunch the next morning.
The wildlife
There is abundant wildlife in both the Selous and Ruaha and those who go down there expecting not to see anything will be pleasantly surprised. The game viewing is exceptionally rewarding as often you will have to really look for the game by tracking or by using the noises of the bush to locate predators and big game. As a result the guiding in Southern Tanzania is also better.
The options
Unlike Northern Tanzania (much of which is National Park) you are allowed an certain freedom in Southern Tanzania which means you can walk, take boat safaris and night drives and simply just explore the bush anyway you like. Most of the properties also offer fly camping which is by far the best way to get out into the bush and really experience Africa at its' best, with the stars above you and the African noises around you. Freedom is what Africa is all about and in Southern Tanzania you have it in spades.
The lack of people
All of the luxury safari lodges and camps are spread far and wide across Ruaha and the Selous, meaning that you very rarely see another soul – your game viewing is completely exclusive and this is what makes a safari experience here so special – the icing on the cake.
Rose Hipwood is Managing Director of The Luxury Safari Company.
If you would like to be a guest blogger on A Luxury Travel Blog in order to raise your profile, please contact us.